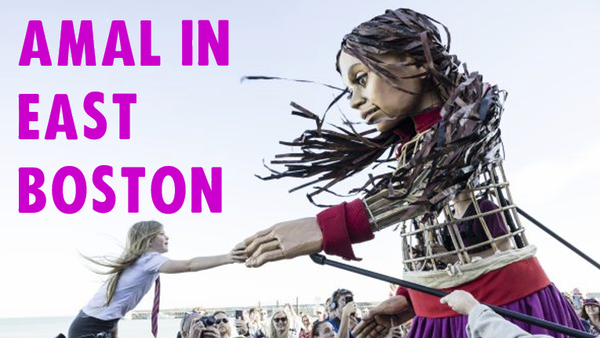 Little Amal Visits East Boston - Finding a Safe Haven
Art Making in Central Square Park at 4:00 PM
Gathering and Music at 6:00 PM
Walk with Amal to the Urban Wild 6:30 - 7:30 PM
On Friday September 8th, Extinction Rebellion will welcome Little Amalto East Boston. Little Amal, whose name means "hope" in Arabic, a 12-foot tall puppet of a 10 year old Syrian refugee child. She has become a global symbol of human rights, especially those of refugees, and everywhere Amal goes, she is greeted with events that are authentic and meaningful to the local people she meets.
Since July 2021, Amal has traveled more than 6,000 miles in 15 countries and been welcomed by more than a million people. Amal begins a new 6,000 mile journey across the United States with 3 days of events in Boston on the 7th, 8th and 9th.
We welcome our allies in East Boston and beyond to join us and Walk with Amal!
Before Amal arrives, from 4:00 to 6:00 PM in Central Square Park, there will be art making with Students Rebuild and their Extraordinary Earth Project. Join us early to help brighten Amal's way by making animal-themed lantern puppets using recycled materials. Take them along in the sunset procession that follows, to greet Amal and keep her safe. Sign up here!
At 6:00 PM we'll gather at the north end of Central Square Park for the main event, where there will be live music and more puppets, flags and banners available to use courtesy of the Puppet Free Library. At 6:30, Little Amal will arrive and meet the community. Searching for a place to rest, Amal discovers a lost endangered salt marsh sparrow, also looking for a safe haven. As the sun sets, and with the community offering support and light, Amal and the sparrow will lead a procession to the Urban Wild and encounter more creatures threatened and displaced by climate change. All need refuge, so they all travel together, ending with a lantern-lit celebration of community resilience and climate justice as they all lay down to rest.
We're looking for people to help us by holding puppets, flags and lanterns! If you're available, please fill out this form. No experience is necessary and families with children are welcome!
Presented in partnership with The Puppet Free Library, Students Rebuild, GreenRoots, Good Trouble Brass Band, XR Youth Boston, Scientist Rebellion, Spontaneous Celebrations and A3 Productions.