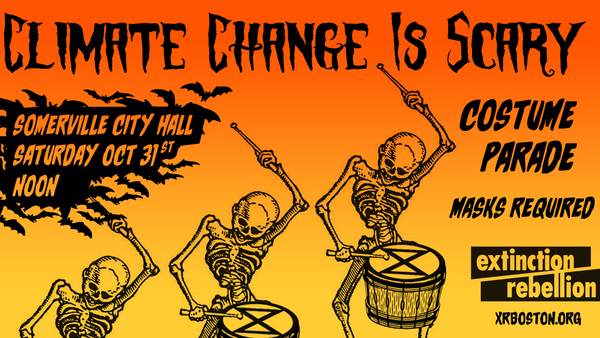 Climate Change is Scary Parade
RESCHEDULED: The weather has taken a turn for the worse. This event has been moved from Friday at 5pm to Saturday at 12pm. We are expecting clear skies and 40 degrees. See you on Halloween!
Join us to raise awareness about a real-life Halloween scare - the climate crisis. There's nothing scarier than the smoke in our skies from wildfires, record hurricane season, and extreme local drought conditions. We will march from Somerville to Cambridge City Halls with music. And we will cap it off in a die-in with Halloween flair.
Costumes highly encouraged!
We demand the the cities of Cambridge and Somerville Tell the Truth about the crisis. That they start creating and publicizing annual carbon reports, teaching every public school student about the climate crisis, and actively collaborating with the media to raise awareness. Cambridge declared a climate emergency 10 years ago but hasn't followed through with public education or sufficient action. And Somerville hasn't even declared an emergency yet.
Our goal is to make this event safe and accessible to all. We will be requiring masks and will be encouraging social distancing.
Expected run time 12 to 2pm.
If you would like to join us at Cambridge City Hall after the parade, we expect to arrive between 1:10 and 1:30pm.
Accessibility
Sidewalk accessible