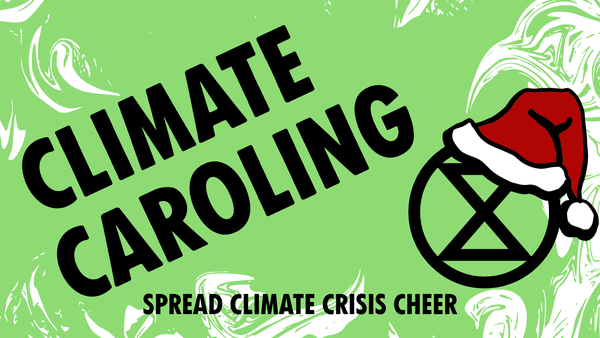 Climate Caroling!
Let's take to the streets and fill the air with out climate caroling voices! We'll spread holiday cheer the only way we know how: enlightening people to the climate crisis with fun and flash.
Location and Time: We'll meet at the Park St. T stop at 2 PM and then make our way through the Boston Common, through Downtown Crossing Shopping Center (Winter St. and Washington St.) and we'll end at Faneuil Hall in front of the Christmas tree. We will end by 3:30/4:00.
Cold/snow date: If Sunday has better weather we'll pivot to Sunday. Sign up to receive email updates about this.
What to bring:
Holiday clothes (if you can): green and red clothes, stockings, Santa hats, etc.
A mask
XR flags
Signs (XR demands, species extinction, consumerism, etc...)
Your holiday cheer
We'll bring song sheets ad flyers but if you want your own they're linked below
Accessibility
All public, starting in the Boston common and using public sidewalks and roadways through downtown crossing. May be some cobblestone streets.