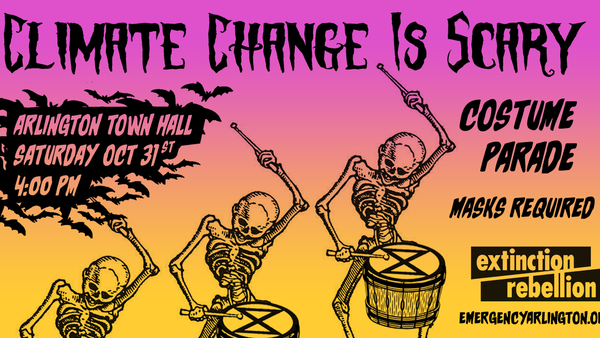 Climate Change is Scary Costume Parade
It's frightening outside, with fires, and floods, and hurricanes, and more! More scary than ghosts... lurks the once quiet, now unmistakable, emergence of a rapid and increasingly destructive… Climate Crisis.
On Hallowe'en, let's join together (masked) and make as much noise as we can to scare the profiteers and politicians stalling our efforts, and to create a force for positive change that will reign in this looming threat. Join Emergency Arlington on Saturday Oct 31st in Arlington MA for a family-friendly climate-themed Halloween parade at 4pm followed by a rally at 4:30pm. We'll process (masked and following CDC guidelines) with noise-makers, chants, puppets, and costumes - going from Arlington Town Hall, through the Old Burying Ground, to Pleasant St. and Mass Ave.; calling for immediate local and state climate action. A rally at Whittemore Park follows, which includes speaking opportunities and treats for all ages. We encourage you and your friends and family to join in!
Accessibility
Sidewalk accessible