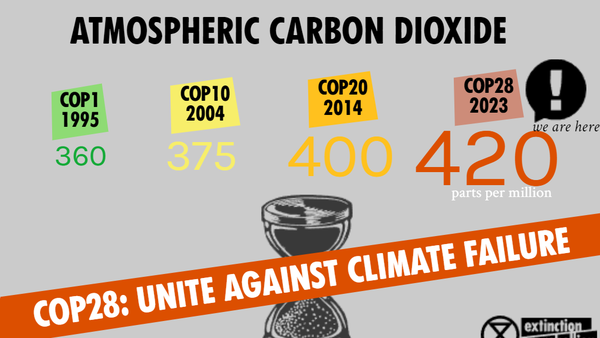 COP28: Unite Against Climate Failure
Join Extinction Rebellion, Scientist Rebellion and allies to protest decades of leadership failure in the 'Conferences of the Parties' (COP) that are supposed to save the planet from overheating.
Atmospheric and oceanic carbon have increased in lockstep with global warming. We are five years away from consistently passing the 1.5 degree centigrade mark that world leaders – and scientists - say is necessary to protect us from rapidly escalating catastrophes. The disasters are already devastating many locales every year, while the sixth mass extinction escalates. And still, from Massachusetts to Washington DC to all major nations, those same leaders dither and dally, continue to "blah, blah, blah." COP28, which starts November 30, sadly promises more of the same.
Join us to protest the failures, demand necessary action from leaders, and promise to take ever stronger steps to force those "leaders" to actually lead or get out of the way.
We will assemble at the State House at noon, joining XR Boston's ongoing StandOut. At 1:00, we will walk through downtown, handing out flyers and talking with passersby, until 2:00.
Rain date 12/1, also 12 – 2 PM.
Accessibility
Public streets and sidewalks