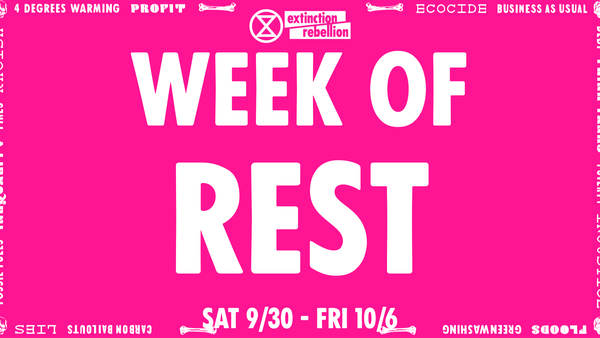 Day 5 - Week of Rest 2023
Following the our second annual Week of Rebellion, we will again be taking a chapter-wide rest from organizing and actions from Saturday 9/30 to Friday 10/6. We take this from our regenerative action cycle: 1. Planning 2. Action. 3. Rest and reflection.
We ask that working groups and affinity groups join us in resting and to leave the calendar empty save for social activities. After the Week of Rest, there will be a couple of HONK! action that we hope you will join us for! Details TBA soon.
During this restful week consider
Taking a break from Signal and Keybase if you feel that you need the quiet
Incorporate elements of wellness into your day: sitting meditation, yoga nidra, journaling.
Make plans with other rebels to do lowkey, social activities such as beers and climate change
Get out into nature