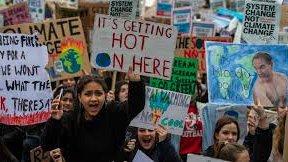 Earth Day - Global Climate Strike
STRIKE, DIVEST, AND VOTE TO SAVE HUMANITY AND OUR PLANET.
On April 22-24, the 50th anniversary of Earth Day, millions of people around the world are going online for a three-day mobilization to stop the climate emergency.
Even if we're stuck at home, we can still change the world. Join us for three days of action — from teach-ins, musical performances, divestment, and more. All you need is an internet connection.
Young people around the world have been rising up to defend our future, and have been going on strike — every week, all over the planet — for months. On September 20, 2019, and again on November 29 and December 6, the adults joined us.
Now, we're preparing to take the youth-led climate movement into the digital-first era due to the coronavirus pandemic. Launching on the 50th anniversary of Earth Day, April 22, and ending on April 24, youth activists and adult allies are leading Earth Day Live. We are training, expanding, and strengthening in preparation to carry this momentum through 2020, a critical year for climate action, and beyond. We are determined to ensure real, bold action is taken to address the climate crisis. As we approach the US elections and the consequences of climate change are becoming ever more clear and dire with each passing day, a new powerful wave of the climate movement has been swelling.
We are prepared to do whatever is necessary to protect our futures. We will stop going to school. We will stop going to work. We refuse to participate in a society and economy that is actively destroying our generation's chance at a livable future.
RSVP: https://strikewithus.org/ Join Live: https://www.earthdaylive2020.org/