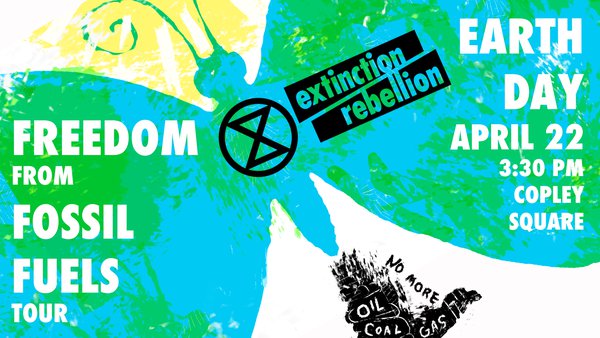 Freedom From Fossil Fuels Tour
This Earth Day join Extinction Rebellion Boston as we kick off our No New Fossil Fuel Infrastructure Campaign with our Freedom from Fossil Fuels Tour.
We must act now! The latest IPCC report states that the climate crisis is happening so rapidly that it could overwhelm our ability to adapt. In Massachusetts and New England, our government, influenced by the methane gas and manufacturer industries, is continuing to build new fossil fuel infrastructure in climate justice communities and move too slowly on transitioning to renewable energy.
We will be demanding that the government Tell the Truth and Act Now as we blaze our own Freedom Trail through Boston. We will name names as we bring our message to the doorsteps of the financial, legal, and corporate offices of the companies enabling and profiting off of the climate and ecological apocalypse that they are creating. They are climate criminals and need to be labeled exactly that!
At each stop of our Fossil Fuel Freedom Tour we will convict the criminals of their crimes and perform DISCOBEDIENCE to celebrate. Get ready to dance!
WE NEED YOUR HELP! - sign up for a role for the action HERE
Time and location: We will start gathering at 3:30 at the Copley Square green across the street from the entrance of the Boston Library. We will start our march at around 4PM, ending sometime around 5:30.
Rain date note: in case of inclement weather the rain date for the action will be the following day, Saturday, April 23rd at 3:30 PM. All other details remain the same.
Make it a double feature: Mass Peace Action's Rally and March for People, Planet, and Peace Over Profit starts at 1PM in Park St and will end with a walk over to Copley Square for this event
Accessibility
Wheelchair accessible outdoor event, mostly staying on sidewalks. There will be a march approximately one mile long on the street. Please email the event coordinator if you have specific accessibility needs.