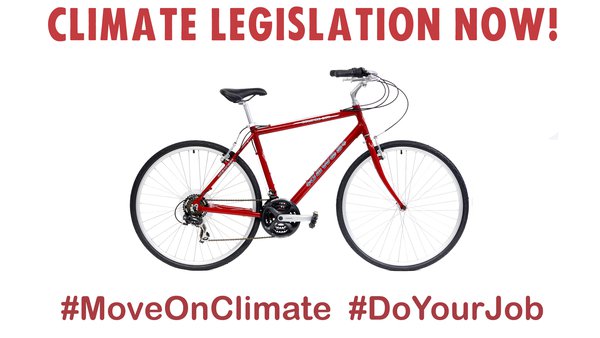 [Solidarity Action] Bike Rally: Move on Climate!
From 350 Mass: Climate Courage, the direct action wing of 350 Massachusetts, is hosting a Bicycle Rally in Boston on July 29, to urge our legislature to MOVE ON CLIMATE before the end of the session. We'll be visible, but we also plan to take lots of pictures and videos for social media and local press, targeting key legislators.
To bike with us meet in front of the State House at 10 AM. We'll do a brief swing around Back Bay and then cruise back via the Esplanade, ending at the Hatch Shell.
And if you're not a biker--meet us at the Hatch shell at 11AM for a photo op!
---
--We'll maintain social distance.
--Please wear a RED shirt. And we strongly suggest a mask, of course--a plain color if you have one.
--If possible, please make a sign--poster-sized posterboard--with one of the following messages:
Climate Legislation Now!
Move on Climate!
Environmental Justice Now!
Rep. (fill in your recalcitrant legislator here), Do your job (or, Move on Climate!)
100% Renewable Now!
--The legislators we'd like to target are: Speaker DeLeo, Rep Golden, Rep Michlewitz, Rep Mariano.
Registration and more info here
Accessibility
The first part of the action is biking, second part meets at Hatch Shell at 11AM and is wheelchair accessible