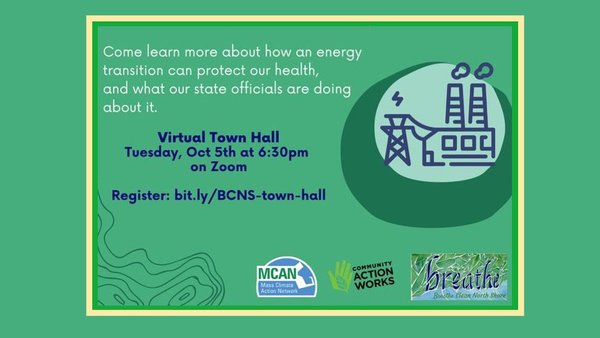 [solidarity] North Shore Town Hall: Building a Healthy and Sustainable Community
Join us to learn more about how air pollution is impacting our local communities, and how an energy transition can protect our health.
Panelists:
T. Stephen Jones, MD, MPH, is a public health consultant epidemiologist who retired from the Centers for Disease Control and Prevention (CDC) in 2003. As a volunteer of the Massachusetts chapter of the Sierra Club, he has worked with local Massachusetts boards of health on the human health risks of "natural" / methane gas use and infrastructure. He and Andee Krasner have been advocating public health action on the link between cooking with a gas stove and asthma among children living in the home.
Staci Rubin is the Vice President, Environmental Justice at Conservation Law Foundation (CLF) where she partners with residents of historically marginalized communities to solve some of our biggest environmental challenges. Prior to CLF, she served the Commonwealth of Massachusetts as Senior Counsel at the Massachusetts Department of Public Utilities (DPU), where she led the adjudication of a solar incentive program and expanded public access to government records. Prior to joining DPU, Staci was Senior Attorney and Environmental Justice Legal Services Program Director at Alternatives for Community & Environment (ACE), where she represented and advised community groups on environmental justice matters. During her ACE tenure, Staci provided legal representation to successful community-led campaigns challenging the siting of fossil fuel power plants and a dangerous rail transport proposal. She also partnered with community leaders to negotiate the Massachusetts Executive Order on Environmental Justice.
Register for Zoom link here