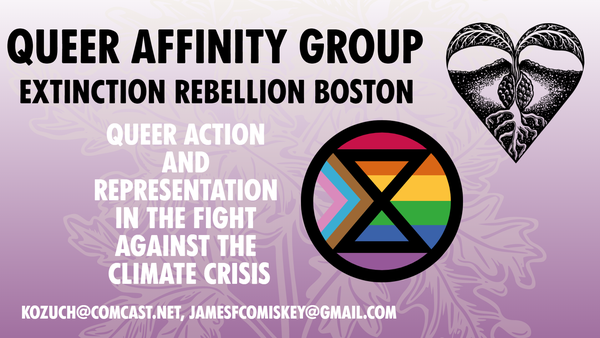 Queer Affinity Group Kickoff
Queer Affinity Group Kickoff!
We would like to invite you to our official launch of a Queer Affinity Group in Extinction Rebellion. At this event, we will build our community of queer climate activists and make plans for future actions we can take together. This group will be a place to share ideas, support each other, build community, and participate in climate events together.
The queer community is particularly vulnerable to the effects of climate change due to increased rates of homelessness, food insecurity, and poverty, especially BIPOC and trans people. Queer people also have talent, strength, and creativity that is incredibly valuable to the climate movement. Our community has been at the vanguard of social change before and we can do it again. During the HIV/AIDS crisis, our community pushed governments to stop ignoring the crisis and take urgent action to deliver life saving treatments to those in need. We can make history again. Join us on January 26th and be part of the movement to save the planet from the climate and ecological crises.
All are invited to be a part: queer community and allies :)
Zoom info:
Meeting ID: 852 4653 9265
Passcode: Queer