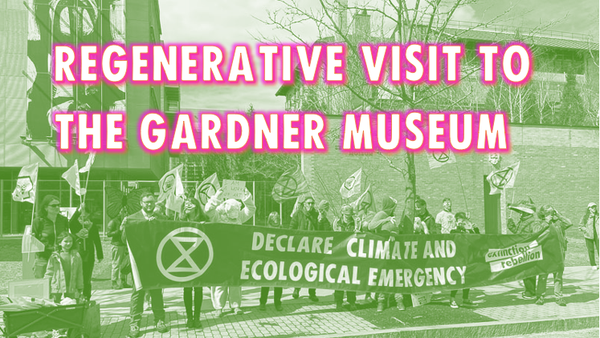 Regenerative Visit to the Gardner Museum
For new visitors: The Boston Globe has not reached out for comment on this event, despite having been contacted by an XR Boston media representative days beforehand. If any journalists would like a comment, they are welcome to email XRBoston.Media@gmail.com.
NOTE: This is a REGENERATIVE TRIP! We will not be disrupting the museum, its visitors, its staff, or its collection. We will be enjoying the museum with reserved tickets like any social group.
After closing down the Isabella Steward Gardner Museum on the 33rd anniversary of the heist, we return to the scene of the "crime".
In March, we planned to hang art into the empty frames to raise awareness to the ongoing biodiversity loss. Since those 13 art pieces vanished into the night, more than 1 million species of animals and plants are currently on the brink of extinction. Each of them a piece of art created by nature. The loss is staggering. Our planet is a graveyard of empty frames.
The year of this museum's heist, was also the year of the first IPCC report ringing the alarm to the biggest heist in human history. The climate crisis is the largest driver for the 6th mass extinction. There is still time. The thieves haven't made a clean escape yet. We can bring them to justice, but we must act now. We must hold our leadership accountable.
With this field trip, we will return to the museum to use it as space of public discourse (like Isabella Gardner has imagined it in her will) and reveal our art on our T-shirts. Please sign up below to get all the details. This is a peaceful field trip without risk of arrest.
Accessibility
sign up below