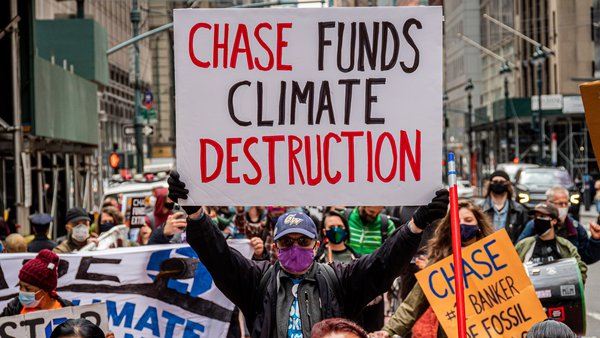 Fossil Free Fuel Day of Action
XR Youth Boston has joined with the Boston Climate Finance Coalition, to call out Chase Bank and Liberty Mutual for funding the destruction of our planet.
The role of the big banks in the climate crisis is not surprising. These are banks, after all, that profit from our student debt, prey on and exploit communities of color, and invest in countless industries that undergird massive inequality. However, they aren't invincible, and it doesn't have to be this way. Banks, like all companies, care about their public image and reputation.
JPMorgan Chase, our primary target in the U.S. and the largest financier of fossil fuels in the world, cares very deeply about being perceived as a good corporate actor. CEO Jamie Dimon is a Trump critic and so-called CEO who cares. JPMorgan Chase is vulnerable to how we think, feel, and act.
That's why on October 29 young people are calling on megabanks and other financial institutions — particularly JPMorgan Chase in the U.S., and Standard Chartered, Royal Bank of Canada, BlackRock, AIG, Lloyds of London, Barclays, HSBC, Deutsche Bank, Credit Suisse, and MUFG internationally — to immediately stop funding fossil fuel expansion. Our movement aims to create severe reputational, political, and economic costs to banks that continue to enable the fossil fuel industry.
And let's be clear, we will not be satisfied by the usual laundry list of empty promises propped up by fancy words and flashy campaigns. JPMorgan Chase, along with peer institutions, says they will commit to "net-zero by 2050." Net-zero by 2050 means that, at least on paper, by 2050, an entity would need to stop contributing more pollution to the atmosphere than it is able to draw down. This doesn't stop them from continuing to finance new fossil fuel infrastructure, which will release more carbon and pollution into the atmosphere, while still saying they have "climate commitments." They are greenwashing — giving us empty promises and policies we don't need in order to distract us from the fact that they are taking no real responsibility or action.
The executive director of the International Energy Agency, which recently authored a report on achieving net-zero by 2050, told the Guardian in May, "If governments are serious about the climate crisis, there can be no new investments in oil, gas, and coal, from now – from this year." There are no excuses.
This fight isn't new, and we've won before. Because of the powerful organizing of Indigenous leaders, no major U.S. bank will fund drilling in the Arctic National Wildlife Refuge. In addition, for the last decade, college students have been leading the charge to get universities to divest nearly $15 trillion. In fact, Harvard University just announced earlier this month that it plans to allow its remaining fossil fuel investments to expire. We're building on the work that's been done by so many in the movement and calling on you to be part of the next wave of organizing focused on a Fossil-Free Future.
By going after the banks that are financing fossil fuel extraction, we're cutting off the money pipeline that is the fossil fuel industry's only hope of survival in a world that is eager to transition to clean energy. We've seen the limitations of moral and pragmatic appeals: Fires burn down homes, hurricanes destroy coastal communities, heatwaves kill our grandparents, tsunamis take human life. And yet, the money from banks keeps flowing. That's why on October 29, we need you to join us in bringing our demands to JPMorgan Chase and other financial institutions. The money that fuels the fossil fuel industry ends here. A Fossil-Free Future is possible and it starts now.
Accessibility
Public streets