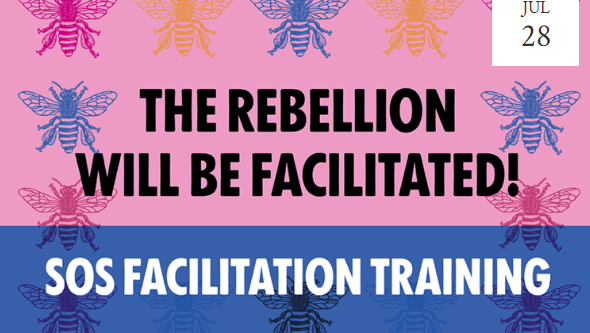 The Rebellion will Be (SOS) Facilitated
Strong facilitation is vital to a strong movement.
This three-module series on Zoom focuses on key elements of facilitation in working groups and community groups. All three modules are highly participatory, with lots of time for supported practice, role plays and reflection.
Valuable for people with any level of experience.
This first module covers basic meeting format and the concept and practice of consent decision-making. The following modules cover proposal generation, role selections, social-emotional challenges and what-if scenarios.
This series of THREE modules will take place from 5-7pm EST on:
Module ONE – Tuesday July 28
Module TWO - Tuesday August 4
Module THREE – Tuesday August 11
By signing up to this event and making your donation, you will be automatically signed-up for the above THREE dates and times to complete the THREE module training.
Please save down the zoom link you will have access to - on the digital links page of eventbrite once you have registered - this will be the zoom link for all three sessions. You will receive access to the digital links page via your confirmation email.
The cost is on a sliding scale, please choose what suits your situation best - we would suggest between $10-30 per person to complete the 3 module piece.
No-one will be turned away for lack of funds, should payment be a hardship for any reason whatsoever, a free ticket is available if you email xrnyc.events@gmail.com.
Register here! https://www.eventbrite.com/e/the-rebellion-will-be-facilitated-tickets-111387127898