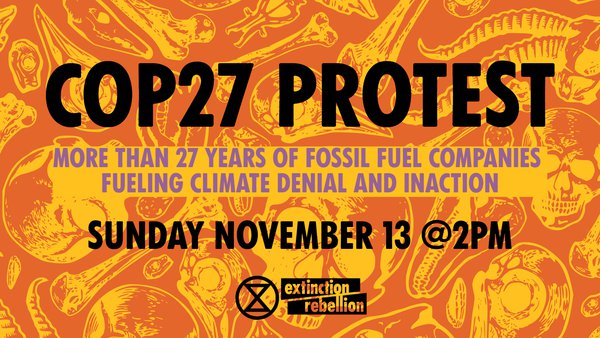 COP27 Protest Skit --> Shoe-in POSTPONED
NEW LOCATION (INDOOR) DUE TO RAIN RSVP by 12noon 11/13 for details. SHOE-IN POSTPONED
On the other side of the world in Egypt, the 27th year of UN climate negotiations, COP27, is well underway. Surely it will result in more Blah, Blah, Blah. Here in Boston, we're going to fight back and share the Truth, Truth, Truth.
Join us Sunday, November 13 at 2pm to hear the truth about the fossil fuel industry and its role in the climate emergency. Watch scientists and "oiligarchs" battle it out in a short skit. We will also have a "shoe-in" to honor the lives lost to the climate and ecological emergencies. Bring shoes for this temporary art installation.
The UN Secretary General has said this is Code Red for Humanity. Join us as we resolve to make XR's Demands a reality!
Accessibility
[RSVP for details]