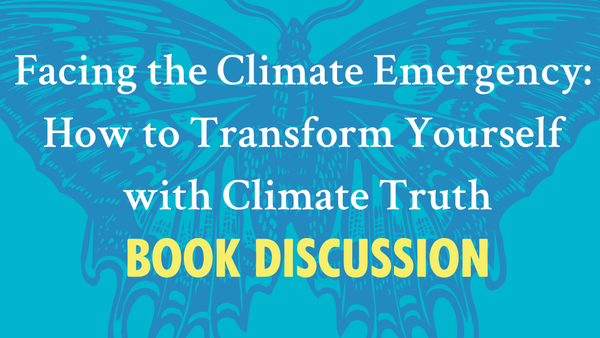 Facing the Climate Emergency - Book Discussion
Join us on Tuesday, November 28 from 5:45 pm - 8 pm for a special discussion of the transformative book, "Facing the Climate Emergency: How to Transform Yourself with Climate Truth." We will be joined by the book's author, Margaret Klein Salamon, over Zoom! If you need a copy of Facing the Climate Emergency, please email: outreach@xrboston.org.
Together we'll reflect on the themes of the five chapters:
Step One: Face Climate Truth

Step Two: Welcome Fear, Grief, and Other Painful Feelings

Step Three: Reimagine Your Life Story

Step Four: Enter Emergency Mode

Step Five: Join the Movement and Disrupt Normalcy
We'll also discuss what's next for the Climate Emergency Movement, and share ideas for how you can help others find -- and be transformed by -- this impactful book.
Vegetarian and vegan pizza will be served at 5:45 pm, so please arrive promptly. You are welcome to bring a vegetarian or vegan side, dessert, or drink to share. (Gluten-free contributions are also appreciated.) Be sure to to RSVP on this page so we order enough pizza!
NB: This meeting is at the Community Church of Boston, which doesn't look much like a church, more like a storefront along Boylston opposite Copley Square. If it's number 565, you've got the right place!
Accessibility
There is an elevator. The bathrooms are up two stairs from the main event space.