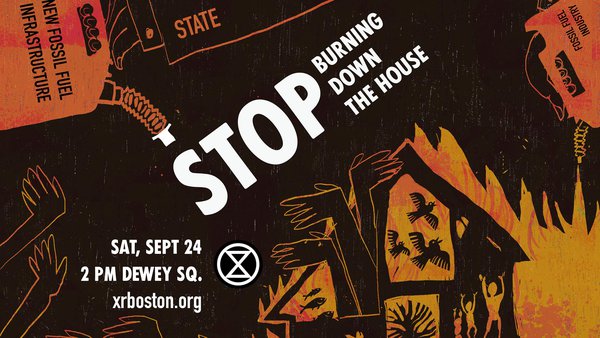 Stop Burning Down the House
Start Time: 2 pm on Saturday 9/24
Location: Starting at Dewey Square and marching to Columbus Park
Join us for a march and party at the peak of XR Boston's first Week of Rebellion. We will get into the streets to dance and party! We will meet at Dewey Square at 2:00 them march to Christopher Columbus Waterfront Park at 2:45, followed by various activities including dancing, food, a People's Assembly, do-it-together art and more...
Though this action is at the end of the Week or Rebellion, this will be the beginning of a much larger mass climate movement in Boston. Through celebrating what we have accomplished as environmental activists and imagining a future free of fossil fuels, we will cultivate the resolve to plug in and commit to ending the fossil fuel industry.
Our house is on fire. When your house is on fire, you need a smoke alarm that is dedicated in its full effort to dealing with the infernal emergency. The smoke alarm must wake up all of the residents of the home so they may get out, it must alert the fire department that there is a fire that must be put out, and it must expose the fact that there are arsonists burning down the house with flammable fuel.
Extinction Rebellion is that smoke alarm that is waking up our society from its deep slumber. These are the final years we have as a species to prevent climate breakdown and mass extinction. We must all resolve to getting into the streets and ending the fossil fuel industry before it kills us all. Help Extinction Rebellion Boston get the state to take the first step by putting a moratorium on new fossil fuel infrastructure.
Accessibility
Public Park + Sidewalks