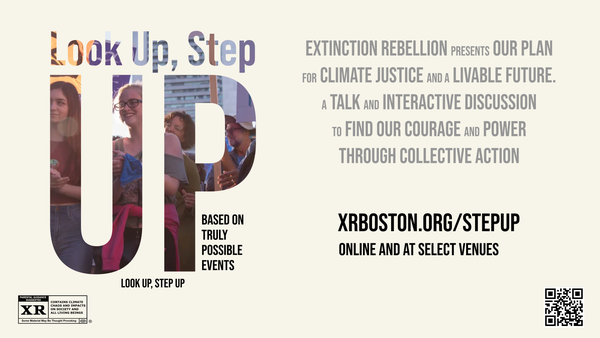 Look Up, Step Up - in the park
"The alarm bells are deafening, and the evidence is irrefutable: greenhouse-gas emissions from fossil-fuel burning and deforestation are choking our planet and putting billions of people at immediate risk ... if we combine forces now, we can avert climate catastrophe." -- UN Secretary General, Antonio Guterres
Politicians are failing to take the action we need to avoid devastating climate change. But we can still take action together to ensure our children have a future.
It's easy to feel overwhelmed by the scale of what we are facing and that's why we need each and every one of us to come together while there's still time to act.
So we're inviting you to join us at the Southwest Corridor Park, across the street from the Stony Brook T Stop in Jamaica Plain, to a free talk on the climate and ecological crisis and what we can do about it.
It's time to stop feeling powerless and alone and get to know other local people who want to make a difference too.
The talk will last for around 45 minutes and there will be time for Q&A.
Accessibility
Outdoors, but potentially hard to navigate by wheelchair. Email: johnb.climate@proton.me for details.