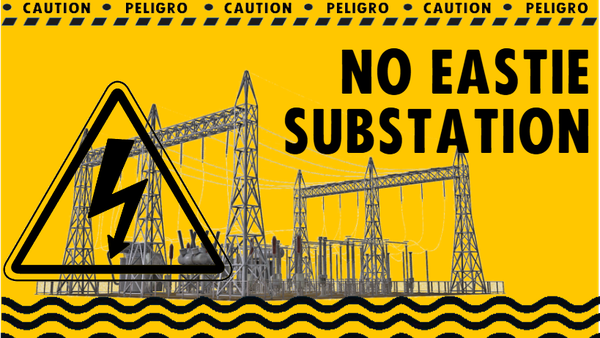 Tweetstorm: No Eastie Substation
--- Español abajo ----------
Join us for a tweetstorm opposing the dangerous high voltage, electric substation that Eversource plans to build in East Boston. Please sign up below so we can share example tweets with you as the event comes closer.
Some Background:
A substation is a piece of infrastructure that allows high voltage electricity to be dropped to a lower distribution level voltage that can be used in households. The proposed site is poorly chosen: Close to Chelsea creek, in a densely populated community, adjacent to a playground & soccer field and only a few hundred feet from a large storage area for Massport's jet fuel. Due to the location being a climate-induced flood zone, community members are concerned about the possibility of an explosive accident.
Nearly 84 percent of Boston voters cast their ballots in opposition to an electric substation that Eversource plans to build along the Chelsea Creek in the Eagle Hill neighborhood of East Boston in November 2021. Unfortunately this ballot question is non-binding and in February 2022 Eversource has filed a request to overwrite 15 (!) ongoing review city and state processes with their friends at the EFSB. The respective draft decision is expected on November 9, 2022, that Eversource needed to start construction of the East Boston substation.
For more information see https://xrboston.org/substation/.
---
Únase a nosotros para una tormenta de tweets para opernerse a la peligrosa subestación eléctrica de alto voltaje que Eversource planea construir en East Boston. Inscribisre abajo para que podamos compartir tweets de ejemplo con usted a medida que se acerca el evento.
Algunos antecedentes:
Una subestación es una pieza de infraestructura que permite que la electricidad de alto voltaje se reduzca a un nivel de distribución más bajo que se puede usar en los hogares. El sitio propuesto está mal elegido: cerca del arroyo Chelsea, en una comunidad densamente poblada, adyacente a un patio de recreo y un campo de fútbol y a solo unos cientos de pies de una gran área de almacenamiento para el combustible para aviones de Massport. Debido a que la ubicación es una zona de inundación inducida por el clima, los miembros de la comunidad están preocupados por la posibilidad de un accidente explosivo.
Casi el 84 por ciento de los votantes de Boston emitieron sus votos en oposición a una subestación eléctrica que Eversource planea construir a lo largo del arroyo Chelsea en el vecindario Eagle Hill de East Boston en noviembre de 2021. Desafortunadamente, esta pregunta de la boleta electoral no es vinculante y en febrero de 2022 Eversource ha presentado una solicitud para sobrescribir 15 (!) procesos de revisión en curso de la ciudad y el estado con sus amigos en el EFSB. Se espera que el borrador respectivo tome la decisión el 9 de noviembre de 2022, que Eversource necesitaba para comenzar la construcción de la subestación de East Boston. Para obtener más información, véase https://xrboston.org/substation/.