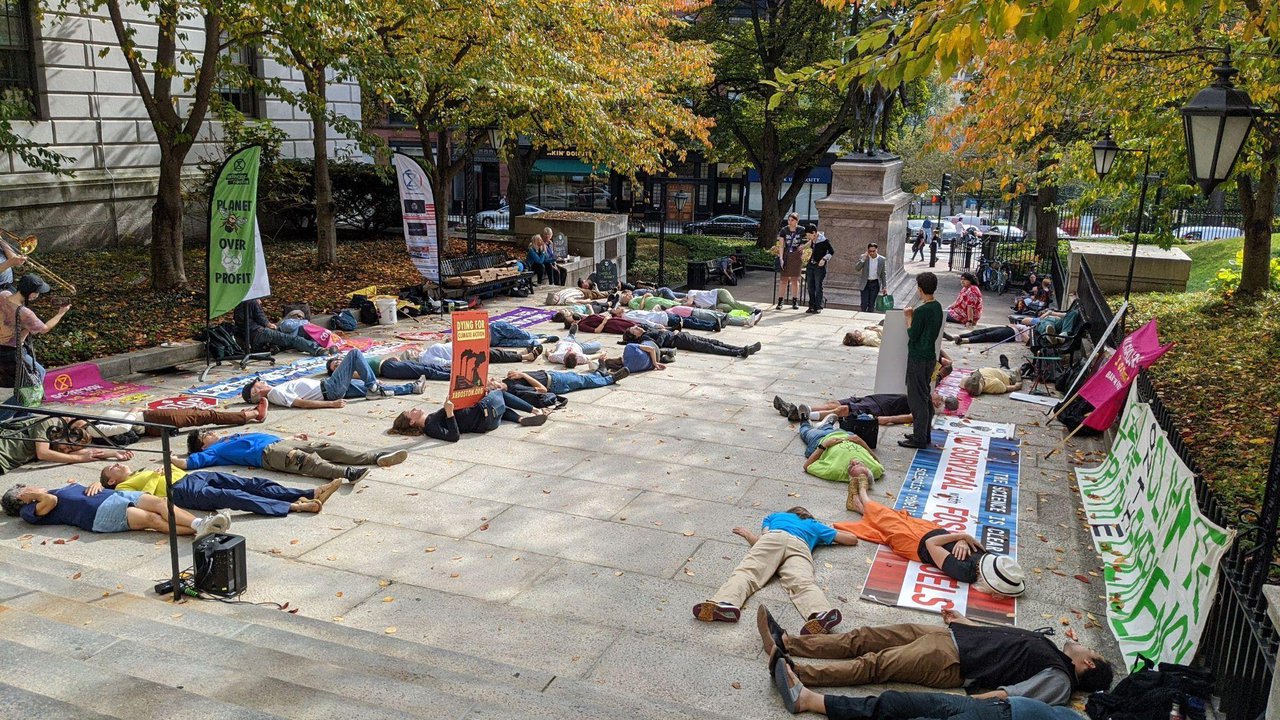 Climate Activists Celebrate 101 Days of the "State House Stand-Out"
On Friday October 27, climate activists from Extinction Rebellion Boston (XR), FRRACS, Our Revolution Massachusetts, Mass350, Mothers Out Front, Sierra Club, Scientist Rebellion, and Jewish Climate Action celebrated the 101st day of the State House Stand-Out. Participants in the Stand-Out gather at the General Hooker entrance of the Massachusetts State House every business day from 9 am to 5 pm, to put relentless pressure on the Governor and legislators to ban new fossil fuel infrastructure immediately. As part of the Stand-Out, participants write personalized postcards to Governor Healey, Speaker Mariano, and Senate President Spilka, and deliver them to their respective offices. This has created a daily direct line of communication between the climate action community and the lawmakers in control of fossil fuel infrastructure in Massachusetts
At the Day 101 Celebration, attendees shared a vegan pizza lunch while writing their individual stack of postcards to be delivered to Healey, Spilka, and Mariano. A brass band from the Boston Area Brigade of Activist Musicians play upbeat music, setting the celebratory mood. Speakers Chris LeDuc from the International Green Party and Carina Campobasso from XR Boston delivered inspiring speeches about the need to immediately ban new fossil fuel infrastructure in Massachusetts. Once the postcards were ready, the crowd walked into the State House and delivered them to Speaker Senate President Spilka, Speaker Mariano, and Governor Healey's offices while the XR Boston choir's voices echoed through the building.
Afterwards, the crowd descended the stairs and returned to the General Hooker entrance, where they ceremonially dropped to the ground in a "Die-In" to represent the loss of life caused by continued construction of new fossil fuel infrastructure. After the solemn Die-In, the brass band played to "raise the dead," and the celebration continued.
When asked why she frequently participates in the State House Stand-Out, activist Carina Campobasso said, "I stand out to relieve my deep anxiety about the climate crisis. Taking tangible, collective action is the only way to do that. We need to stop investing in new fossil fuel infrastructure as a first step if we are to have any chance of having a livable planet. Even if we are not ultimately successful… at least we will know we have done what we could. And I will have met the best people along the way."
Extinction Rebellion Boston demands that the Massachusetts government ban New Fossil Fuel Infrastructure by immediately taking the following steps:
Issue a public announcement that the Governor is committed to a No New Fossil Fuel Infrastructure policy for the Commonwealth, including opposing projects under construction or currently in the permitting process
Issue a public commitment that the Governor will only appoint anti-new fossil fuel infrastructure policymakers to the Energy Facilities Siting Board and Department of Public Utilities, the key independent boards that permit new energy infrastructure
Work with Speaker Mariano and Senate President Spilka to introduce legislation that would permanently ban new fossil fuel infrastructure in Massachusetts
Banning new fossil fuel infrastructure includes:
NO new fossil fuel power plants
NO new residential or commercial gas connections
NO new or expanded natural gas distribution pipelines, transmission pipelines, or compressor stations
NO new liquified natural gas production facilities, storage facilities, or terminals
NO new gas stations or other gasoline and diesel infrastructure
NO new airports or airfield expansions
Stopping new fossil fuel infrastructure under development includes:
MMWEC's Peaker Plant in Peabody
NEC's Liquified Natural Gas Facility in Charlton
LNG expansion to Douglas
L.G. Hanscom Airfield's North Airfield Development in Bedford
"Modernization" projects in Lowell and Worcester
"Reliability" projects in Western Mass. and Sharon-to-Brockton
The Hopkinton-Ashland Transfer Line
Meter stations in Longmeadow and Charlton
Sophia Pinto Thomas, one of the Stand-Out organizers and a student at Boston University, told reporters, "Everything I read or learn about the climate crisis tells me that our leaders aren't doing enough, soon enough, to combat its worst effects. I don't understand why any fossil fuel infrastructure, such as the Willow Project in Alaska, or the Rosebank oil field in the UK, are still being approved. We have had years of warnings and disasters, so I want to do my part to help my home take action against this crisis. If Massachusetts wants to live up to its legacy of 'the revolutionary state', then our government has to start doing more, right now."
Climate activists from Extinction Rebellion Boston previously staged a sit-in at the Governor's office this past February, calling on Governor Healey and Climate Chief Hoffer to publicly commit to no new fossil fuel infrastructure. During this sit-in, Hoffer briefly met with the activists and heard their arguments for why Massachusetts should be a leader in the transition to a fossil free future. In May and June, rebels disrupted sessions in the House chamber and Senate chamber. In the June demonstration, climate activists pulled down their pants and mooned the Senate chamber, with the words "Stop Passing Gas" written across their backsides. Ten XR and Scientist Rebellion rebels were arrested after blocking access to a private jet company at Hanscom Airfield in December. Last September, 15 XR rebels were arrested while disrupting traffic across the city in an effort to raise attention to the need for No New Fossil Fuel Infrastructure.
The global average temperature for July 2023 is confirmed to be the highest on record for any month. August 2023 is the hottest August ever recorded.1 The National Oceanic and Atmospheric Administration estimates that as of July 12, 2023, the United States had already suffered 23 billion-dollar disasters this year, 10 of which were severe thunderstorms and tornadoes caused by climate change.2 By refusing to take action to mitigate effects of the climate crisis, our government is dooming themselves to financial disaster. More disturbing, the government is sentencing residents to suffer more crises like this summer's floods in Vermont and the heat waves across Massachusetts that have sent hundreds of people to the hospital for heat-related conditions.3
###
---
Featured:
Stop the Fossil Fuel Industry, Now: List of events for Extinction Rebellion Boston's September week of rebellion

A compilation of books, movies, articles, and ways to take action to protect Black lives

Nadia Colburn, PhD and member of Extinction Rebellion Media team, discusses how to talk about the climate and ecological crisis with family and friends.
---
---
Upcoming Events:
Wed Dec 6th @ 6 p.m.

Fri Dec 8th @ 5:30 p.m.

Sat Dec 9th @ 3 p.m.