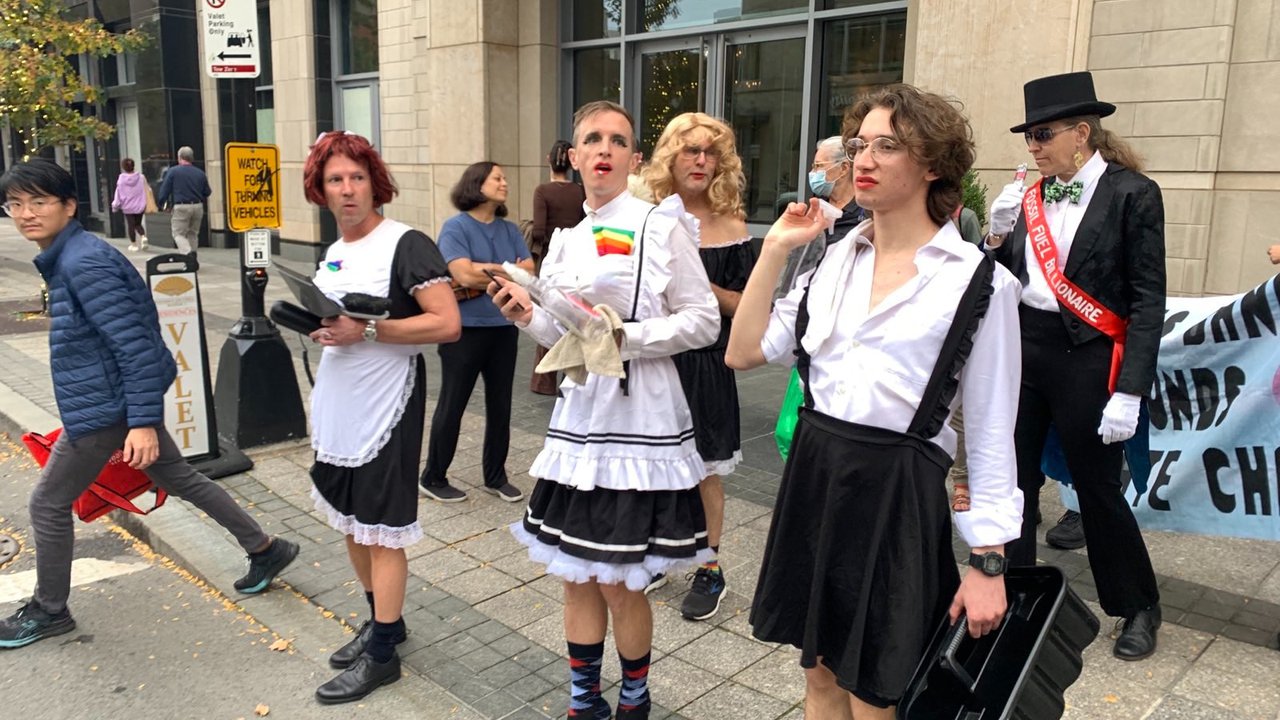 Climate Activists Disrupt Bank Lobbies in Gender-Bending Custodial Outfits to "Clean Up" their Fossil Fuel Funding
On Wednesday October 25th at 4 pm, more than 15 activists with the Rainbow Rebellion, a queer-led group within Extinction Rebellion Boston, entered the lobbies of major banks around downtown Boston dressed in drag as gender-bending custodians and maids to "clean up" the banks' fossil fuel funding. The activists went into Chase Bank, Bank of America, TD Bank, and PNC Bank, and disrupted bank activities by pretending to clean up their lobbies with mops, dusters, and brooms while dancing to "I Want to Break Free" by Queen. The activists were protesting the banks' financing of fossil fuel infrastructure and demanded that the banks divest their funding from fossil fuels immediately. They called their protest "Drag the Banks."

The queer activists are targeting banks because collectively the world's 60 biggest banks poured over $5.5 trillion over the past 7 years into the fossil fuel industry, driving global climate chaos and causing deadly local community impacts (1). In 2022 alone, Chase, Bank of America, TD Bank, and PNC bank contributed $39B, $35B, $29B, and $13B respectively to companies like Exxon, Saudi Arabian Oil, Chevron, BP, and Abu Dhabi National Oil. ​​​​​​​The activists in gender-bending costumes chanted "no more gas, no more oil, keep the carbon in the soil!" and "Hear it from these climate queers, no more fossil fuel profiteers!" The activists spoke to bank employees, customers, and passers-by about the banks' culpability for creating global climate change due to their fossil fuel investments. "Clean up your dirty act!" the members of Rainbow Rebellion yelled inside the bank as they flamboyantly performed cleaning chores around the lobby, pretending to find dirty fossil fuel money that the bank was trying to hide through greenwashing. "We're professional cleaners, we know greenwashing when we see it!" they bantered.

In a statement by the queer climate activist group, they said "The Rainbow Rebellion is a queer group of climate activists within Extinction Rebellion that focuses on the intersectionality of queer and climate justice. The climate crisis disproportionately affects queer people because as the climate crisis worsens weather-related disasters and crop failure, the higher rates of homelessness, poverty, and food insecurity of the queer population puts them at even greater risk." One of the activists, dressed in a traditional-looking French Maid outfit, said, "We're bringing some queer fun and creativity into climate action today by dressing up as cleaners to highlight the finance industry's bankrolling of climate change. Queer people have a storied history of activism and standing up for our communities for stronger political policy that's based in science, and we can do the same with climate change. We don't want climate change to be a drag, so instead we're dressing in drag to cheekily demand the banks move their funding immediately to low carbon alternatives."

Another activist dressed as the bank's CEO (Jamie Dimon for Chase, Brian Moynihan for Bank of America) and pretended to deter his fellow comrades from cleaning the bank and finding the money reserved for fossil fuel spending. The activists dressed as maids called him a "naughty criminal" and pantomimed spanking him in the middle of the bank lobbies. The activists' disruptive performances were eventually ended by security who threatened to have the police arrest them if they didn't leave the buildings.

Extinction Rebellion Boston made waves in the climate movement this year, putting on protests that resulted in over 60 arrests in 2023 in pursuit of getting the Massachusetts government to commit to a moratorium on new fossil fuel infrastructure. Activists staged a sit-in in the Governor's office in February, occupied the House Gallery during a joint formal session in May, mooned a formal Senate session in June, and blocked traffic in downtown Boston and played a game of basketball in the statehouse in September. The activist group has also led a daily standout in front of the Statehouse since early June. Extinction Rebellion demands that the state issue a public announcement that the Governor is committed to a No New Fossil Fuel Infrastructure policy for the Commonwealth, including opposing projects under construction or currently in the permitting process, and work with Speaker Mariano and Senate President Spilka to introduce legislation that would permanently ban new fossil fuel infrastructure in Massachusetts.

The global average temperature for July 2023 was confirmed to be the highest on record for any month. August 2023 was the hottest August ever recorded (2). The National Oceanic and Atmospheric Administration estimates that as of July 12, 2023, the United States had already suffered 23 billion-dollar disasters this year, 10 of which were severe thunderstorms and tornadoes caused by climate change (3). By refusing to take action to mitigate effects of the climate crisis, our government is dooming themselves to financial disaster. More disturbing, the government is sentencing residents to suffer more crises like this summer's floods in Vermont and the heat waves across Massachusetts that have sent hundreds of people to the hospital for heat-related conditions (4).

(1) https://www.bankingonclimatechaos.org/
(2) https://yaleclimateconnections.org/2023/09/august-2023-was-earths-hottest-august-on-record/
(3) https://www.theguardian.com/environment/2023/sep/11/us-record-billion-dollar-climate-disasters
(4) https://www.telegram.com/story/news/2023/06/13/heat-deaths-in-worcester-fatality-risk-rises-due-to-climate-change/70314534007/
---
Featured:
Stop the Fossil Fuel Industry, Now: List of events for Extinction Rebellion Boston's September week of rebellion

A compilation of books, movies, articles, and ways to take action to protect Black lives

Nadia Colburn, PhD and member of Extinction Rebellion Media team, discusses how to talk about the climate and ecological crisis with family and friends.
---
---
Upcoming Events:
Wed Dec 6th @ 6 p.m.

Fri Dec 8th @ 5:30 p.m.

Sat Dec 9th @ 3 p.m.