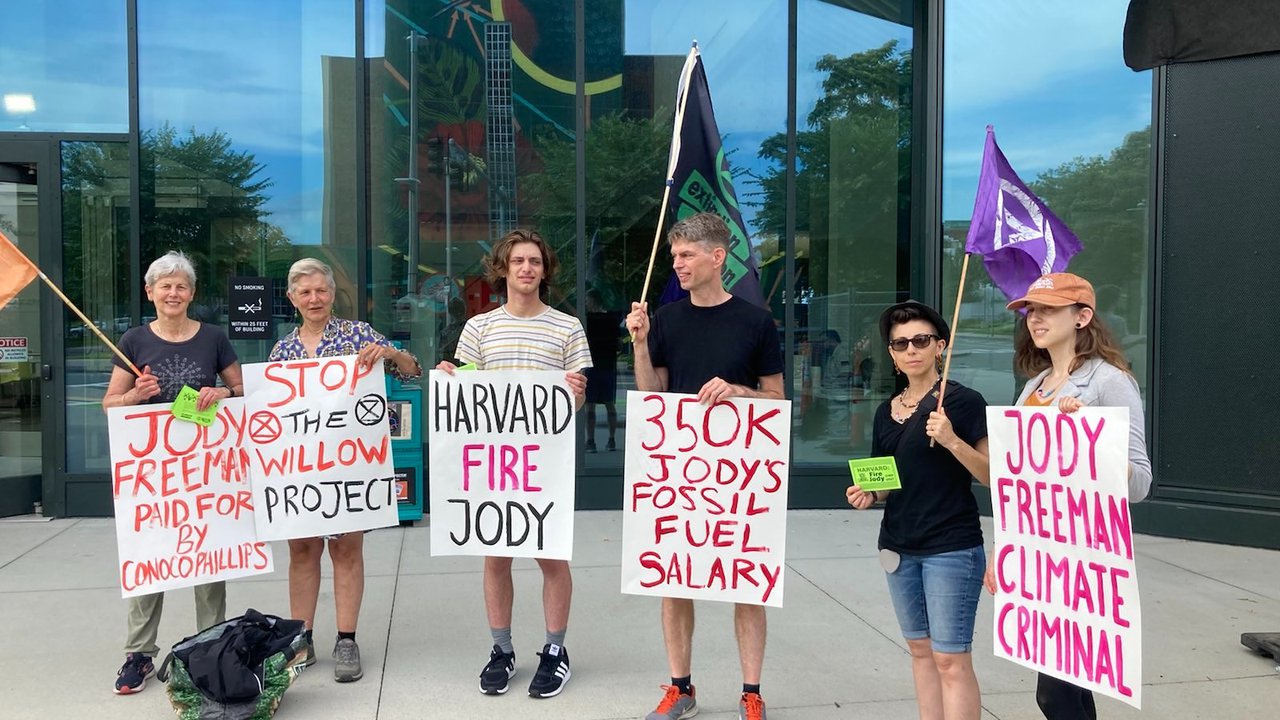 XR Boston and Climate Defiance Disrupt Harvard Speaker, Demand Harvard Fire Climate Criminal Jody Freeman
Press Contact: Susan Lemont (she/her) | 781-307-0143 | xrboston.media@gmail.com
Photo and Video Drive: https://drive.google.com/drive/folders/10Ph1mo2NniUsVumkTLCFG2Wuv72PS0SE

Additional information is available upon request

Boston MA - Friday, July 14th, 10 climate activists from Extinction Rebellion Boston (XR) and Climate Defiance (CD) took over the stage in front of over 150 attendees at the Harvard University Climate Forum. The non-violent activists disrupted a speech by Executive Director of the Environmental & Energy Law Program, Carrie Jenks, as she spoke at 9:20 am. Reading from a list of demands, chanting, and preventing the event from proceeding, activists held a cloth banner reading "Stop Willow" and "Harvard, Fire Jody" with a picture of Jody Freeman stamped "Climate Criminal." When Carrie Jenks began her speech on "The Basics of Climate Change: What to Know to Be "Action-Ready", activists rushed onto the stage, unfurling their banners and chanting, "Willow, Dirty Deal, Jody You Are Killing Me" and "Hey hey, ho ho, Jody Freeman, got to go."

Immediately following this disruption of the Climate Forum, another group of climate activists from XR Boston and Climate Defiance staged a "Die-In" at the entrance to the Harvard John A. Paulson School of Engineering and Applied Sciences Complex. One of XR Boston's activists in the Die-In, Susan Lemont, said "With Jody Freeman on the board, ConocoPhillips has made Harvard complicit in the building of the Willow Project. We are already on the path to extinction. Willow just ensures we get there." Amidst the uproar of the Forum, Die-In participants chanted, then lay on the ground to illustrate countless deaths resulting from fossil fuels.

Why Jody Freeman?

When asked about his participation in the demonstration, Brian Okum, an activist with XR Boston, replied "Professor Jody Freeman is a lobbyist and board member for ConocoPhillips. We're here because we find it unacceptable for Harvard, a world leader in education and science, to continue to allow her to represent the university's response and position on the climate crisis." Jody Freeman has worked with the Obama and Biden administrations on climate policy. She is the founding director for Harvard Law School's Environmental and Energy Law Program, and the co-chair of Harvard University's Presidential Committee on Sustainability. Freeman is steering Harvard's response to the climate crisis.

However, for the past 11 years Jody Freeman has received $350,000 to sit on ConocoPhillips's Board of Directors. ConocoPhillips is Alaska's largest crude oil producer and largest owner of exploration leases. Jody Freeman claims to be "working to help the company deliver on, and strengthen its climate commitments," but during her tenure ConocoPhillips has expanded fossil fuel operations and is now building the Willow Project, which scientists are calling a "carbon bomb." Because of her paid position on ConocoPhillips, Jody Freeman is legally mandated to put her fiduciary responsibility to ConocoPhillips before her commitment to a sustainable Harvard. In April, the Guardian reported that Jody Freeman lobbied the SEC for watered-down regulations on greenhouse emissions reporting, without disclosing her financial ties and responsibility to ConocoPhillips, potentially violating Harvard University policy. Jody Freeman is using Harvard's prestige and power to lobby for Big Oil.

After Freeman has sat on ConocoPhillips Board of Directors for over a decade, ConocoPhillips consistently falls flat on its climate plans. Even when compared to the climate plans of other fossil fuel companies, ConocoPhillips has one of the worst. ConocoPhillips is currently constructing the Willow Project, a massive $8 billion new oil drilling project in Alaska set to start operations in 2029. To be able to drill for oil, ConocoPhillips will need to use "chillers" to re-freeze melting permafrost so that it supports their heavy equipment. That permafrost is melting because of climate change fueled by the extraction and burning of fossil fuels. ConocoPhillips and Big Oil are responsible for the climate crisis, and the Willow Project will just make the fallout more catastrophic.

Demands

With this action, Climate Defiance and Extinction Rebellion demand that Harvard stops lending its prestige to climate criminals, by firing Jody Freeman and rejecting all fossil fuel industry-funded research and programming. Harvard must reinvest its material and social capital in renewable energy and environmental justice communities. "We have less than 3 years till 1.5C and irreversible climate catastrophe. I'm 20, what power do I have to stop it?" asks Martin Gioannetti, event organizer and member of Climate Defiance and XR Boston. "All I can do is organize non-violent disruptive action against our complacent institutions and government. Jody Freeman and Joe Biden: This is just the beginning, we will continue to disrupt and expose you until you do your job on climate or you are replaced."

This action is part of Climate Defiance's Stop Climate Criminals campaign, where they have disrupted Senator Chuck Schumer, Senator Joe Manchin, and other climate criminals choosing profit over people. Meanwhile, ConocoPhillips drills 1.8 million barrels of oil per day, and the Willow Project will make that 2 million. Jody Freeman: As the world teeters on the edge of climate catastrophe, how dare you profit off of that destruction while claiming to be a climate leader?

---
Featured:
Stop the Fossil Fuel Industry, Now: List of events for Extinction Rebellion Boston's September week of rebellion

A compilation of books, movies, articles, and ways to take action to protect Black lives

Nadia Colburn, PhD and member of Extinction Rebellion Media team, discusses how to talk about the climate and ecological crisis with family and friends.
---
---
Upcoming Events:
Wed Oct 4th @ 9 a.m.

Thu Oct 5th @ 9 a.m.

Fri Oct 6th @ 9 a.m.