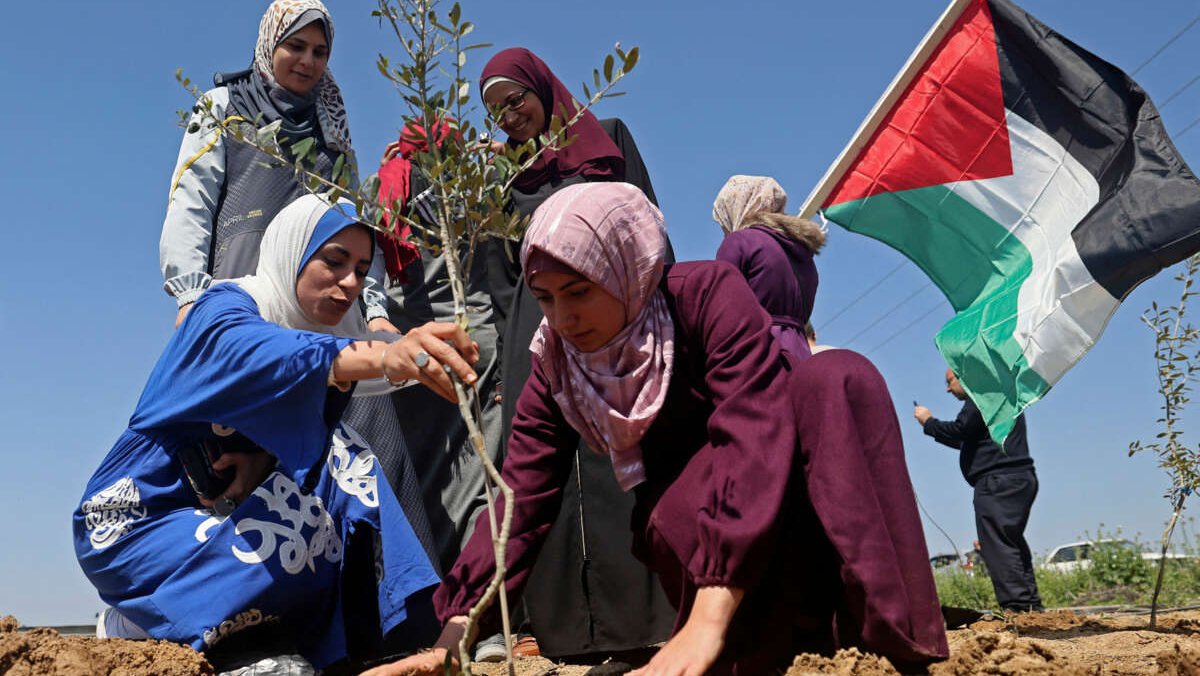 REBEL OPINION: Climate Justice means Justice for All – Why Palestine Must be Free
Article by XR Boston member Sophia Pinto Thomas. This opinion piece represents the views of the writer, not XR Boston as an organization.
Social justice and climate justice are inextricably linked. When a group of people is oppressed, their land, their environment, and everything that lives there is also oppressed. Pollution, loss of biodiversity, and the endangerment of human health has been occurring in Palestine for decades. Since October 2023, as we have all seen, the crisis has intensified.
Over 2 million Palestinians live in the Gaza Strip, which is not a sovereign state. Palestine is a territory of Israel. Gaza, located on the Mediterranean coast, has been called an "open-air prison" because its people cannot travel, cannot control their sources of water or food, and are cut off from the rest of the world by blockade. Not only is this a violation of human rights, but it is a mistreatment of the land and of the people who live there. When people die from bombing, from a lack of resources, or from an imposed apartheid — the land begins to die as well.
In mid-October, following the attacks from Hamas on Israeli civilians, Israel's government cut off food, fuel, and water from Gaza. They began bombing Gaza under the pretense of trying to kill Hamas leaders or fighters, without regard for the safety of civilians. This, combined with deprivation of all resources, is an unbelievable crime against the Gazans and their home. As of now, early November '23, Gaza is becoming unlivable from the use of white phosphorus, constant bombing, and a lack of daily necessities.
97% of water in Gaza is undrinkable. There is not enough fuel to purify what little water is left. As of mid-October, Unicef reported that Gazans are using only 3 liters of water a day, compared to the recommended 50 liters for cooking, cleaning, and drinking. With such limited resources, disease and dehydration could run rampant. This is a crisis directly imposed by the Israeli government on the Palestinians. The Palestinians cannot access their most basic needs. Their country is struggling horribly.
This is violence at a genocidal scale. Palestinians have been labeled "human animals" by Israeli officials; over 8,000 have been killed in less than a month, and millions more are endangered by Israel's extremism. Half of all people living in Gaza are under the age of 15. This is a humanitarian crisis. Israel's violent actions must be stopped to protect the land and the people of Palestine.
In her 2020 article, Ecocide Is Genocide: Decolonizing the Definition of Genocide, Lauren Eichler argues that wrecking the ecosystems where people live is an act of genocide. Even if it does not directly harm the bodies of a group of people, it harms their home, their ways of life. It imposes scarcity, poverty, and a lack of autonomy on the group. Genocide is connected to ecocide, or the destruction wrought on nature by human activity. (Ring any bells?) When the land is harmed, so are the people, and this can threaten entire cultures. Depletion of soils and species rise. Communal health is wounded.
The land and the people who tend it are connected. When people in places such as Gaza are made to suffer, so will everything around them.
In her 2023 book It's Not That Radical, British-Jamaican activist Mikaela Loach says that we are all facing the same storm (climate change) — but we're not in the same boat. Some of our boats have more wealth and safety features; others are tiny rafts that don't have access to basic needs. This is a metaphor for how peoples across the world, rich and poor, disenfranchised and privileged, are facing the climate emergency. Loach says "Climate justice asks us not to abandon liberation for our peoples, but to usher it in with even more urgency. The climate-just solutions to this crisis actually offer us a roadmap to a truly better and transformed world."
A transformed world means equity across the world. It means everyone being able to have control over their lands, their resources, and their futures. For Palestine, more so than ever, climate justice means restoring freedom and peace to Gaza and the West Bank.
As XR Boston stated in May 2021, "As long as there are segments of the world's population that are abused or treated as disposable, while the rest of the world responds with silence or denial, there is space for environmental injustice to both continue and take root." Right now, this is exactly what is happening in Gaza. This is an issue of environmental justice as well as a humanitarian crisis. If Palestinians do not have any control over their homeland, if they cannot access vital resources and control how they live – or if they live at all – then their sovereignty is being compromised. Their home, the health of the land, and all living things, are threatened.
Fighting for social justice means fighting for climate justice. It means advocating for peace and the protection of all life from dangerous human actions. As Mikaela Loach says "Climate justice offers us…. A gateway from this world into the next. Now, if that's not a rallying call to be part of the movements for climate justice, I'm not sure what is."
We must all take a stand against things that reek of genocide, ecocide, destruction and descrimination. We must stand for the freedom and safety of everyone, everywhere.
For the sake of climate and humanitarian justice, Palestine must be free.
Take Action:
Right now, millions of people are attending pro-Palestine protests all over the world. Join one of these nonviolent actions yourself, or read more about them and their purpose:
Mapping protests in solidarity with Palestine against Is­rael's assault
Why Pro-Palestinian Support Is Growing Amid Israel Conflict | Time
Hundreds march through Boston in support of Palestinians | WBUR News
Hundreds of pro-Palestine marchers rally at Copley Square
In the Greater Boston area, multiple groups are advocating for Palestine's freedom and for indigenous rights everywhere. You can learn more about them here:
About Us - Palestine Advocacy Project
Boston: All Out for Gaza – Massachusetts Peace Action
North American Indian Center of Boston
Other sources referenced in this article:
Gazans forced to drink dirty, salty water as the fuel needed to run water systems runs out | CNN
The Occupation of Water - Amnesty International
Why the Gaza water crisis is decades in the making | New Scientist
Lauren Eichler's 2020 essay: Ecocide Is Genocide: Decolonizing the Definition of Genocide
Recommended Reading about Climate Justice & the Palestinian Struggle:
It's Not That Radical: Climate Action to Transform our World, by Mikaela Loach (2023)
The British-Jamaican climate activist writes about climate justice and racial equality, two sides of the same coin in fighting for the planet.
Confronting Injustice: Racism and the Environmental Emergency – Runnymede Trust & Greenpeace UK (2022 report)
This Is Not A Border: Reportage & Reflection From the Palestine Festival of Literature (2017); collection of writings from international artists, including Alice Walker and J.M. Coatzee
A History of Modern Palestine; 3rd Edition by Ilan Pappe (2022)
The Hundred Years' War on Palestine; A History of Settler Colonialism and Resistance, 1917-2017 by Rashid Khalidi (2020)
Things You May Find Hidden In My Ear: Poems from Gaza by Mosab Abu Toha (2022)
Written by a Gazan teacher, poet, and father about life in Palestine.
Books by late Mahmoud Darwish, often regarded as Palestine's national poet:
Mahmoud Darwish | Poetry Foundation
On the Importance of a Date, or, Decolonizing the Anthropocene | ACME: An International Journal for Critical Geographies; 2017 essay by Heather Davis and Zoe Todd, about redefining the Anthropocene as a colonial creation & legacy.
Becoming Kin: An Indigenous Call to Unforgetting the Past and Reimagining Our Future, by Patty Krawec (2022)
Specific to North America, a book about rebuilding relations between indigenous peoples and settlers. Myth, memoir, spirituality and history come together to create a vision for the future.
---
Featured:
Stop the Fossil Fuel Industry, Now: List of events for Extinction Rebellion Boston's September week of rebellion

A compilation of books, movies, articles, and ways to take action to protect Black lives

Nadia Colburn, PhD and member of Extinction Rebellion Media team, discusses how to talk about the climate and ecological crisis with family and friends.
---
---
Upcoming Events:
Wed Dec 6th @ 6 p.m.

Fri Dec 8th @ 5:30 p.m.

Sat Dec 9th @ 3 p.m.