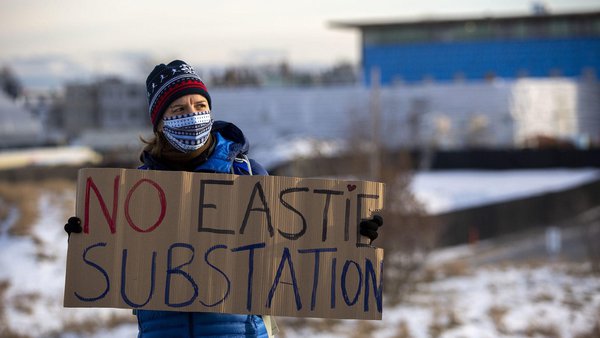 Standout: No Eastie Substation
Nearly 84 percent of Boston voters cast their ballots in opposition to an electric substation that Eversource plans to build along the Chelsea Creek in the Eagle Hill neighborhood of East Boston last November. Unfortunately this ballot question is non-binding and the Executive Office of Energy and Environmental Affairs issued earlier this month a tentative Chapter 91 permit that Eversource needed to start construction of the East Boston substation. Chapter 91 is supposed to protect the public's interest in waterways and makes sure waterfront buildings are not dangerous. We have previously protested and demanded to deny the Chapter 91 permit at the Energy and Environmental Affairs Office, e.g. August 2, 2021. Find more information on the East Boston substation and footage of other actions here. 
Local activists in East Boston are filing appeals to the Chapter 91 permit. We will get together at the Condor Street Urban Wild in Eagle Hill to show that we stand behind those appeals with local activist and residents. Like a year ago, we will have tea and samosas to withstand the January cold. We plan to meet on Saturday, January 29, 11am (rain date Sunday January 30, 3pm). Please sign up below to receive updates.