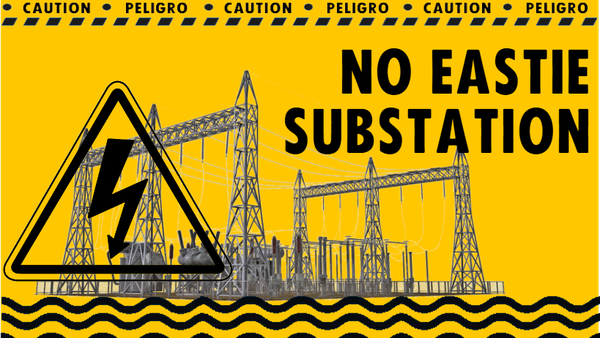 Extinction Rebellion demands the EEA move the proposed East Boston substation to Logan Airport
Extinction Rebellion Demands the Energy and Environmental Affairs Office Move the proposed East Boston substation to Logan Airport
Climate Activists shut down the entrance to the Energy and Environmental Affairs office with a pink bathtub to stop the East Boston substation
Electricity and Water Don't Mix, Secretary Theoharides and the EEA must deny Eversource their Chapter 91 permit and move the East Boston substation to Logan Airport
Deny Eversource their Chapter 91 Permit and Move the substation to Logan, stand for a just transition, XR Decries East Boston substation as Environmental Injustice and a potential Ecological Catastrophe
BOSTON, MA — On Monday, August 2, Extinction Rebellion-Boston (XR) activists shut down the entrance to the Executive Office of Energy and Environmental Affairs using a pink bathtub and their bodies to disrupt business as usual.
Arriving at the EEA's office at 8:30 am, XR members blockaded the entrance. Activists performed street theater with an oversized fake toaster and a pink bathtub that read, "No Eastie Substation." An activist, dressed as an Eversource executive, threw the toaster into the tub to demonstrate what Eversource is doing to our local East Boston community, highlighting the key message, "Electricity and water don't mix." The proposed substation is being placed on the waterfront where there is a high likelihood of severe flooding in the coming decades. Supporters of the #NoEastieSubstation campaign stood with activists who were risking arrest to sing, chant, and hold colorful banners with the messaging "No Eastie Substation" and "Pull the Plug on Eversource."
This electric substation is an explosive hazard. In the vicinity of the proposed site, the following material is stored: 79% of the gasoline used in Massachusetts, 66% of home heating oil for New England, jet fuel for Logan Airport, a liquified natural gas tanker facility, and road salt for over 300 municipalities.(1) Substations can explode when they flood, like when the Con Ed substation in NYC that exploded during Superstorm Sandy. (2)
Our Demands
Before allowing construction of the Eversource East Boston substation, Eversource and the Executive Office of Energy and Environmental Affairs must:
Ensure a transparent analysis for the need of the substation that is based on current data.
Move the substation to the Massport site as they are the largest single user of electricity in East Boston.
Explore options for community control of energy infrastructure in East Boston to address systemic inequalities and promote environmental justice.
Ensure a conservative design of the facility for realistic climate crisis scenarios and compensate the community commensurate with the waterfront and public use that they have lost.
"The East Boston substation is an egregious act of environmental injustice. We are engaging in non-violent direct action to put pressure on Secretary Theoharides and the Executive Office of Energy and Environmental Affairs to deny Eversource the Chapter 91 permit needed to start construction of the East Boston substation and to move the site of the substation to Logan Airport. It's true that we need more electrical infrastructure as we begin to rapidly transition away from fossil fuels, but this transition must be just. A just transition prioritizes communities that have been historically marginalized and have suffered decades of environmental injustice. New green infrastructure development and siting must be based primarily on the input and welfare of local communities," said Alex Chambers from Extinction Rebellion Boston.
A substation is a piece of infrastructure that allows high voltage electricity to be dropped to a lower distribution level voltage that can be used in households. Residents in the Eagle Hill area of East Boston are concerned about this particular substation because it will be located adjacent to Chelsea Creek. This area floods during storms. Electricity and water do not blend well, and community members are concerned about the possibility of a dangerous explosion. The proposed site is also adjacent to a playground and only a few hundred feet from a storage area for Massport's jet fuel. A fire would be disastrous.
This site had been promised to the community as a space for outdoor recreation. The working-class, immigrant-heavy community has already been overburdened with industrial pollution from the nearby airport and highway, regional stockpiles of jet fuel, residential heating oil, and road salt. Taking away another public green space without informed consent from the community is an egregious act of environmental racism. The substation project is opposed by Boston Mayor Kim Janey (3) and numerous elected officials, (4) as well as the local community.(5)
Many residents of East Boston have felt excluded from full participation in public hearings about the substation, for reasons that include inadequate outreach to residents and language accessibility. Massachusetts has made some recent progress on codifying environmental justice into law, but the substation was approved prior to the new climate bill's approval.
The cost for the substation would be approximately $50 million, the burden of which would be passed onto Eversource's ratepayers, regardless of their opposition to or benefit from the project. The addition of infrastructure allows utility companies to continue making profits on their investments, even as they continue to lobby against the expansion of solar energy.
The substation was approved by the Energy Facilities Siting Board (EFSB) in February 2020. The approval process for the project has taken over 5 years, due in part to opposition from the community. Opponents demanded that the need for the substation be re-examined, as local energy demand has undoubtedly changed during those years, but the EFSB refused.
If Eversource's claims of increased energy demand are well-founded, a cleaner, more affordable, and more democratic solution would be to install rooftop solar panels, and pair them with battery storage. The Union of Concerned Scientists undertook a study that determined this option is a feasible alternative. Such a solution could be part of a just transition away from fossil fuel energy, centering and providing benefits to a community made vulnerable by years of environmental injustice.
---
Extinction Rebellion Boston is an autonomous chapter of the international grassroots movement, Extinction Rebellion (XR), which started in London in 2018. The purpose of XR is to tell the truth about how dire the ecological and climate crisis is and spark immediate action in order to prevent complete climate and ecological collapse. We aim to mobilize people around the world to utilize nonviolent direct action to demand that governments take radical action to avert societal collapse caused by widespread climate and ecological disaster, and to protect frontline communities, biodiversity, and the natural world. This movement is non-political and unites all of humanity behind a singular goal of a just and livable future. Learn more at: xrmass.org
---
Featured:
Stop the Fossil Fuel Industry, Now: List of events for Extinction Rebellion Boston's September week of rebellion

A compilation of books, movies, articles, and ways to take action to protect Black lives

Nadia Colburn, PhD and member of Extinction Rebellion Media team, discusses how to talk about the climate and ecological crisis with family and friends.
---
---
Upcoming Events:
Thu Oct 5th @ 9 a.m.

Fri Oct 6th @ 9 a.m.

Fri Oct 6th @ 6:15 p.m.