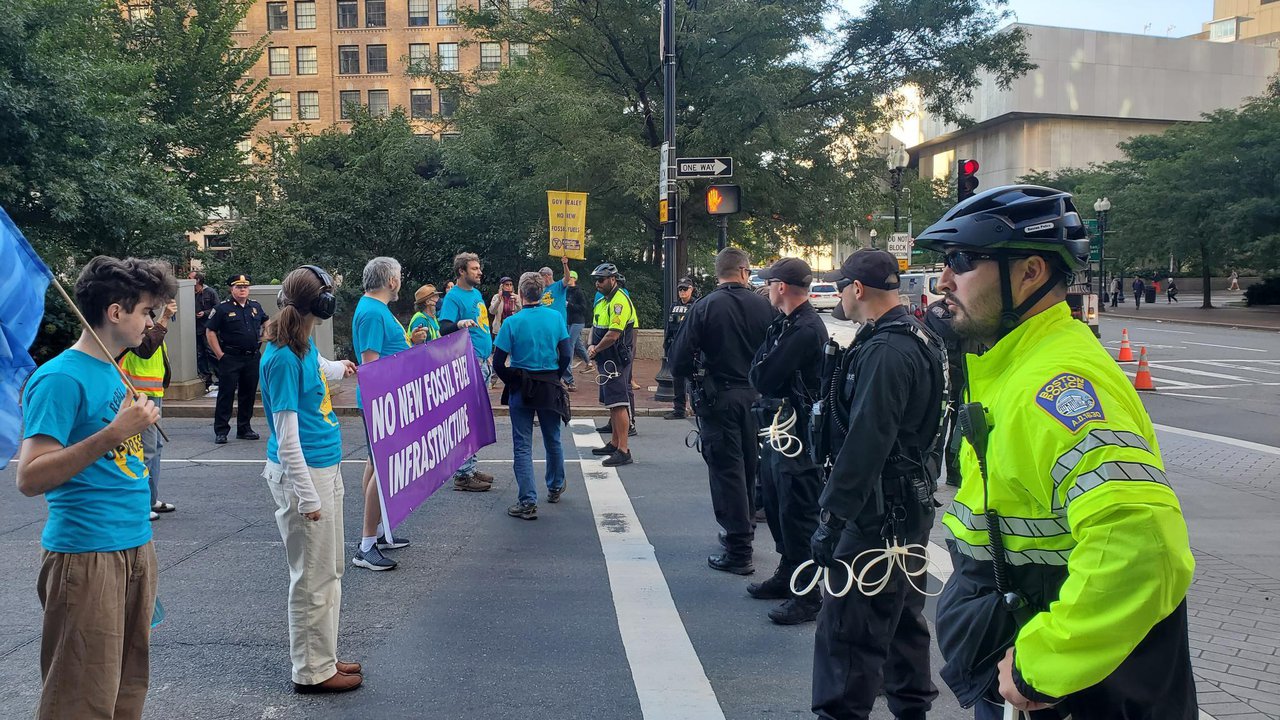 XR Boston shuts down rush hour traffic, demands Healey ban new fossil fuel infrastructure
On Thursday September 21, more than 35 climate activists from Extinction Rebellion Boston (XR) shut down traffic around the financial district to demand that the Healey administration ban new fossil fuel infrastructure. Three independently moving groups of XR rebels marched slowly around the intersections of Atlantic Ave and Seaport Blvd., Atlantic Ave. and Summer St., and Purchase St. and Summer St. creating traffic gridlock. The activists communicated that they would refuse to end their traffic disruption unless the Governor made a public statement committing her administration to opposing all new fossil fuel infrastructure projects, including the expansion of airports and gas connections in new buildings. The activists wore blue shirts with yellow illustrations of the Earth accompanied by slogans: "I rebel for..." followed by personalized messages (e.g. my kids, a livable future, etc.) They held large colorful banners reading "No New Fossil Fuel Infrastructure" and chanted "Governor Healey, you make the rules, time to ban new fossil fuels," "Massachusetts, don't delay, ban new fossil fuels today." 20 activists were arrested after blocking rush hour traffic for almost 30 minutes. This demonstration was quickly covered by Boston Globe, Boston.com, Boston Herald, and NBC, then spread across national news through the Associated Press.

When asked why he chose to participate in non-violent civil disobedience, Monty Neill, an event organizer and one of the arrested climate activists, replied "My grandchildren are facing a world of climate and ecological collapse, with social crises inevitably following. How bad it will be depends on what we do today. An easy first step in Massachusetts is to halt fossil fuel expansion. Leaders must lead, not see what lobbyists say or fear to 'spend their political capital.' Governor Healey and the legislature must act now, no more delays."

Extinction Rebellion Boston demands that the Healey administration ban New Fossil Fuel Infrastructure by immediately taking the following steps:

Issue a public announcement that the Governor is committed to a No New Fossil Fuel Infrastructure policy for the Commonwealth, including opposing projects under construction or currently in the permitting process

Issue a public commitment that the Governor will only appoint anti-new fossil fuel infrastructure policymakers to the Energy Facilities Siting Board and Department of Public Utilities, the key independent boards that permit new energy infrastructure

Work with Speaker Mariano and Senate President Spilka to introduce legislation that would permanently ban new fossil fuel infrastructure in Massachusetts
Banning new fossil fuel infrastructure includes:
NO new fossil fuel power plants
NO new residential or commercial gas connections
NO new or expanded natural gas distribution pipelines, transmission pipelines, or compressor stations
NO new liquified natural gas production facilities, storage facilities, or terminals
NO new gas stations or other gasoline and diesel infrastructure
NO new airports or airfield expansions​​​​​​​
Stopping new fossil fuel infrastructure under development includes:
MMWEC's Peaker Plant in Peabody
NEC's Liquified Natural Gas Facility in Charlton
LNG expansion to Douglas
L.G. Hanscom Airfield's North Airfield Development in Bedford
"Modernization" projects in Lowell and Worcester
"Reliability" projects in Western Mass. and Sharon-to-Brockton
The Hopkinton-Ashland Transfer Line
Meter stations in Longmeadow and Charlton
"When you find yourself stuck in a hole the first step is to stop digging" said Alex Chambers, organizer and spokesperson for Extinction Rebellion Boston. "I don't understand why the Governor and her Climate Chief are not taking the first step to dealing with the climate emergency. As a young person, my entire future is riding on our government taking action this decade, and not waiting until 2050. Do the right thing. Introduce a ban on new fossil fuel infrastructure." Chambers has been arrested eight times.
Jana Pickard-Richardson, another XR Boston activist, added "I'm risking arrest today out of love and rage. Love for the millions upon millions who stand to lose their homes, and even their lives in this worsening climate crisis. And rage at the politicians who have wasted decades with incremental actions and business as usual. And now as the signs of the crisis unfold around us, our government still is not acting with the urgency the situation demands."
After months of continual pressure, Climate Chief Melissa Hoffer scheduled a meeting with members of XR and members of the Healey administration to discuss their No New Fossil Fuel Infrastructure demand. Hoffer admitted that Massachusetts will be unable to make its legally binding target to reduce emissions by 50% with respect to 1990 levels by 2030, per the 2021 Act Creating A Next-Generation Roadmap for Massachusetts Climate Policy, and that the administration does not have plans to phase out new gas hookups. Despite assuring activists present at the meeting that the Healey administration would shortly release a statement publicly opposing new fossil fuel infrastructure in Massachusetts, neither Hoffer nor Healey have put out a statement publicly opposing new fossil fuel infrastructure in Massachusetts.

For the past 16 weeks, Extinction Rebellion and allies have held an ongoing stand-out in front of the General Hooker entrance to the State House, calling on the Commonwealth to ban new fossil fuel infrastructure. No matter the weather, from 9 am to 5 pm on business days, two or more rebels are stationed with banners, engaging State House employees and passersby in conversation about the climate crisis. They have committed to standing out until the Governor adopts No New Fossil Fuel Infrastructure.

Climate activists from Extinction Rebellion Boston previously staged a sit-in at the Governor's office this past February, calling on Governor Healey and Climate Chief Hoffer to publicly commit to no new fossil fuel infrastructure. During this sit-in, Hoffer briefly met with the activists and heard their arguments for why Massachusetts should be a leader in the transition to a fossil free future. In May and June, rebels disrupted sessions in the House chamber and Senate chamber. In the June demonstration, climate activists pulled down their pants and mooned the Senate chamber, with the words "Stop Passing Gas" written across their backsides. Ten XR and Scientist Rebellion rebels were arrested after blocking access to a private jet company at Hanscom Airfield in December. Last September, 15 XR rebels were arrested while disrupting traffic across the city in an effort to raise attention to the need for No New Fossil Fuel Infrastructure.

The Massachusetts State Government must make decisions based on the well-established scientific consensus of the climate emergency and stop fueling the climate fire with new fossil fuel infrastructure. New York State is already acting to ban certain fossil fuel infrastructure, including recently-approved legislation to ban natural gas connections in new buildings.The law bans gas-powered stoves, furnaces, and propane heating, and effectively encourages the use of climate-friendly appliances such as heat pumps and induction stoves in most new residential buildings across the state. It requires all-electric heating and cooking in new buildings shorter than seven stories by 2026, and for taller buildings by 2029. In comparison, lawmakers in Massachusetts approved a paltry pilot program last year that would allow 10 cities and towns to ban fossil fuel-powered appliances in new construction and major renovations, if they meet certain requirements, and the Executive Office has still not officially given the green light for municipalities to start the pilot.

The global average temperature for July 2023 is confirmed to be the highest on record for any month. August 2023 is the hottest August ever recorded.1 The National Oceanic and Atmospheric Administration estimates that as of July 12, 2023, the United States had already suffered 23 billion-dollar disasters this year, 10 of which were severe thunderstorms and tornadoes caused by climate change.2 By refusing to take action to mitigate effects of the climate crisis, our government is dooming themselves to financial disaster. More disturbing, the government is sentencing residents to suffer more crises like this summer's floods in Vermont and the heat waves across Massachusetts that have sent hundreds of people to the hospital for heat-related conditions.3

---
Featured:
Stop the Fossil Fuel Industry, Now: List of events for Extinction Rebellion Boston's September week of rebellion

A compilation of books, movies, articles, and ways to take action to protect Black lives

Nadia Colburn, PhD and member of Extinction Rebellion Media team, discusses how to talk about the climate and ecological crisis with family and friends.
---
---
Upcoming Events:
Wed Dec 6th @ 6 p.m.

Fri Dec 8th @ 5:30 p.m.

Sat Dec 9th @ 3 p.m.