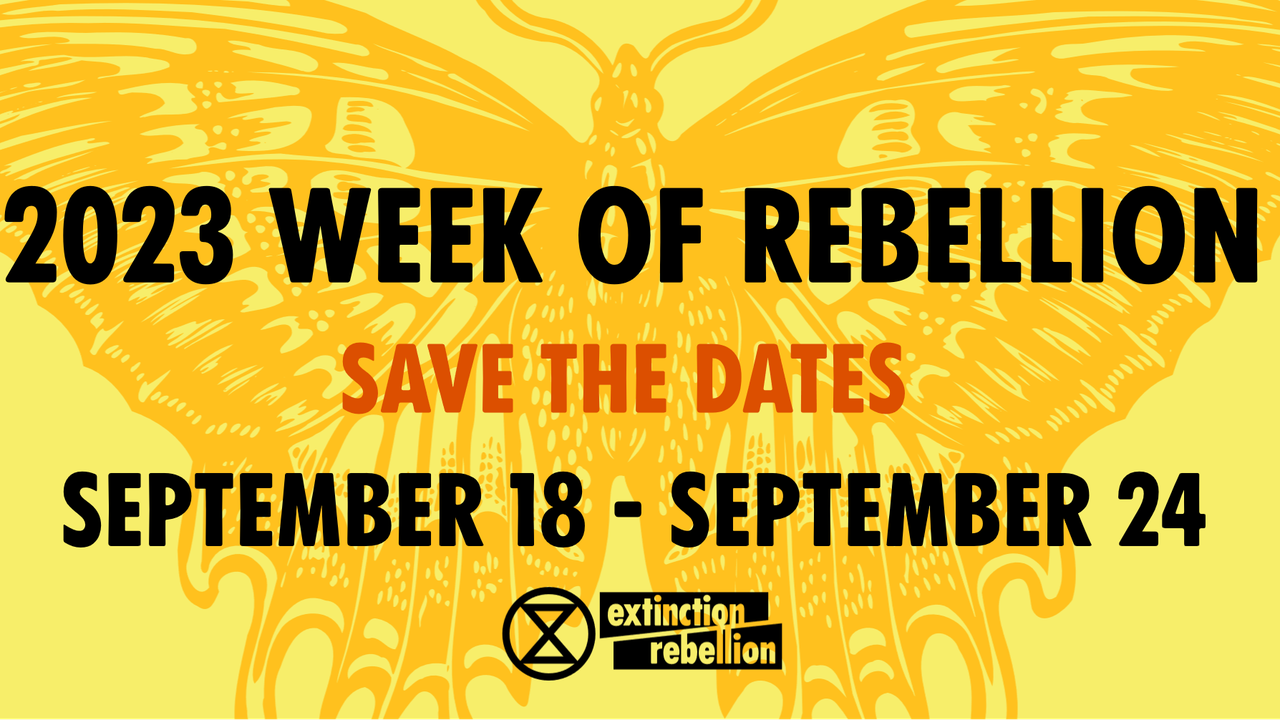 XR Boston Announces the 2023 Week of Rebellion for Sept. 18-24!
Extinction Rebellion Boston's 2022 Week of Rebellion from September 17 through September 25 was a resounding success. Participants enjoyed a costumed "dinosaur Die-In," a virtual movie night, an online workshop on harnessing the power of climate emotions, marches in the streets with live music, a massive bike ride to envision a car-less world, a Scientist Rebellion teach-in, and a weekend of festivals including regenerative art and People's Assembly practices. Our non-violent civil disobedience action spread across national news like wildfire, and our community came together to demand No New Fossil Fuel Infrastructure in a historic way.
We're doing it again in 2023.
This year from Monday September 18 through Sunday September 24, mark your calendars for the second annual XR Boston Week of Rebellion! The calendar is still forming, as action planners meet and collaborate to prepare an electrifying (get the pun?) series of events. Be sure to check in for updates on our website calendar: https://xrboston.org/action/
Here's what we're planning:
Monday September 18: September Rebellion at the Mass. State House
Join XR Boston at the State House to demand No New Fossil Fuel Infrastructure! This is the perfect event for people interested in direct action with a flair for the dramatic. This is XR Boston's main fall action! More info and RSVP: https://xrboston.org/action/september-rebellion-at-massachusetts-state-house/
Tuesday September 19: Regenerative Art Workshop
Join us for a short class on zine making, then a casual group art activity! Make your own zine page on a climate theme, to be compiled into a collaborative book. You don't have to consider yourself an artist! We'll have materials for collaging, stamps, as well as all sorts of other art and writing supplies. Do your own thing, share ideas and visions, express yourself, and have fun.
Theme: "We're in the midst of the climate crisis, and it's a time of great uncertainty...the knife's edge between the great turning and the great unravelling. Envision what either, or both, of those realities look like, now or in the future." More info and RSVP: https://xrboston.org/action/week-of-rebellion-regenerative-art-making/
Wednesday September 20: "Critical Mass Day" at the State House Stand-Out
Have you heard of XR Boston's popular Perpetual State House Stand-Out? Volunteers from a coalition of climate and community groups stand outside the State House every business day from 9-5, demanding that our leadership take immediate action to ban new fossil fuel infrastructure. In full public view, we process climate grief, sing, engage passerby in conversation. On Critical Mass Day, we're inviting YOU to stand with us. This is a great event for climate-conscious folks who want to make a risk-free statement. Feel free to bring your favorite anti-fossil-fuel signs and banners! More info and RSVP: https://xrboston.org/action/critical-mass-day-at-state-house-stand-out/
Thursday September 21: Evening Celebration
In this casual meetup, community members are invited to join members of XR Boston at Community Church of Boston for treats, conversation, and non-alcoholic beverages of any type! This will be a fun weeknight event for people looking to get more involved with the community, and celebrate our successes so far. More info and RSVP: https://xrboston.org/action/week-of-rebellion-evening-celebration/
Friday September 22: Car-Free Bike Ride
September 22 is World Car Free Day. We will join Car Free Boston to celebrate this international event to imagine a city free from cars. The ride starts at Copley Sq. and will tour some of the coastal areas that will disappear in the next few years. Bring lights (sunset is at 6:42), and wear blue or green if you can. We'll plan on riding for about 90 minutes.
The domination of the automobile and lack of funding for alternatives like public transportation, cycling and pedestrian infrastructure is a direct result of lobbying by the fossil fuel industry. But we have simple, low cost solutions with minimal resource utilization that other major cities around the world are embracing. It is time to end the dominance of the private automobile and live in a city that is safer, cleaner, quieter and full of people instead of cars. More info and RSVP: https://xrboston.org/action/week-of-rebellion-world-car-free-day/
Saturday September 23: Festival for a Future
This is the ultimate family-friendly public event! We'll gather in a public park and participate in a full outdoor festival of activities, including an original protest dance, a new twist on the classic Jenga game, and a "How To Talk To Your Parents About Climate Change" workshop. As the evening gathers, we'll walk together in a lantern procession to light the way into a hopeful future. This is a joyful celebration, and we invite all members of the community to join us.
Schedule (check back, as this might change before the day of!)
2:30 - 3:00 PM: Gathering
3:00 - 4:00 PM: Workshops/Activities
⦁ Outdoor Yoga
⦁ Talking to your Parents About Climate Change
⦁ Freeganism 101: The Whys and Hows of Eating Food from the Trash
4:00 PM - 4:30: Unitus Assemble Choir performance
4:40 - 4:50: Dance Performance
5:00 - 6:00: Workshops/Activities
⦁ How to Dance Like You Don't Care (With Fun Participatory Dance Improv!)
⦁ Post-Capitalist Praxis
⦁ Talking to your Parents About Climate Change
7:00: Lightbox Procession
More info and RSVP: https://xrboston.org/action/week-of-rebellion-festival-for-a-future/
Sunday September 24: Die-In for No New Fossil Fuel Infrastructure
XR Boston's Die-Ins are a signature event on our calendar, where we gather in a public place and invite participants to lie down on the ground and "die," representing the lives lost to climate change fueled by fossil fuels. This is a no-arrest-risk demonstration, perfect for new or seasoned activists. As the Week of Rebellion comes to a close, we will demonstrate the somber end of our planet if those in power refuse to take immediate action. Remember to wear clothes suitable for lying on the ground! More info & RSVP: https://xrboston.org/action/week-of-rebellion-die-in/
How you can get involved:
Amplify the Week of Rebellion on social media! Here is the publicity toolkit: https://docs.google.com/document/d/1iB1XGBSJspGQz9v-_pScAjLm_rzAlaM9raKHOCmzvkc/edit
If you're interested in volunteering to plan non-arrestable events like the "Critical Mass State House Stand-Out day" on Wednesday September 20 or the large public festival on Saturday September 23, you can email XRBoston.Media@gmail.com and we'll put you in touch with action planners.
If you're interested in volunteering for non-violent civil disobedience after the Week of Rebellion, we encourage you to sign up for one of our upcoming NVDA workshops to learn more about the process of risking arrest and supporting those who risk arrest.
---
Featured:
Stop the Fossil Fuel Industry, Now: List of events for Extinction Rebellion Boston's September week of rebellion

A compilation of books, movies, articles, and ways to take action to protect Black lives

Nadia Colburn, PhD and member of Extinction Rebellion Media team, discusses how to talk about the climate and ecological crisis with family and friends.
---
---
Upcoming Events:
Wed Dec 6th @ 6 p.m.

Fri Dec 8th @ 5:30 p.m.

Sat Dec 9th @ 3 p.m.