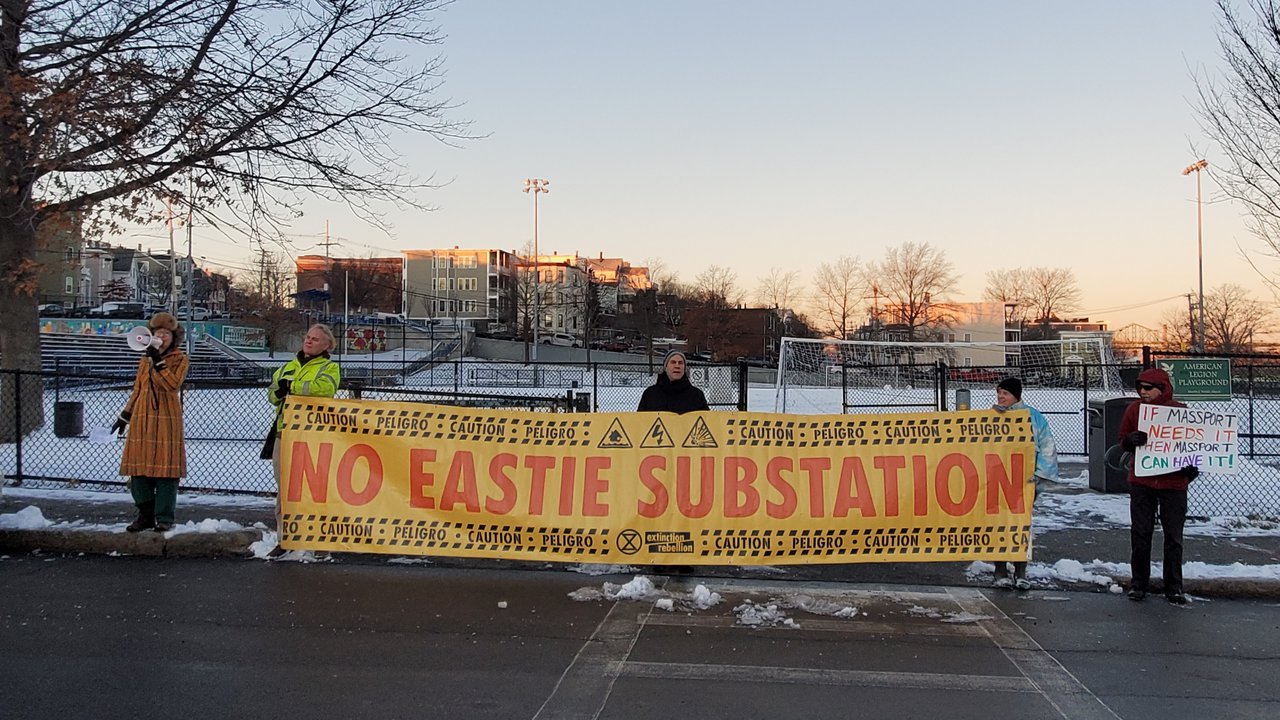 Extinction Rebellion Boston to Governor Healey: Move the East Boston substation to Logan Airport
Extinction Rebellion Boston calls on Governor Healey to move the East Boston substation to Logan Airport

On Tuesday, January 17, climate activists from the local community and Extinction Rebellion Boston (XR) blockaded the entrances into the East Boston substation construction site. They used their bodies to protest Eversource's construction of this electric substation and to call on Governor Healey to move this project to Logan airport.

Arriving at the construction site at 7 AM, more than ten activists from the local community and XR Boston risked arrest and shut down construction, blockading both entrances into the site with their bodies and lock-on equipment.

An assembly of environmental justice activists joined the activists risking arrest at the Condor St. construction site. Together, they sang, chanted, and held colorful banners with the messages "No Eastie Substation" and "Pull the Plug on Eversource."

"We are here shutting down construction out of desperation. No other form of protest has had an effect on stopping Eversource's substation. Our community has been resisting this egregious example of environmental injustice for 8 years. This is a classic case of David vs. Goliath. The state is allowing an investor-owned utility to put our already overburdened community at risk. We are appealing to Governor Healey. Do the right thing: Bring Eversource and Massport to the table and move this substation to Logan Airport," said John Walkey, an East Boston resident and Director of Waterfront and Climate Justice Initiatives at GreenRoots Inc.
Some background on the proposed East Boston substation:
The local community has been resisting Eversource's substation project since 2014. Residents and environmental justice allies have been showing up to public hearings, rallying, and engaging in direct action to stop this project. In August of 2021, members of XR Boston shut down the entrance to the Energy and Environmental affairs office to get then EEA Secretary Kathleen Theoharides to deny Eversource their needed Chapter 91 permits.7 In November of 2021, 85% of Bostonian residents moved in favor of moving the substation to Logan Airport in a non-binding ballot question.6

In May of 2022, members of XR Boston occupied the lawn of Eversource CEO Joseph Nolan, demanding that he take action to move the substation.8 Following the Energy and Facilities Siting Board's (EFSB) decision to green-light construction in November of 2022, GreenRoots and the Conservation Law Foundation filed an appeal on the EFSB's decision to the Supreme Judicial Court in late December.9
Our Demands:
We demand that the East Boston substation project be moved to Massport. We call on Governor Healey and first in the nation Climate Chief Hoffer to intervene on the local community's behalf.

Before allowing construction of the Eversource East Boston substation, Eversource and the Commonwealth must:
Move the substation to the Massport site as they are the largest single user of electricity in East Boston.

Explore options for community control of energy infrastructure in East Boston to address systemic inequalities and promote environmental justice.

Ensure a conservative design of the facility for realistic climate crisis scenarios and compensate the community commensurate with the waterfront and public use that they have lost.

Why is the substation a bad idea?
"This is a classic example of environmental injustice. The East Boston neighborhoods have been overburdened with industrial infrastructure serving the entire region of New England. We do need more greenspace, not an dangerous electrical substation in a climate-induced flood zone. Water and electricity doesn't mix well." said Jule Manitz, a Chelsea resident and organizer for Extinction Rebellion Boston.

A substation is a piece of infrastructure that allows high voltage electricity to be dropped to a lower distribution level voltage that can be used in households. Residents in the Eagle Hill area of East Boston are concerned about this particular substation because it will be located adjacent to Chelsea Creek. This area floods during storms. Electricity and water do not blend well, and community members are concerned about the possibility of a dangerous explosion. The proposed site is also adjacent to a playground and only a few hundred feet from a storage area for Massport's jet fuel. A fire would be disastrous.

This site had been promised to the community as a space for outdoor recreation. The working-class, immigrant-heavy community has already been overburdened with industrial pollution from the nearby airport and highway, regional stockpiles of jet fuel, residential heating oil, and road salt. Taking away another public green space without informed consent from the community is an egregious act of environmental racism. The substation project is opposed by Boston Mayor Michelle Wu and numerous elected officials, as well as the local community.

Many residents of East Boston have felt excluded from full participation in public hearings about the substation, for reasons that include inadequate outreach to residents and language accessibility. Massachusetts has made some recent progress on codifying environmental justice into law, but the substation was approved prior to the new climate bill's approval.

The cost for the substation was recently hiked from $50 million to $103 million, the burden of which would be passed onto Eversource's ratepayers, regardless of their opposition to or benefit from the project. The addition of infrastructure allows utility companies to continue making profits on their investments, even as they continue to lobby against the expansion of solar energy.

The substation was initially approved by the EFSB in February 2020. The approval process for the project has taken over 5 years, due in part to opposition from the community. Opponents demanded that the need for the substation be re-examined, as local energy demand has undoubtedly changed during those years, but the EFSB refused.

If Eversource's claims of increased energy demand are well-founded, a cleaner, more affordable, and more democratic solution would be to install rooftop solar panels, and pair them with battery storage. The Union of Concerned Scientists undertook a study that determined this option is a feasible alternative. Such a solution could be part of a just transition away from fossil fuel energy, centering and providing benefits to a community made vulnerable by years of environmental injustice.
What happened on Tuesday?
The construction site swarmed with approximately 40 police officers as our Rebels arrived. Amidst the chanting and singing, they arrested six peaceful activists. The action was covered on CNN, Daily Voice, CBS, Boston Globe, and WBUR.
How did XR Boston respond?
XR Boston Rebels returned to the East Boston construction site the next morning, Wednesday January 18, joined by other community activists. We assembled at the playground across from the construction site. Together, we sang, chanted, and held our colorful banners with the messages "No Eastie Substation" and "Pull the Plug on Eversource". Then a Boston-based brass band arrived and with songs and chant created a joyous atmosphere despite the serious threat that the project represents to the local community. Spirits were high! Following the action plan, two protestors approached the construction site with signs and were arrested.
Did XR Boston return a THIRD TIME?
The next week, the #NoEastieSubstation campaign continued! On Wednesday January 25, Rebels from XR Boston returned to the construction site and stood in solidarity with GreenRoots and Eastie residents. We held signs, chanted, and supported local activists speaking through megaphones for the cause. We are fighting to protect the safety and health impacts of their home by protesting the construction of the East Boston substation. Our ongoing message is a demand to Governor Healey to "Pull the Plug on Eversource" and rethink the substation project.
On Wednesday, multiple East Boston residents and activists shared their stories and concern. XR Boston Rebels assembled to hold space for their experiences and support their action against the threat to their neighborhood. Most of the local speakers were bilingual, which highlights Eversource's tactic of attempting to weaponize language barriers to keep residents from information about the substation project. They are leaning hard on the assumption that speakers of other languages aren't willing or able to fight back.
The #NoEastieSubstation project has kicked XR Boston's 2023 off with a bang in the media. Wednesday's protest was covered by WHDH Channel 7 in English and El Planeta in Spanish.

What happens now?
Extinction Rebellion Boston is committed to stand in solidarity with East Boston residents and will continue to support the #NoEastieSubstation campaign. The local affinity group called "OceanWarriorz" is leading this effort. If this is a cause that speaks to you, and if you would like to get involved, please reach out to OceanWarriorz at https://keybase.io/team/oceanwarriorz. For more information on the project, explore this webpage.
Tag @MauraHealey and @MassGovernor on Twitter with your messages of outrage! If you need material, retweet our tweets from the protests: https://twitter.com/XRBoston. You can follow this detailed action plan, which includes sample social media posts and scripts to use on the phone.
Call Governor Healey's office at 617-725-4005 and tell her that Eastie residents are relying on her leadership to stop the construction of the substation. Urge her to conduct an equity analysis of the siting and permitting, which has allowed Eversource to exclude the voices of some of the most impacted residents.

Boston.gov, Mayor Janey calls on Eversource to cancel the proposed substation in East Boston, 5/6/21
Extinction Rebellion Boston demands that Eversource stop building new fossil fuel infrastructure and move the East Boston substation
---
Featured:
Stop the Fossil Fuel Industry, Now: List of events for Extinction Rebellion Boston's September week of rebellion

A compilation of books, movies, articles, and ways to take action to protect Black lives

Nadia Colburn, PhD and member of Extinction Rebellion Media team, discusses how to talk about the climate and ecological crisis with family and friends.
---
---
Upcoming Events:
Thu Oct 5th @ 9 a.m.

Fri Oct 6th @ 9 a.m.

Fri Oct 6th @ 6:15 p.m.