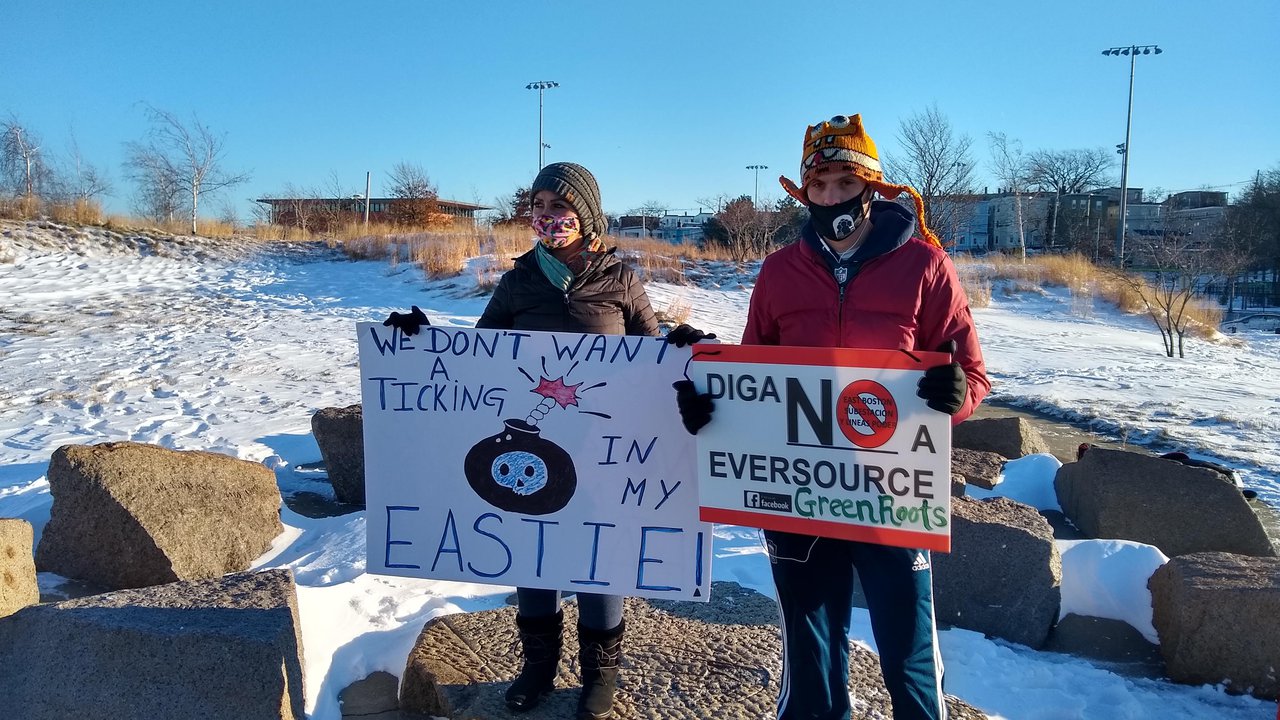 Climate justice activists protest the East Boston Substation
Climate justice activists protest the East Boston Substation
The East Boston Substation will take away another green space without informed consent from the community and is an egregious act of environmental racism.
The East Boston Substation is being placed in a neighborhood that's prone to flooding; electricity and water don't mix. This infrastructure is dangerous to community members and needs to be relocated.
BOSTON, MA — Climate activists from Extinction Rebellion Boston, GreenRoots Chelsea, and other local activists held a protest at Condor Street Urban Wild to oppose an electrical substation that Eversource plans to build along the Chelsea Creek in the Eagle Hill neighborhood of East Boston.
Eversource is a utility company that provides New England with "natural" gas and electricity. They are perpetuating the climate and ecological crises and destroying any chance of a safe and livable future for profit.
This action will highlight the controversial electrical substation that Eversource has proposed in East Boston. A substation is a piece of infrastructure that allows high voltage electricity to be dropped to a lower distribution level voltage that can be used in households.
The substation is not fossil fuel infrastructure, but it would allow Eversource, which like other utilities in Massachusetts, uses mostly natural gas energy to expand its monopoly over electricity in the region. The cost for the substation would be approximately $50 million, the burden of which would be passed onto Eversource's ratepayers, regardless of whether or not they oppose the project. Addition of infrastructure allows utility companies to continue making profits on their investments, even as they continue to lobby against expansion of solar energy.
Residents in the Eagle Hill area of East Boston are concerned about this particular substation because it will be located adjacent to Chelsea Creek. This area floods during storms. Electricity and water do not blend well, and community members are concerned about the possibility of a dangerous explosion. The proposed site is also adjacent to a playground and only a few hundred feet from a storage area for Massport's jet fuel. A fire would be disastrous. This area is also prone to sea level rise.
This site had been promised to the community as a space for outdoor recreation. The working-class, immigrant-heavy community has already been overburdened with industrial pollution from the nearby airport and highway, regional stockpiles of jet fuel, residential heating oil, and road salt. Taking away another public green space without informed consent from the community is an egregious act of environmental racism.
Nearly 84 percent of Boston voters cast their ballots in opposition to this electric substation. Unfortunately this ballot question was non-binding. Earlier this month, ignoring the will of Boston voters, the Mass DEP issued a tentative Chapter 91 permit that will allow Eversource to start construction of the East Boston substation.
Chapter 91 is supposed to protect the public's interest in waterways and ensures that waterfront buildings are not dangerous. Local activists in East Boston filed appeals to the Chapter 91 permit, and XR Boston demands that this permit be rescinded.
GreenRoots an environmental justice group in East Boston and Chelsea. They have done an incredible job of compensating for the governmental shortcomings and informing East Boston residents about the substation, soliciting ideas about possible alternatives, mobilizing participation in public hearings, and elevating the community's concerns. Extinction Rebellion Boston stands in solidarity with GreenRoots in opposition to this substation.
---
---
Featured:
Stop the Fossil Fuel Industry, Now: List of events for Extinction Rebellion Boston's September week of rebellion

A compilation of books, movies, articles, and ways to take action to protect Black lives

Nadia Colburn, PhD and member of Extinction Rebellion Media team, discusses how to talk about the climate and ecological crisis with family and friends.
---
---
Upcoming Events:
Tue May 30th @ 5 p.m.

Tue May 30th @ 6:30 p.m.

Wed May 31st @ 7 p.m.