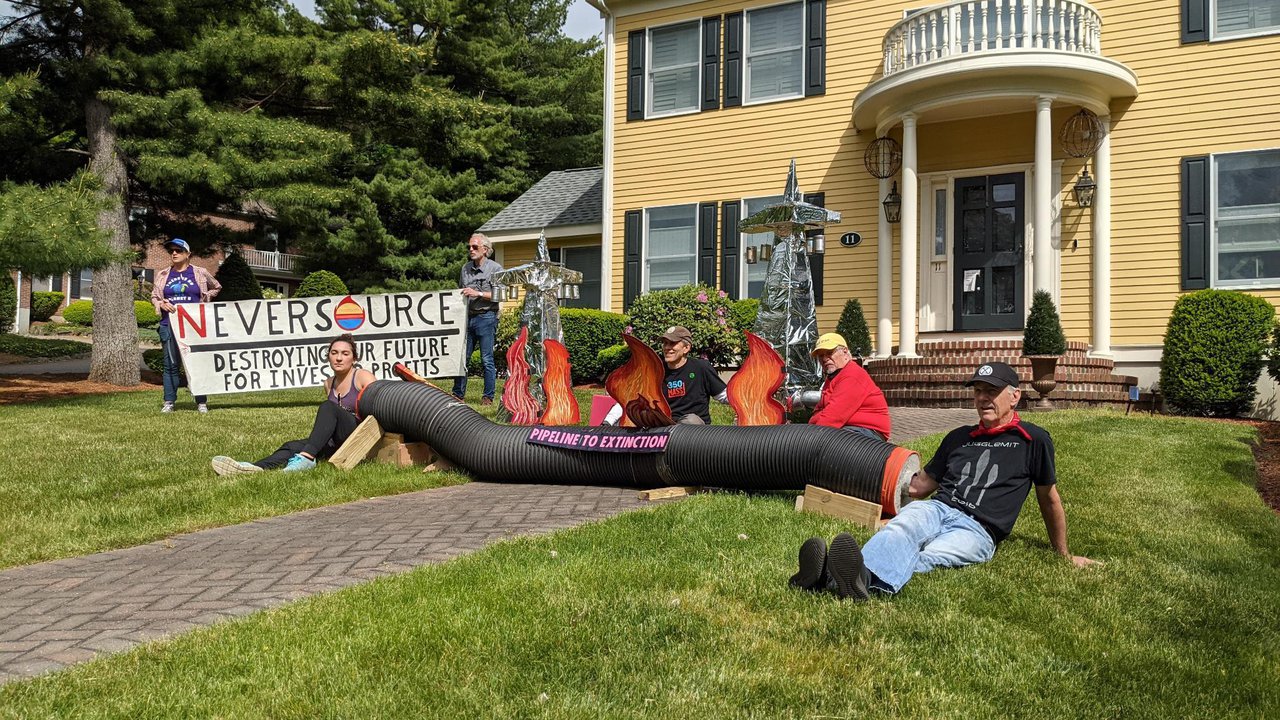 Extinction Rebellion Boston demands that Eversource stop building new fossil fuel infrastructure and move the East Boston substation
Extinction Rebellion Boston demands that Eversource stop building new fossil fuel infrastructure and move the East Boston substation project
Climate activists visit the house of Eversource CEO, Joe Nolan, to demand that Eversource stop obstructing climate action and commit to a rapid and just transition away from fossil fuels to green, renewable energy.
Eversource must place the health of Massachusetts communities above quarterly profits. We demand that they move the Eastie Substation and stop building new fossil fuel infrastructure. (1,2,3)
Extinction Rebellion decries new gas infrastructure because it accelerates the climate crisis. Burning more methane will lead us closer to runaway global heating and an uninhabitable Earth. (4,5)
BELMONT, MA — On Friday, May 27, climate activists from Extinction Rebellion Boston (XR) occupied the front of Eversource CEO Joseph Nolan's house. They used an art installation and their bodies to protest Eversource's construction of new fossil fuel infrastructure and the company's failure to rapidly transition to clean, renewable sources of energy.
Arriving at Nolan's house at 8AM, six members of XR Boston risked arrest and occupied the front of Nolan's house, locking onto a facsimile of a fracked gas distribution pipeline.
An assembly of climate justice activists joined the activists risking arrest. Together, they sang, chanted, and held colorful banners with the messages "Ban Fossil Fuel," "No Eastie Substation," "Neversource: Destroying our Future for Investor Profits," and "Pull the Plug on Eversource."
They also held large "wanted posters" with the heading "CLIMATE CRIMINAL," a photo of Joseph Nolan, and a list of Nolan's environmental crimes.
"Eversource is wasting valuable time and billions of dollars in anti-climate lobbying and greenwashing propaganda when humanity needs to urgently transition to renewable energy to avoid the worst impacts of the climate crisis. Building new fossil fuel infrastructure reinforces our collective addiction to fossil fuels. It's unacceptable to further burden low-income and communities of color, including East Boston, Chelsea, and Springfield, with polluting infrastructure that harms the health and safety of residents," said Jule Manitz, a Chelsea resident and organizer for Extinction Rebellion Boston.
Out of the 245 climate change bills introduced over the past 6 years, only 43 made it out of committee. Most climate legislation in the Massachusetts State House dies in committee and representatives vote in secret. While citizens don't have access to the legislative process, Eversource, National Grid, and other Fossil Fuel distributors spent 5.75 million dollars between 2013 and 2018 lobbying against bills that would reduce our carbon footprint and save residents money on our utilities bill. (6,7)
Our Demands
We demand that Eversouce make decisions based on the well-established scientific consensus of the climate emergency, stop fueling the climate fire with new fossil fuel infrastructure, and cease burdening low-income and communities of color (i.e. environmental justice communities) with unwanted and dangerous energy infrastructure. We make the following, actionable demands:
NO NEW FOSSIL FUEL INFRASTRUCTURE: Announce a moratorium on new fossil fuel infrastructure and abandon all fossil fuel infrastructure projects currently in the works. Cancel plans for the proposed $33M Springfield pipeline and any new gas hook-ups. Eversouce has the ability to be a regional leader during the rapid transition away from fossil fuels to green, renewable energy. Renewable energy is what we need to ensure that Earth remains habitable.

CANCEL THE EAST BOSTON SUBSTATION: Stop building dangerous infrastructure in low-income and communities of color, e.g. East Boston and Springfield. If a transparent analysis using current data confirms the need for the substation, move the East Boston substation out of Chelsea Creek to a Massport site at Logan airport. Eversource must commit to collaborating with local communities on new electrical infrastructure rather than steamrolling over the safety and interests of residents.
"We are here at Joe Nolan's house out of desperation. No other form of protest has had an effect on curbing Eversource's environmental crimes. It is insanity that Eversource is still building new fossil fuel infrastructure in the midst of a climate emergency. We have three years to peak global carbon emissions. After that, we need a rapid transition away from fossil fuels to renewable energy. Eversource has spent more money than any other special interest group to obstruct climate legislation. We are appealing to Mr. Nolan's humanity. Do the right thing. Commit to a moratorium on new fossil fuel infrastructure," said Alex Chambers, a spokesperson for Extinction Rebellion Boston.
According to a recent Intergovernmental Panel on Climate Change (IPCC) report, without an immediate transition to renewable energy, humanity "will miss a brief and rapidly closing window of opportunity to secure a livable and sustainable future for all." (8-11) Yet Eversource is marketing and lobbying for fracked gas, biofuels, hydrogen, and other false solutions, all of which will increase, not decrease greenhouse gas emissions and accelerate global heating. New research shows that methane leaks are more dangerous than previously understood, making it as damaging to the climate as coal. (5)
---
---
Featured:
Stop the Fossil Fuel Industry, Now: List of events for Extinction Rebellion Boston's September week of rebellion

A compilation of books, movies, articles, and ways to take action to protect Black lives

Nadia Colburn, PhD and member of Extinction Rebellion Media team, discusses how to talk about the climate and ecological crisis with family and friends.
---
---
Upcoming Events:
Thu Jun 1st @ 8 p.m.

Fri Jun 2nd @ 4:30 p.m.

Mon Jun 5th @ 9 a.m.