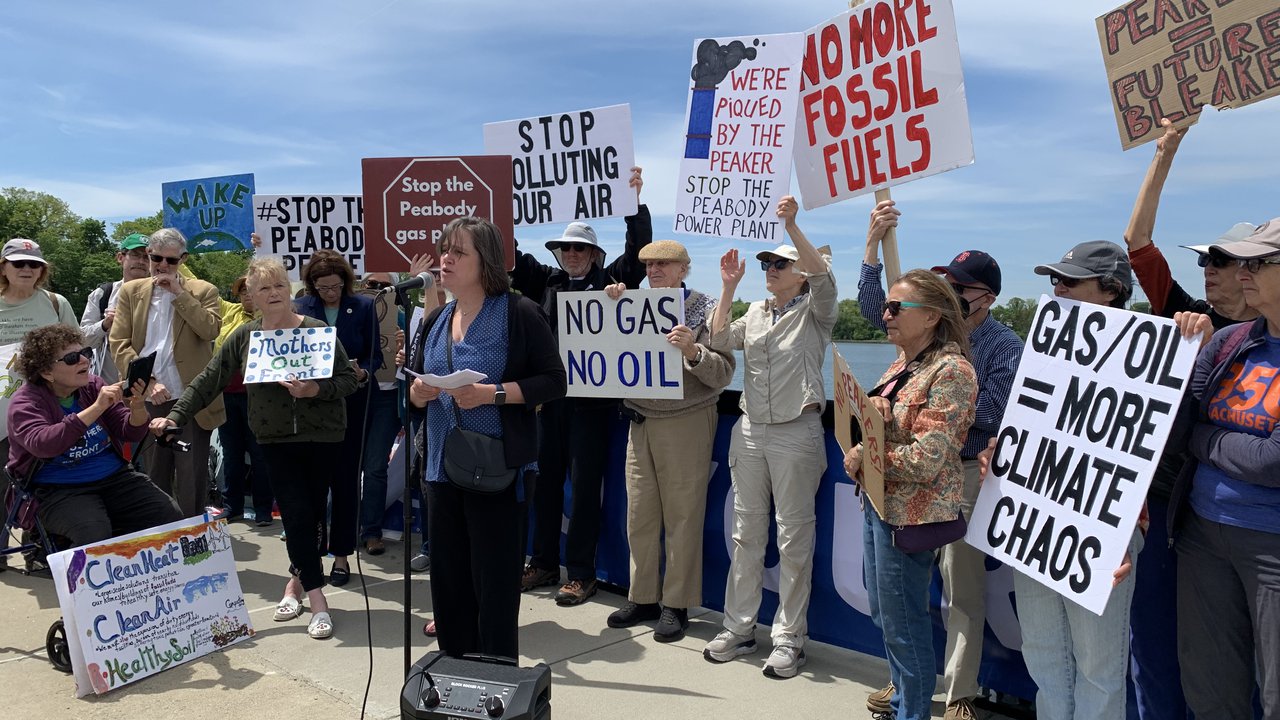 Residents and advocates held a day of action to escalate opposition to the construction of the dirty Peabody Peaker
Residents and advocates held a day of action to escalate opposition to the construction of the dirty Peabody Peaker
With construction of the dirty Peabody Peaker underway, residents are taking to the streets to oppose the project. The Peabody Peaker Plant is being built directly in an environmental justice community and will have a highly detrimental impact on our environment and climate
Residents called on the newly appointed Energy and Environmental Affairs (EEA) Secretary Beth Card to heed the call for an Environmental Impact Review and a Community Health Impact Assessment of the Peabody Peaker.
PEABODY, MA — On Thursday, May 26, residents and advocates from Breathe Clean North Shore and other environmental organizations held a mass day of action at the Waters River Bridge, on the border between Peabody and Danvers, to oppose the construction of the new Peabody Peaker Plant. The day of action included signs, banners, speakers, and kites with messaging that read "No more gas". Kayakers and bikers (outfitted in bibs with clean energy slogans) also joined the effort to oppose the construction of the $85 million oil and gas plant.
Residents attending the mass day of action were, among other things, calling on the newly appointed EEA Secretary Beth Card to pause the project and require that a health and environmental review be conducted.
"If we were following the Climate Roadmap Bill that Governor Baker signed into law in 2021, this new fossil fuel burning plant would not be allowed to be located where it is - in an environmental justice community - without a comprehensive Environmental Impact Report," said Sudi Smoller, a founding member of Breathe Clean North Shore and longtime resident of Peabody. "The residents of Peabody implore Secretary Card to take this opportunity to heed the call from our community and do the right thing by requiring a full Environmental Impact Report and a comprehensive health impact assessment prior to the operation of this dirty facility."
"MMWEC and the State can and should do better by the residents of Peabody and Danvers." said State Representative Sally Kerans who attended the rally to speak. "We continue to push for a health and environmental impact study."
The facility is being built in an environmental justice community that is already overburdened and negatively impacted by pre existing fossil fuel infrastructure and other heavily polluting facilities. The Peabody Peaker Plant is permitted to emit up to 51,000 tons of carbon dioxide per year, equivalent to 11,000 gasoline-powered cars. As such, this project could have a highly detrimental impact on our environment and climate, and would continue to harm neighboring environmental justice communities with worsening air pollution and continued poor health.
"If built, the Peabody Peaker plant will be a multi-generational and polluting symbol of the failure of Massachusetts leaders to take action against climate change," said Julie Smith-Galvin, Wakefield Town Councilor. "It is time for MMWEC and the State to admit the process of developing this peaker was broken and to cancel the project so that dozens of communities will not be forced to live beside and/or purchase capacity from it for decades to come."
Residents of Peabody and other communities have implored Governor Baker and Secretary Kathleen A. Theoharides to do a basic Community Health Impact Assessment (CHIA) and Environmental Impact Review (EIR), but their requests have thus far been ignored. With Beth Card taking charge of the Office of Energy and Environmental Affairs, she has an opportunity to be a leader in climate and environmental justice by reversing course and heeding the calls of the concerned community.
Re-opening the MEPA process to require an Environmental Impact Review and conducting a Community Health Impact Assessment would align with the request of Peabody public health officials who, in June 2021 and March 2022, sent letters to the Baker administration calling for further assessment prior to building the project. In the most recent letter the Board said: "The Board of Health believes that both an Environmental Impact Report and a comprehensive health impact assessments are necessary to evaluate the project's risks and benefits, and to understand the potential impact of the project on the many Environmental Justice neighborhoods in proximity to the project."
Similar calls have been made by the Boards of Health in Danvers, Wakefield, Marblehead, and Holden. Had the project gone through the Massachusetts Environmental Policy Act process (commonly referred to as "MEPA" process) after the implementation of the Next Generation Climate Roadmap Bill, an EIR would have been legally required.
---
---
Featured:
Stop the Fossil Fuel Industry, Now: List of events for Extinction Rebellion Boston's September week of rebellion

A compilation of books, movies, articles, and ways to take action to protect Black lives

Nadia Colburn, PhD and member of Extinction Rebellion Media team, discusses how to talk about the climate and ecological crisis with family and friends.
---
---
Upcoming Events:
Thu Jun 1st @ 8 p.m.

Fri Jun 2nd @ 4:30 p.m.

Mon Jun 5th @ 9 a.m.