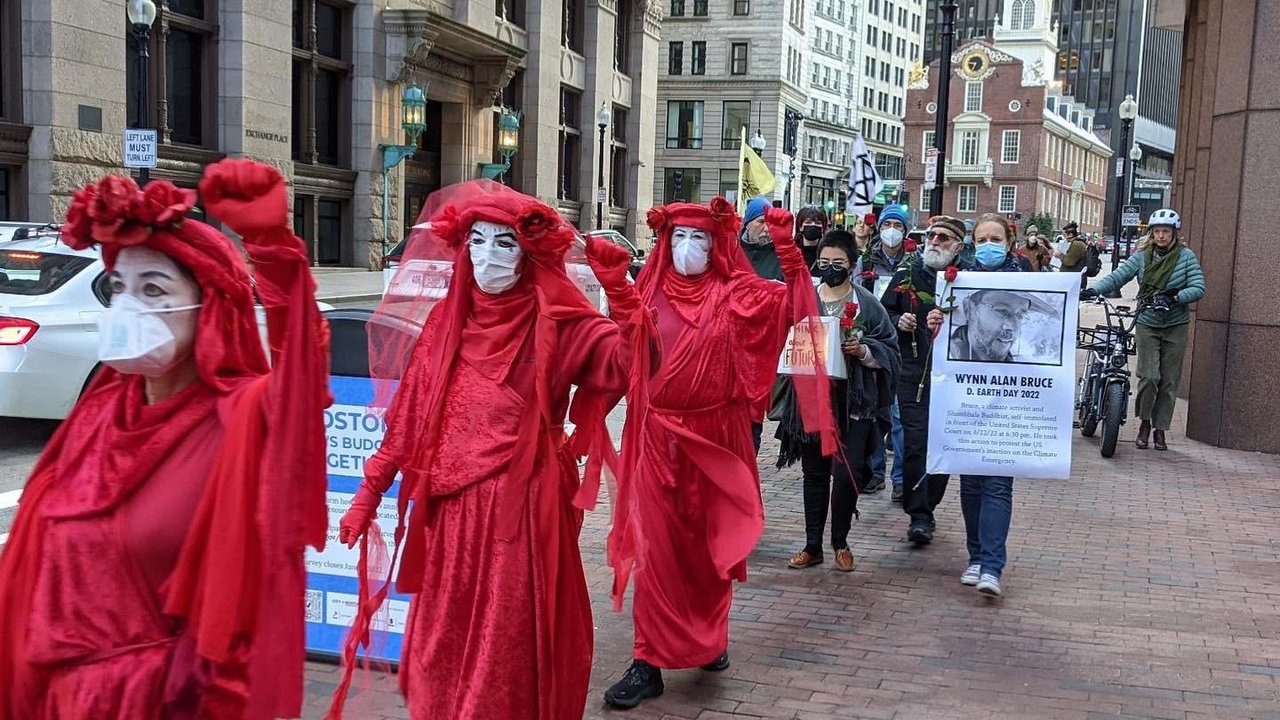 Extinction Rebellion Boston held a silent vigil for Wynn Bruce, a climate activist who self-immolated on Earth Day
Extinction Rebellion Boston held a silent vigil to remember the life of Wynn Bruce, a climate activist who self-immolated on Earth Day
Extinction Rebellion Boston demands that the Media Report the Truth about why Wynn Bruce Self-Immolated on Earth Day 2022 and report on the the severity of the Climate and Ecological Emergency
Government Inaction on the Climate Emergency Drives Desperation Among Climate Activists
BOSTON, MA — On Friday, April 29 at 6:00 pm, climate activists from Extinction Rebellion Boston and other Boston area climate and social justice organizations held a silent vigil for Wynn Bruce, a climate activist and Shambhala Buddhist. They marched from Boston City Hall to John Joseph Moakley United States Courthouse. Wynn Bruce self-immolated in front of the United States Supreme Court on Earth Day 2022 to protest the government's inaction on the Climate Emergency.
Activists silently marched with roses and illuminated light boxes which were inscribed with messages of compassion and climate action: "Love + Rage", "Hope", "Wake Up to Reality", and "This Is an Emergency". The march was led by the Red Rebellion Brigade, a silent and slow-moving environmental performance group enveloped in red garb and white makeup. When the event participants reached the federal courthouse, they broke out into small circles to discuss and process the lengths Wynn Bruce went to generate attention about the climate and ecological crises.
"We have an obligation to tell the truth about why Wynn Bruce self-immolated on Earth Day. Bruce's act has received minimal and misleading media attention. This was not an act of insanity. This was an act of desperation for action on the climate and ecological emergency and was fueled by compassion for all life on this planet. If we don't tell the truth about Wynn Bruce, then he died for nothing. The desperation will only subside when governments around the world finally take action to avert climate breakdown," said Alex Chambers, organizer and spokesperson for Extinction Rebellion Boston.
The dire state of the planet is driving people to extreme climate grief and despair. The science is unequivocal: climate change threatens the life of humans and all life on the planet. The IPCC's latest report says: "Any further delay in concerted anticipatory global action on adaptation and mitigation will miss a brief and rapidly closing window of opportunity to secure a liveable and sustainable future for all." This was not the first activist to set themselves on fire to raise awareness about the climate crisis. David Buckel, a longtime LGBTQIA lawyer and environmentalist, self-immolated on April 18, 2018, in New York City.
Other vigils were held simultaneously by members of Extinction Rebellion in Washington DC, NYC, Northampton MA, Bordentown NJ, Philadelphia PA, Cincinnati OH, and San Francisco CA.
---
---
Featured:
Stop the Fossil Fuel Industry, Now: List of events for Extinction Rebellion Boston's September week of rebellion

A compilation of books, movies, articles, and ways to take action to protect Black lives

Nadia Colburn, PhD and member of Extinction Rebellion Media team, discusses how to talk about the climate and ecological crisis with family and friends.
---
---
Upcoming Events:
Wed Oct 4th @ 9 a.m.

Thu Oct 5th @ 9 a.m.

Fri Oct 6th @ 9 a.m.