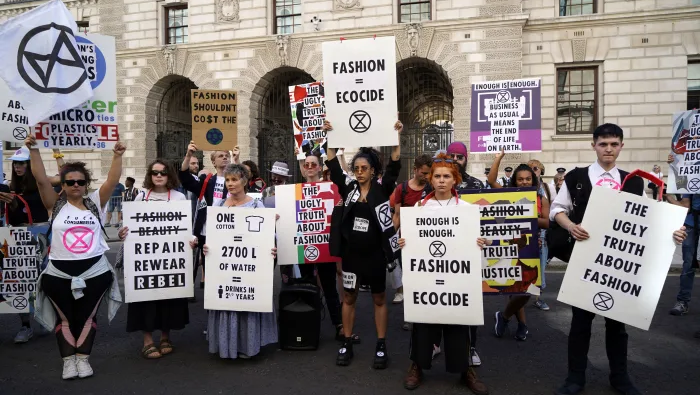 How the fashion industry perpetuates the climate crisis
See bottom for sustainable clothing options
The fashion industry produces a massive 10% of global greenhouse emissions. Creating, packaging, and transporting clothing requires an excessive amount of water and resources, and many clothing fabrics are made from petrochemicals, the by products of fossil fuels. Throw away fashion ends up sitting in landfills or being burned, overwhelming ecosystems and polluting the air.
Some companies tout that their clothing is eco-friendly or sustainably made without backing these claims up. Even clothing made from natural sources, like organic cotton or bamboo, can be produced in a way that does immense planetary harm.
Read below for more information:
Vogue, "What is Greenwashing in Fashion and how to Spot it"
Doing your research is key. Tools such as the Higg Materials Sustainability Indexcan help, which compares the environmental impacts of different textiles. "The more you can learn about how and where materials are sourced, the more informed you can be on how sustainable they are and any potential trade-offs," says Razvi.
Fashion Revolution's Transparency Index highlights information released by top brands about their supply chains, production lines and social and environmental impact. Meanwhile, Fair Wear Foundation and Worker Rights Consortium provide reports and updates on their investigations into the treatment of factory workers around the world.
Beeco, "What is Greenwashing & How to Spot it"
For larger businesses being sustainable often means an in-depth look into their supply chains, reducing their waste, and ensuring they are part of a circular economy. This is an expensive and time-consuming process. So why go through it when you can make your logo green, slap a panda on it, and pretend you're as environmentally conscious as the next brand?
Washington Post, "The Troubling Ethics of Fashion in the Age of Climate Change"
The sustainability puzzle is the problem that affects every corner of the fashion industry. Fashion's global production chain pollutes the environment. Its factories, pushed to their limit, too often abuse an overwhelmingly female workforce. Because fashion's fundamental operating principle rests on planned obsolescence, brands are in a ceaseless cycle of replacement and replenishment. Fashion's job is to goad you into wanting, needing more.
None of this is lost on its practitioners. As the industry works to convince consumers that life will be that much better with another pair of special-edition sneakers or a hand-painted party dress, it's also making sustainability part of its business models. The two largest luxury conglomerates, the Paris-based Kering Group and LVMH, have both made commitments to reduce their carbon footprints and their water consumption, better preserve raw materials and improve waste management. LVMH has invested in safeguarding the Amazon and in renewable energy. Kering has made a commitment to being carbon neutral across its supply chain.
WBUR, "The Environmental Cost Of Fashion"
Over the last year, 3.5 million people engaged with Fashion Revolution's efforts to show consumers ethical ways to fill their wardrobes and hold the world's major fashion brands accountable for the role the industry has played in accelerating climate change, says Carry Somers, founder and global operations director for the nonprofit. The organization hosts events around the world to pressure brands and retailers to ensure their supply chain is void of human rights abuses and environmental degradation.
"We know that the further down the supply chain, the more we're likely to see environmental abuses. We know that of the human rights abuses like modern slavery and forced labor," she says. "Exploitation thrives in hidden places."
Fashion Revolution aims to address the environmental costs of fashion — about 60% of synthetic fabrics are made of fossil fuels and 85% of that material will end up in landfills, where it won't decay and decompose.
BBC, "Can fashion ever be sustainable?"
Jeans manufacturer Levi Strauss estimates that a pair of its iconic 501 jeans will produce the equivalent of 33.4kg of carbon dioxide equivalent across its entire lifespan – about the same as driving 69 miles in the average US car. Just over a third of those emissions come from the fibre and fabric production, while another 8% is from cutting, sewing and finishing the jeans. Packaging, transport and retail accounts for 16% of the emissions while the remaining 40% is from consumer use – mainly from washing the jeans – and disposal in landfill.
Another study of jeans made in India that contained 2% elastane showed that producing the fibres and denim fabric released 7kg more carbon than those in Levi's analysis. It suggests that choosing raw denim products will have less impact on the climate.
Vox, "Fast fashion, explained"
If you've bought clothes in the past decade, odds are that at least one item came from a fast fashion brand. Stores like Zara and H&M, two of the largest retailers in the world, still hold a stronghold over most people's shopping habits, even with the rise of online shopping brands. These big, brightly lit stores seemed to pop up in malls overnight sometime in the late 2000s, carrying everything from skinny jeans to work blouses to cocktail dresses, often for significantly less money than stores like Gap or Nordstrom.
Still, these shopping behemoths aren't without controversy. Their speedy supply chains rely on outsourced and often underpaid labor from factory workers overseas. The process is also environmentally damaging and resource-intensive, and to top it off, it's hard to definitively quantify the industry's impact.
More broadly, the blindingly fast pace at which clothes are now manufactured, worn, and discarded means that they've become more disposable, more commodities than keepsakes, and that shoppers are essentially conditioned to expect a constant stream of new items.
Grist, "A scrappy solution to the fashion industry's giant waste problem"
"Considering the climate when it comes to our clothes is important since more than 60 percent of textile fibers are derived from fossil fuels (petrochemicals). On top of that, The United Nations estimated that the business of what we wear, including its long supply chains, is responsible for 10 percent of the greenhouse gas emissions heating our planet. As an industry, fashion uses up even more energy than aviation and shipping combined.
In 2015, the Environmental Protection Agency estimated that individual Americans generated 16 million tons of textile waste. New Yorkers alone throw away 200,000 tons of clothes, linens, shoes, and accessories each year. Only about 15 percent of unwanted apparel ends up being recycled. The remaining 85 percent is burned or added to municipal landfills."
Fashionista, "Did Designers Finally Get the Climate Crisis Memo This Fashion Month?"
"That's ultimately the problem: Fashion may be catching on to the fact that talking about the environment is en vogue. But the degree of urgency reflected in the climate strikes, activist movements and scientific reports was largely lacking on the runway.
Think about how many designers launched politically-charged shows after Donald Trump was elected or when Brexit was first up for discussion. Those were responses born of the industry anticipating the massive ramifications these political realities would have for their lives and businesses. If we understood that climate breakdown is going (and has already started) to alter our societies and futures far more dramatically than a Trump presidency ever could, why isn't our industry focusing its greatest creative talent on responding to that?"
Take Action
Sew your own clothing
Clothing swaps
Buy from thrift stores
Sustainable brands:
20 Best Sustainable Fashion Brands You Can Actually Trust
Adorable + sustainable kids clothing brands you and your child will love
The Conscious Closet: The Revolutionary Guide to Looking Good While Doing Good, by Elizabeth L. Cline
---
Featured:
Take action on the climate and ecological crises from the comfort of your home!

A compilation of books, movies, articles, and ways to take action to protect Black lives

Nadia Colburn, PhD and member of Extinction Rebellion Media team, discusses how to talk about the climate and ecological crisis with family and friends.
---
---
Upcoming Events:
Sat Dec 4th @ 10 a.m.

Sun Dec 5th @ 10:30 a.m.

Sun Dec 5th @ 11 a.m.