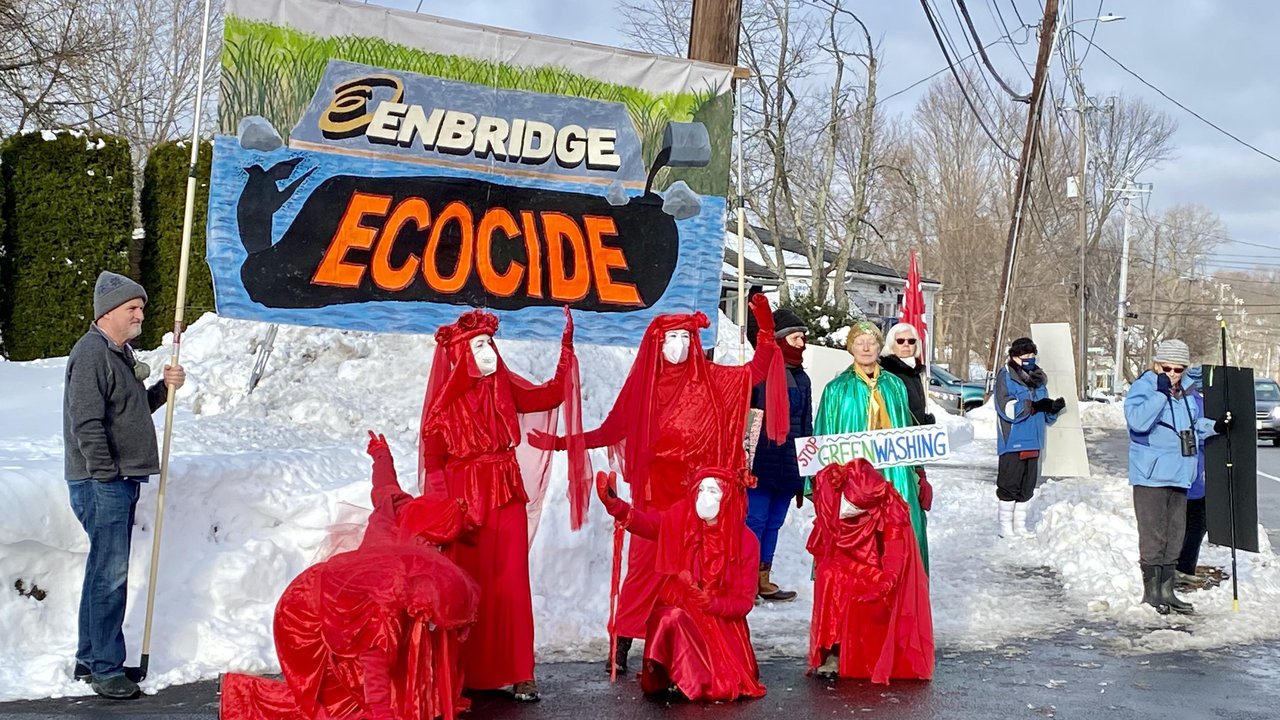 Climate activists demand Enbridge and National Grid urgently transition to clean energy
Climate Activists Demand Enbridge and National Grid Urgently Transition to Clean Energy
Climate activists held a protest demanding that Enbridge and National Grid stop greenwashing the public and make hard commitments to immediately transition off fossil fuels.
DANVERS, MA — Climate activists from 350 Mass and other local climate groups held a protest at the Danversport Yacht Club where the North Shore Chamber of Commerce was holding its "Business Insight Breakfast: Energy Forum." The breakfast focused on renewable energy and featured Max Bergeron, manager of stakeholder relations for Enbridge, and Daniel Cameron, community and customer manager for National Grid.
Both Enbridge and National Grid, but especially Enbridge, have failed to transition to clean energy. Enbridge continues to violate Indigenous treaties and install potentially hazardous compressor stations and leaking tar sands pipelines throughout the United States.
The official text for the North Shore Chamber of Commerce breakfast reads: "A demand for cleaner energy sources is fueling interest in renewable resources and a generation of technologies aimed at decreasing our carbon footprint. Join us to hear about sustainable and affordable options for renewable-based electrification that are driving changes at unprecedented speeds."
"Enbridge and National Grid tell the public that they are environmentally friendly, but it's all greenwashing. Despite being in the middle of a climate and ecological emergency, [1,2] Enbridge and National Grid continue to fund fossil fuel projects. According to climate scientists, we have no more room in our carbon budget if we want Earth to remain habitable for ourselves and future generations," said Jim Mulloy from 350 Mass.
Activists demand that Enbridge and National Grid rapidly transition off fossil fuels and onto renewable sources of energy.
"Governments and corporations around the world need to act on the climate emergency by refusing to fund the dying fossil fuel industry for short-term profits at the continued expense of people and planet," said a member of the North Shore Chamber of Commerce.
Climate scientists, virtually unanimously, predict catastrophic results from accumulated greenhouse gases in the atmosphere from the continued burning of coal, oil, and natural gas. Earth is on track for several degrees of heating. Antarctic and Greenland ice sheets will melt, causing a sea level rise that will flood coastal cities, including large sections of Boston, Cambridge, and many other Massachusetts communities.[3] Hundreds of thousands of species are predicted to go extinct, devastating biodiversity and risking mass food shortages.[1,2] Deserts will expand and render large areas of the planet uninhabitable, forcing millions of climate refugees to migrate, disrupting societies and economies.[4,5,6]
Despite this, Enbridge built a gas compressor in Weymouth, MA, that is both dangerous and unessential to the region's energy capacity. In Minnesota, Enbridge constructed Line 3, a pipeline that is bringing nearly a million barrels of tar sands per day through the previously untouched wetlands and the treaty territories of Anishinaabe peoples. The pipeline runs through the Mississippi River headwaters to the shores of Lake Superior.[7] At Line 3, after just 3 months of operation, Enbridge was fined millions and is under criminal investigation for aquifer breaches.[8] In both Weymouth and Minnesota, there was no public vote and limited public input on siting these facilities.[9]
National Grid is currently embroiled in a pipeline expansion controversy in Brooklyn, NY. The company says they aim to achieve net-zero greenhouse gas emissions by 2050. However, in addition to the pipeline, National Grid is seeking city and state approvals to replace two liquefied natural gas vaporizers and add another two units at its Greenpoint hub.[10] In Massachusetts, The Boston Globe recently reported that National Grid, along with Eversource, is investing billions in gas pipelines.[11] This is hardly a transition to renewable energy.
350 Mass and other local climate groups demand an end to the age of fossil fuels in order to ensure a safe and habitable planet for our children, grandchildren, and all life on Earth.
---
Climate Change Threatens the World's Food Supply, United Nations Warns - The New York Times (nytimes.com)
Intergovernmental Panel on Climate Change. 2014. Climate Change 2014: Synthesis Report. See also Bill McKibben. 2011. Earth: Making a Life on a Tough New Planet. New York: St. Martin's Griffin; Naomi Klein. 2014. This Changes Everything: Capitalism vs. The Climate. New York: Simon & Schuster; David Wallace-Wells. 2019. The Uninhabitable Earth: Life After Warming. New York: Tim Duggan Books.
National Grid Is Building A Natural Gas Pipeline Through North Brooklyn. But Do We Need It? - Gothamist
---
Featured:
Stop the Fossil Fuel Industry, Now: List of events for Extinction Rebellion Boston's September week of rebellion

A compilation of books, movies, articles, and ways to take action to protect Black lives

Nadia Colburn, PhD and member of Extinction Rebellion Media team, discusses how to talk about the climate and ecological crisis with family and friends.
---
---
Upcoming Events:
Wed Oct 5th @ 6 p.m.

Fri Oct 7th @ 8:30 a.m.

Sat Oct 8th @ 11 a.m.