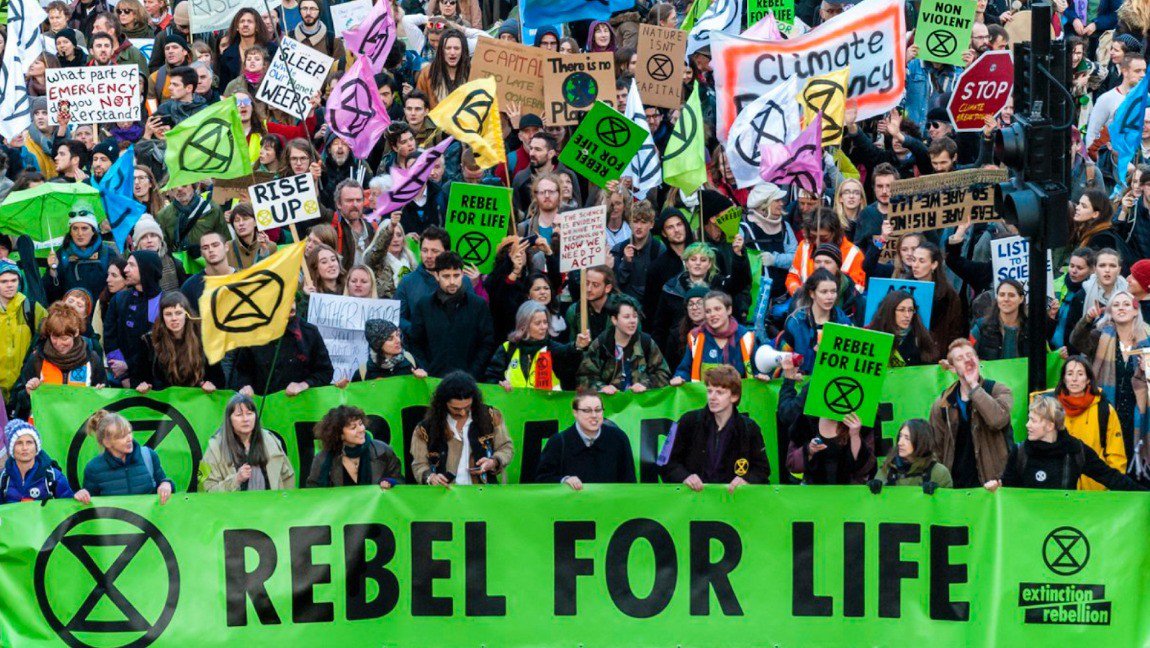 Climate Rebels Take 30+ Actions Across the U.S.
Groups declare non-violent rebellion to force government action on climate change
USA – Beginning Monday, April 15, Extinction Rebellion (XR US) will take action in large and small cities in the United States as one strand in an emerging, worldwide revolt to build the people power necessary to force governments to take action on climate change. In the U.S., actions may include lockdowns, road blockades, shutdowns, "die-ins", and other forms of disruption – while advocating for a justice-based, healing vision for the future.
Extinction Rebellion's International Rebellion will break out across every continent on Earth April 15 through 22, barring Antarctica. Rebels in 49 countries are demanding their governments take decisive action to implement systemic changes to stop global warming while there's still time left.
"Governments have failed us. Those who are most vulnerable and least responsible for this crisis are the ones who are suffering the most. People are dying. Species are disappearing. Everything is at stake," said Bea Ruiz, a national coordinator for XR U.S. "We are living through a time like no other and we won't allow this destruction to continue."
Ruiz continued, "It's time to do what's never been done before in the fight against climate change - a collective and coordinated international rebellion that will continue to escalate until our demands are met. Nothing can stop us, because together, nothing can."
The wildly popular movement has grown exponentially since their initial Declaration of Rebellion in the United Kingdom in October, 2018. A month later, six thousand Rebels converged and peacefully blocked five major bridges across the Thames in London. They planted trees in Parliament Square and dug a hole there to bury a coffin representing the future, and then super-glued themselves to the gates of Buckingham Palace as they read a letter to the Queen.
The movement has spread to include hundreds of thousands of people around the world in six months in part because Extinction Rebellion doesn't rely on false positivity or hope. XR communicates precisely about the climate emergency we face and then asks people to act accordingly. It's working.
"People from all walks of life in the US are joining Extinction Rebellion," said Christina See, a theatrical lighting designer and a New York City Coordinator for XR US. "I have never been involved in activism before. I came with feelings of grief, fear, and anger that have been building for years and I've transformed those feelings into action."
One newcomer to XR and the fight for climate justice includes Mike Selmer, a 62 year-old cancer survivor and blue collar construction worker from Wyoming who has vowed to take action for his grandchildren.
"My generation has not come to grips with the climate crisis," said Selmer. "It is our moral responsibility to create the circumstances that will allow those who follow us to succeed where we failed. That success will only come if all of us, young and old, take action to make it happen."
Actions are planned in major cities from coast to coast, including New York, Chicago, Los Angeles, and Atlanta, and smaller cities including Portland, Denver, and Austin.
Extinction Rebellion U.S. is one of 49 countries that form Extinction Rebellion International. XR US has four demands. They include not only the necessary target for reducing carbon emissions and expanding democracy to counteract the hold fossil fuel industries have over the US government, but also environmental reparations for disproportionately impacted communities, rights for Mother Nature, and respect for Indigenous sovereignty.
---
Expressions of support for the international call to do whatever is necessary to non-violently persuade politicians to end their complacency and inaction have come from many hundreds of notables from all spheres. A portion of those include:
Greta Thunberg (Climate Activist), Dame Emma Thompson (Actor, Writer, and Activist), Radiohead (Musicians), Stephen Fry (Comedian, Writer, Actor), Rowan Williams (Former Archbishop of Canterbury), Ellie Goulding (Singer-songwriter), Simon Amstell (Comedian, Writer, Film-maker), Lily Cole (Model, Actor, Entrepreneur), George Monbiot (Journalist), Noam Chomsky (Linguist, Philosopher, Academic), Bill McKibben (Educator and Author), Vandana Shiva (Environmental activist, Author), Naomi Klein (Author, Activist) The YES MEN (Culture Jamming Activists), Gavin Turk (Artist), Nan Goldin (Artist), John Aitchison (Bafta and Emmy Winning Wildlife Cameraman).
Contact
Ruby Bristol, (541) 499-2522, climatenews@protonmail.com
Bea Ruiz, (510) 859-4540, xr@extinctionrebellion.us. ExtinctionRebellion.US | Twitter: @extinctionrebel #XRUS Facebook.com/ExtinctionRebellionUS/
Call to Action: https://extinctionrebellion.us/rebellion-week
---
Featured:
Stop the Fossil Fuel Industry, Now: List of events for Extinction Rebellion Boston's September week of rebellion

A compilation of books, movies, articles, and ways to take action to protect Black lives

Nadia Colburn, PhD and member of Extinction Rebellion Media team, discusses how to talk about the climate and ecological crisis with family and friends.
---
---
Upcoming Events:
Tue May 30th @ 5 p.m.

Tue May 30th @ 6:30 p.m.

Wed May 31st @ 7 p.m.