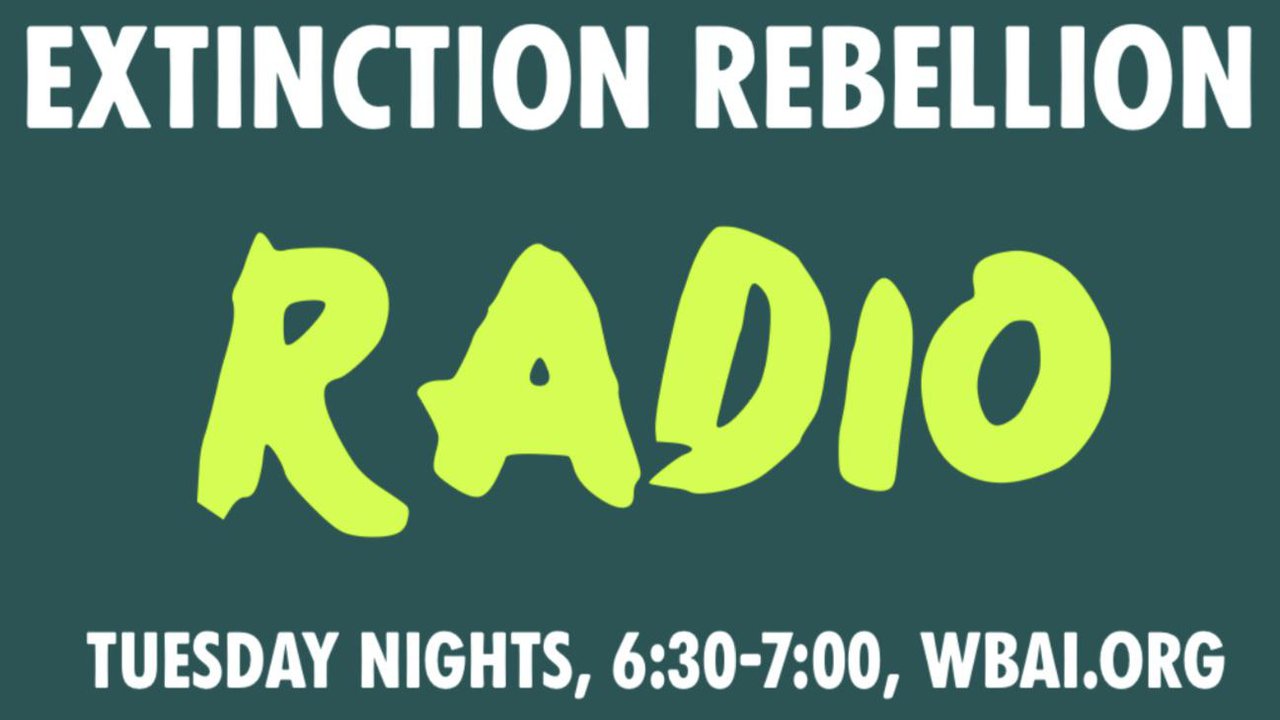 Extinction Rebellion Radio
Join us every Tuesday night from 6:30-7PM on WBAI for Extinction Rebellion Radio. Extinction Rebellion Radio is dedicated to covering weekly news and stories on the climate crisis through conversation, interviews and expert perspectives. Our stories focus on our rebellion against the climate crisis with a focus on the systems that have brought us to crisis and the complexities, people, and nuances that exist within them.
This show is rooted in Extinction Rebellion's four demands: government must declare a climate and ecological emergency, government must halt biodiversity loss and reduce greenhouse gas emissions to net zero by 2025, government must be led by the decisions of a Citizens' Assembly on climate and ecological justice, and we must prioritize the most vulnerable people to create a livable planet for all.
Previous episodes are listed below.
---
Covers how the Trump administration is actually encouraging pollution, and discusses two chapters from the book 'This Is Not A Drill' showing that Extinction Rebellion does not have one unified ideological program, and why that's a good thing.
Drilling in the Arctic National Wildlife Refuge, the Trump administration's thought police-like restrictions on pension funds, and a montage on fascism and the climate crisis.
A short overview of Extinction Rebellion as an organization, the Biden administration's initial orders on climate, and a victory for Nigerian farmers over Shell corporation.
An interview with Rev. Chelsea MacMillan, one of Extinction Rebellion's experts on regenerative culture, exploring how to stave off deep depression amid relentless bad news on climate.
Drilling in the Arctic National Wildlife Refuge, the Trump administration's thought police-like restrictions on pension funds, then a montage on fascism and the climate crisis.
Interview with author Ben Tippet on class and the climate crisis. We cover the ultra wealthy hiring private fire fighters, airport protests in the UK, and more.
This week we talk about extreme weather events and the Texas power grid, with a look at walking in the snow while Black. Or a more snappy expression: The Climate Crisis is messing with Texas.
An interview with Nora Maynard, singer, music teacher, and climate activist. We talk about how and why to sing at protest and how music can be part of changing the world.
Pollution in cancer alley, what's not working in climate science communication, and an environmental lawsuit in California
This week on Extinction Rebellion Radio we talk with the founder of Austin Mutual Aid, a grassroots community aid hub that has been active in the wake of the climate-related disruptions in Texas. Most media have left out the experience of individual Texans helping each other, and that's what we'll be covering.
This week we will talk about the Amazon basin turning from a carbon sink into a net carbon source—bad news. A recent meeting between the Biden administration and all of the major oil companies and how they've kept secret who attended. An oil spill in California that our co-host and her neighbors experienced first hand. The major historical precedent for five-year social transformation with huge collective effort and sacrifice, which is exactly what we need to solve the climate crisis. The historical precedent is World War II. And, finally, methane-eating bacteria. Yum yum.
This week we are talking about a major piece of legislation pending before the New York State legislature called the Climate Community Investment Act. We do an interview with Xaver Kandler, an organizer helping lead the fight for this. You will hear about how this bill, in effect, redistributes resources from fossil fuel companies to climate justice communities, green energy, and unionized green jobs. You'll also hear about what the bill does not do. You hear about where we are in the state legislative session, and what to do if you like the sound of it. This is time-sensitive major climate legislation, and we talk all about it.
This week we talk about what absolute zero emissions means, hopefully the first of many segments on that. We hear the latest numbers on greenhouse gas emissions—remember that 350 parts per million target? And helping the environment by making roads out of recycled plastic.
We look at President Biden's virtual Climate Summit and begin a series on the Biden plan, the Green New Deal and the Paris Accord which fall short of the goals needed in this climate emergency.
This week we have a short comment on President Biden's major recent announcement targeting a 50 percent fossil fuel emissions cut, with nothing about how to do it. From our perspective, this target is halfway there. Then most of the program is an interview with Sarah Jaquette Ray of Humboldt State University. She has written about the racial dimensions of climate anxiety. In her view, fragility among whites and historical oppression among people of color interacts with climate anxiety in different ways. So what's the same, what's different, what are the racial dimensions of climate anxiety? We get into it.
Steven Donzinger is an American political prisoner. In fact, he is effectively Chevron's political prisoner. Donzinger is one of the attorneys who won a landmark case against Chevron for its extensive pollution in Ecuador, with an initial fine of $18 billion. As payback, and as part of their efforts to avoid paying the money, Chevron has hounded Donzinger. They have used international tribunals and the U.S. Federal Court System to prosecute him on bases that have never received a proper evidentiary presentation. He joins us under house arrest, from his apartment, wearing an ankle bracelet, to discuss his experience and the ongoing situation in Ecuador.
"God $ Green: An Unholy Alliance" is a recently released short documentary that addresses how potent social and economic forces prop up climate denialism. It tells the story of how these forces assembled a veritable army of climate skeptics in the name of god, country, and capitalism. We have Jeanine Butler, the co-producer and co-director of the film with us this week, along with Kurtis Schaefer, Francis Myers Ball Professor of Religious Studies at the University of Virginia, who co-directs the lab that released the documentary.
We speak with Scott Howland, author of the article entitled "The Nature of the Beast: Fossil Fuel Corporations, the Cornwall Alliance, and Climate Change Denial." The Cornwall Alliance bills itself as a network of evangelical Christian scholars, mostly natural scientists, economists, policy experts, theologians, philosophers, and religious leaders dedicated to educating the public and policy makers about biblical earth stewardship, economic development for the poor, and the gospel of forgiveness of sins and reconciliation with god by grace. Sounds innocent enough, but Scott Howland offers an entirely different characterization altogether. The Cornwall Alliance, he tells us, is in reality an apparatus of justification for climate change denialism and thus a perpetuation of the capitalist system that continues to accelerate the present climate crisis.
This week we are joined by Wyatt Oswald. He is Professor at Emerson College, and Research Associate at Harvard University, and he is a climate scientist, a real climate scientist. He drills into mud and ice to measure long term trends in climate change. He explains those methods to us and it's actually pretty interesting—free of jargon and technicalities. More importantly, Wyatt talks about the importance of rapid climate change. You hear people say there have been big changes in temperature over the millennia, warming and cooling and Ice Ages. The problem now is that it's happening very fast, within the space of decades, and he explains why that can be catastrophic.
The existing major proposals on climate all presume keeping our economic system intact. This week we talk about some different frameworks that would make addressing the climate crisis much easier. So we contrast the Biden Plan, the Green New Deal, and the Paris Climate Agreement with Degrowth and Doughnut Economics, as it's been called. We talk about ways of thinking that are fundamentally different from the growth-oriented acquisitive current economic system.
Terms like net zero, real zero, absolute zero, carbon neutrality, and so on refer to radically different things. Professor Doreen Stabinsky from the College of the Atlantic, and author of the recent report "Chasing Carbon Unicorns," joins us to explain the differences and articulate why approaching real zero quickly is the only way to avoid massive global temperature increases.
Among our topics this week, we are talking about the upcoming IPCC report that is devastating and is identical to what Extinction Rebellion has been saying all along. We are talking about climate emergency declarations that aren't called that and should be, and we are talking about some good news about preventing emissions from rotting Spanish fruit.
This week we interview Larry Ward, author of America's Racial Karma. Larry is an ordained Buddhist practitioner and author of the recent book, America's Racial Karma. In this interview he connects his Buddhist analysis of race in the United States to the climate crisis. The conversation shows how the suffering of the earth cannot be disentangled from America's racial karma; both proceed from acquisitive intentions.
Asking people to use less electricity (voluntary reductions) has not seriously reduced emissions. So what about mandatory reductions? How would we ration electricity, for industry and households, and how would we get buy-in from the general public to do this? We explore these questions in this week's episode of XR Radio.
Existing energy storage is inadequate to fully decarbonize the electrical grid. Our guest this week is inventing a technology to change all that: a way of storing very high levels of heat that can be converted to electricity on demand. If successful, this would dramatically increase our ability to store electricity, like having a huge battery. We could then have electricity from solar power even when there is no sunshine, and from wind power even when there is no wind. Tune in to hear our talk with Asegon Henry, Associate Professor of Mechanical Engineering at MIT, to hear about his invention.
It seems like most industrialized countries are either flooding or on fire in July and August of 2021. We give the run-down, the global scope of which hasn't always been appreciated by mainstream media.
We interview Alice Arena from Fore River Residents Against Compressor Station (FRRACS). The Weymouth Compressor Station is part of a fracked gas pipeline. It is the largest facility of its type that is as close to a major city (near Boston). FRRACS has been fighting it in the courts and in the streets for seven years now. They haven't definitively stopped it, but they did delay it. We hear from Alice about what this station is, the dangers it poses, and how their group got up and running.
This week: Our perspective on the collapse of Atlantic ocean currents, which is getting more likely and would be irreversible. We express our exasperation with how climate scientists get quoted in news media: so many qualifications and hedging that confuses people. And why climate change contributed to the recent protests in Cuba.
This week we start the first of an occasional series on how climate change impacts regions around the world. Azerbaijan is a good place to start: unfamiliar to many Americans and not a coastal or exceptionally hot country, so not obviously in the line of fire. And yet they already have severe water shortages caused by climate change. The water supply was once about as reliable as in the US, but now 50% of the time there is no running water. Rovahan Abbasov, head of the United Nations water program in Azerbaijan, explains the situation to us.
Terms like net zero, real zero, absolute zero, carbon neutrality, and so on refer to radically different things. Professor Doreen Stabinsky from the College of the Atlantic joins us to explain the differences and articulate why approaching real zero quickly is the only way to avoid massive global temperature increases.
With some technical difficulties this week that we don't expect to recur, we are bringing you a highlight of our show. This week we interview Larry Ward, author of America's Racial Karma. Larry is an ordained Buddhist practitioner and author of the recent book, America's Racial Karma. In this interview he connects his Buddhist analysis of race in the United States to the climate crisis. The conversation shows how the suffering of the earth cannot be disentangled from America's racial karma; both proceed from acquisitive intentions. Back next week with an all new episode on militarism and the climate crisis
Afghanistan, militarism, and our climate crisis. Since the beginning of the Afghanistan war in 2001, the U.S. military has emitted over 1.2 billion metric tons of greenhouse gases. We'll also hear from Professor Neta Crawford of Boston University in the first of several discussions of the military dimensions of climate change
This week on XR Radio, we hear about XR's recent actions in New York: Blocking three major banks simultaneously. Citigroup, Bank of America, and JP Morgan Chase are among the largest funder of fossil fuels in the world and XR activists disrupted their flagship branches or headquarters buildings with creative non-violent civil disobedience. We hear about how news media were denied access to at least one of the blocking sites and discuss some of the implications with XR activist Jack Baldwin, who also spoke at a coalition building event called Rising Together. Then we round out the show with a report on the spike in murders of environmental activists worldwide last year.
Alycee and Matt will be talking about our climate crisis and migration. There's a whole lot of fencing going on—fencing of national borders trying to keep out migrants. But rather than fences and barriers, we need planning on an international level for the migration that's going to come from the climate crisis. On this show we are going to explain why. Along the way we talk about animal migration and insect migration. Some species can make it and some can't. And we bring you some information about Lake Tanganyika in south-central Africa bursting its banks due to climate related causes.
This week we talk about Cop 26. We talk about Norway and Australia expressing their determination to burn more oil and gas and coal and wreck the planet still further, and we end up with some good news which we desperately need. There is a little bit of fun too when we learn about the Mooloo.
India Walton, Mayoral candidate in Buffalo, New York, comes on the show this week. We discuss mainly her environmental and climate-related ideas and citizen's assemblies. She is the only candidate on the ballot after defeating the incumbent in a primary election, although that incumbent is now running a write-in campaign against her. The election is next Tuesday, November 2. We comment on the various senses of 'apolitical' within XR and the implications of interviewing a political candidate
This week on Extinction Rebellion Radio we speak with Sue Durling and Maria Ogden, two grandmothers from New England who get themselves arrested at climate protests. As they explain, it's not about getting arrested. It's about bringing attention to the climate crisis that they fear will have a terrible impact on their grandchildren's lives. Through them we hear eyewitness accounts of an action that blocked the home of Massachusetts Governor Charlie Baker, an action that blocked the Manhattan headquarters of JP Morgan Chase, and an action at the Bow Coal Plant in New Hampshire where there might have been more police than protesters. So tune in to WBAI 99.5 FM this Tuesday, and every Tuesday, for Extinction Rebellion Radio. This is not a rebellious conversation you want to miss.
---
Hosts
Matthew Kearney is an active member of Extinction Rebellion's Boston chapter and the Northeast Region. His B.A. is in English and his Ph.D. is in Sociology. He is the author of 'The Social Order of Collective Action: The Wisconsin Uprising of 2011' about the massive protest defending labor rights that pre-figured the Occupy Movement, showing how organizing outside of formal structures can produce massive mobilizations. His writing has appeared in The Progressive and several academic journals, and has been translated into German and Chinese. He has taught at Harvard University, Emerson College, and the University of Wisconsin-Madison.
Alycee Lane is an activist with XR SFBay and author of the award-winning book, 'Nonviolence Now! Living the 1963 Birmingham Campaign's Promise of Peace' (Lantern Books, 2015). She is also host and creator of the Patreon podcast The Wretched of Mother Earth, where she "decolonizes our climate catastrophe." Her podcast takes its name from her most recent book 'The Wretched of Mother Earth: The Handbook for Living, Dying, and Nonviolent Revolution in the Midst of Climate Change Catastrophe' (2018). In that work, Alycee argues that "if we hope to save ourselves from climate change catastrophe, we must face not only the prospect of human extinction; but also we must radically confront what produced the climate crisis in the first place: the "colonial power matrix" and our deadly attachments to it."
You can find her articles on our climate crisis in Counterpunch, Truthout, and Common Dreams magazines. A graduate of Howard University, Alycee studied English literature and later obtained her Doctorate of Philosophy from UCLA, where she specialized in African American literature and culture of the civil rights and black power movements. From 1995 to 2003, she served as an Assistant Professor of English at the University of California, Santa Barbara, after which she obtained her Juris Doctor from UC Berkeley (Boalt Hall).
---
Featured:
Take action on the climate and ecological crises from the comfort of your home!

A compilation of books, movies, articles, and ways to take action to protect Black lives

Nadia Colburn, PhD and member of Extinction Rebellion Media team, discusses how to talk about the climate and ecological crisis with family and friends.
---
---
Upcoming Events:
Thu Dec 2nd @ 6:30 p.m.

Sat Dec 4th @ 10 a.m.

Sun Dec 5th @ 10:30 a.m.