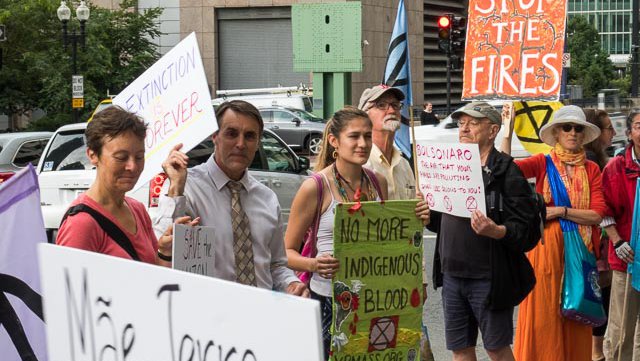 Extinction Rebellion protests rain forest destruction at the Brazilian Consulate
Boston, MA. Climate activists from Extinction Rebellion marched from South Station to the Brazilian Consulate today, demanding that Bolsonaro stop the Amazon fires, preserve the rain forest, and prevent the murders of indigenous leaders and people.¹
Every tree felled in the Amazon represents more species lost and more carbon released into the atmosphere, accelerating the climate emergency. The Amazon is the world's largest rain forest and is a massive carbon-sink and cloud factory which produces much of our fresh water and regulates the global climate. It is fast approaching an irreversible tipping point of transitioning to a drier savanna-like ecosystem.²
The action calls on the Brazilian government and world leaders to respect the territorial rights and prevent the abuse and murders of indigenous people. Protestors handed out leaflets and held signs, with the action highlighting several speakers and Brazilian music.
Dr. Luiz Horta, researcher of climate change at the University of Massachusetts in collaboration with Harvard Forest, says, "Bolsonaro government is not only encouraging fires, it is dismantling the institutions that should protect the forest and indigenous people, and criminalizing environmental activists and the populations fighting to protect the forest. If the world does not listen to the request of indigenous people, we might assist in a genocide of indigenous populations in Brazil. In our history this already happened during the military period. Do we want to watch this again?"
Extinction Rebellion calls on citizens in the U.S. to boycott U.S. commodities and financial services complicit in the destruction of the Amazon. JP Morgan Chase, Citigroup, Wells Fargo, and Bank of America are the top four banks in the world funding fossil fuel projects and deforestation in the Amazon.³ Anyone banking with these companies is participating in the ecocide and human rights abuses taking place in the Amazon. Many employers, religious organizations, and universities use asset management firms that are also funding destruction in the Amazon. BlackRock, Vanguard, State Street, Fidelity Investments, Capital Group, T. Rowe Price, State Farm, Bank of NY Mellon are among the biggest offenders.⁴
Major corporations are burning the Amazon and clearing the land in order to grow soy as a high-protein feed for the meat and dairy industry. Companies like ADM (Archer Daniels Midland), Cargill, Bunge, and JBS, and their retailers: Stop & Shop, Giant, Food Lion, Hannaford, Wegmans, McDonald's, Burger King, Kentucky Fried Chicken, Subway, Target, Walmart, Tim Horton's, Popeyes, Costco Wholesale, Nestles and Nestles Purina Petcare, and Sysco are among the most destructive to the Amazon. Sysco is a major distributor for restaurants, healthcare facilities, universities, hotels, and inns. These are some of the largest retailers of the slaughterhouses and soy animal feed traders most associated with deforestation in the Amazon.⁵
Extinction Rebellion calls on consumers to be mindful of where they bank, invest their money, what companies they shop with, and what foods they eat. Although the problem lies with unbridled corporate power, consumers can make conscious choices as to where their money goes what they consume.⁶
"If individuals begin to move their money and make different choices around consumption, collectively we can change the trajectory of our world towards one that is safe and livable for ourselves, our children, and all life on earth," says Mike Fogelberg of Extinction Rebellion.
---
*Extinction Rebellion Massachusetts is an autonomous chapter of the international grassroots movement, Extinction Rebellion (XR), which started in London in 2018. The purpose of XR is to tell the truth about how dire the ecological and climate crisis is and spark immediate action in order to prevent complete climate and ecological collapse. We aim to mobilize people around the world to utilize nonviolent direct action to demand that governments take radical action to avert societal collapse caused by widespread climate and ecological disaster, and to protect front-line communities, biodiversity, and the natural world. This movement is non-political, and unites all of humanity behind a singular goal of a just and livable future. Learn more at: xrmass.org
---
Featured:
Stop the Fossil Fuel Industry, Now: List of events for Extinction Rebellion Boston's September week of rebellion

A compilation of books, movies, articles, and ways to take action to protect Black lives

Nadia Colburn, PhD and member of Extinction Rebellion Media team, discusses how to talk about the climate and ecological crisis with family and friends.
---
---
Upcoming Events:
Tue May 30th @ 5 p.m.

Tue May 30th @ 6:30 p.m.

Wed May 31st @ 7 p.m.