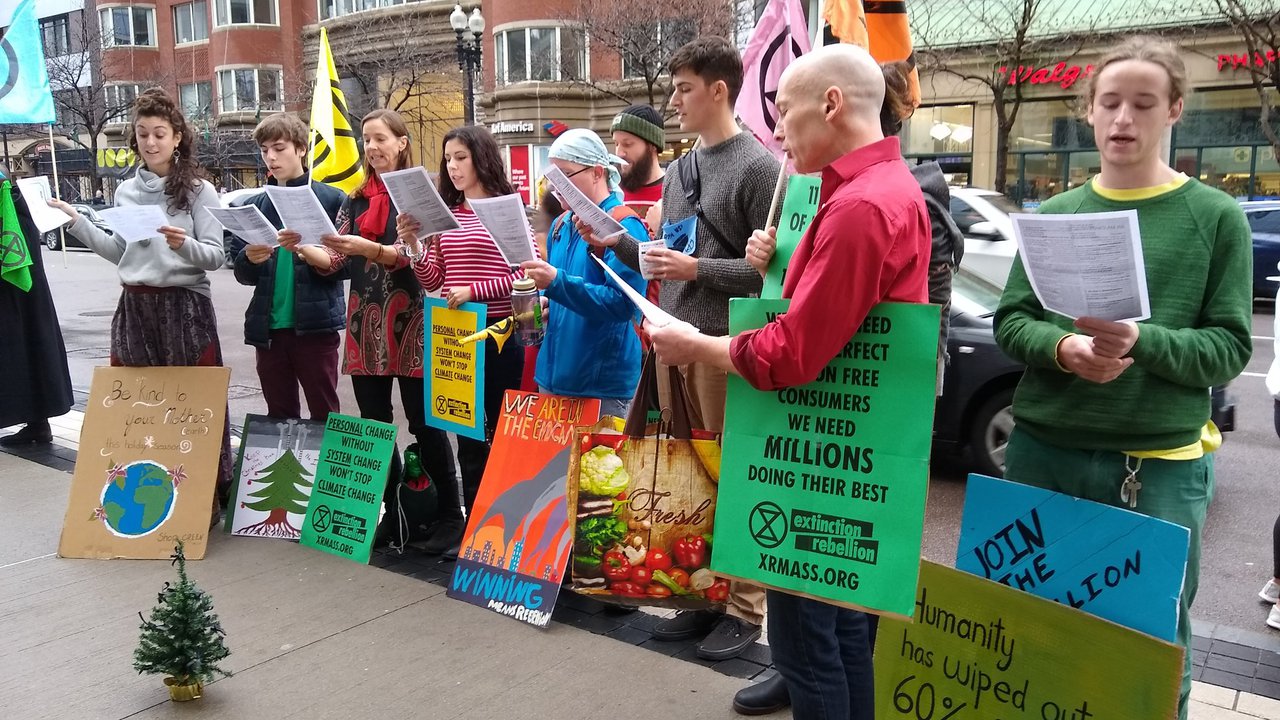 Extinction Rebellion Urges Holiday Shoppers to Give the Gift of a Livable Planet
Boston, MA - Climate activists from Extinction Rebellion held several actions today to draw attention to how rampant consumer culture around the holiday season is worsening the climate and ecological crisis and putting life on earth at risk.
"Consumers need to be aware that they are buying gifts from corporations that create and distribute goods by burning fossil fuels and destroying and polluting natural habitats. Consumer's money is going to the destruction of the natural world, which scientists project may threaten the very survival of younger generations. There are other ways to celebrate the holidays besides participating in excessive gift-giving," says Mike Fogelberg from Extinction Rebellion MA.
Extinction Rebellion held "Flash Mob" caroling linking consumerism to the climate crisis at various stores in Harvard Smith Center. Another group put on a concert about consumer culture and the climate crisis at Copley Mall and the shops at Chestnut Hill.
At the Prudential Center, a group of meditators held an 11-minute public meditation representing the 11 years remaining to cut emissions by 50% in order to keep temperature rise below 1.5 degrees Celsius, which is considered the safe threshold by climate scientists.¹ After the meditation, the meditators held a 'die-in', representing animal, plant, and human life that has already been lost and will be lost to the climate and ecological crisis.
A 2019 report from C40 Cities, a network of the world's mega cities committed to addressing climate change, states, "Individual consumers cannot change the way the global economy operates on their own, but many of the interventions proposed in this report rely on individual action," the report reads. "It is ultimately up to individuals to decide what type of food to eat and how to manage their shopping to avoid household food waste. It is also largely up to individuals to decide how many new items of clothing to buy, whether they should own and drive a private car, and how many personal flights to take." ²
Extinction Rebellion calls on consumers to be mindful of where they bank and what companies they shop with over the holiday season. Although the climate and ecological crisis is fueled by unbridled corporate power, consumers can make conscious choices as to where their money goes what they consume.³
---
*Extinction Rebellion Massachusetts is an autonomous chapter of the international grassroots movement, Extinction Rebellion (XR), which started in London in 2018. The purpose of XR is to tell the truth about how dire the ecological and climate crisis is and spark immediate action in order to prevent complete climate and ecological collapse. We aim to mobilize people around the world to utilize nonviolent direct action to demand that governments take radical action to avert societal collapse caused by widespread climate and ecological disaster, and to protect front-line communities, biodiversity, and the natural world. This movement is non-political, and unites all of humanity behind a singular goal of a just and livable future. Learn more at: xrmass.org
---
Featured:
Stop the Fossil Fuel Industry, Now: List of events for Extinction Rebellion Boston's September week of rebellion

A compilation of books, movies, articles, and ways to take action to protect Black lives

Nadia Colburn, PhD and member of Extinction Rebellion Media team, discusses how to talk about the climate and ecological crisis with family and friends.
---
---
Upcoming Events:
Tue May 30th @ 5 p.m.

Tue May 30th @ 6:30 p.m.

Wed May 31st @ 7 p.m.