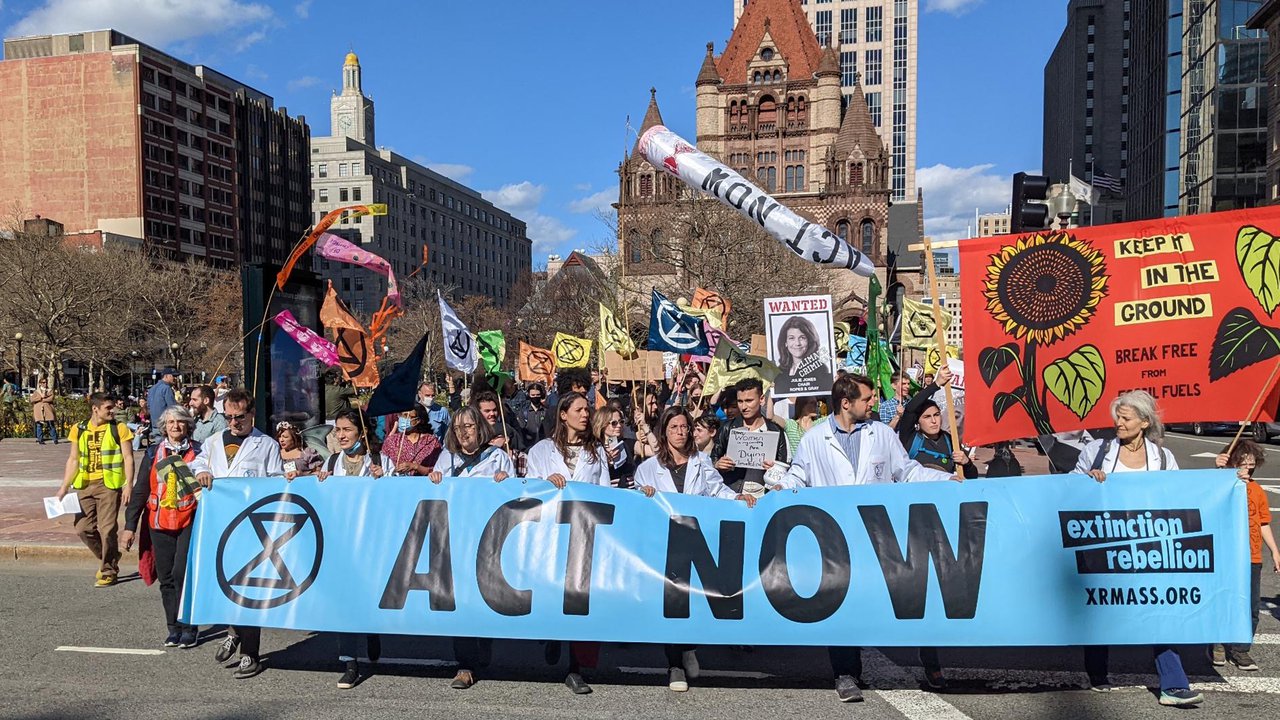 Extinction Rebellion Boston holds an Earth Day march demanding Massachusetts ban new fossil fuel infrastructure
Extinction Rebellion Boston holds an Earth Day march demanding Massachusetts ban new fossil fuel infrastructure
Extinction Rebellion Boston demands that Massachusetts governor, senators, and representatives back No New Fossil Fuel legislation and refuse lobbying money from utility and fossil fuel companies.
Climate Activists demand that financial, legal, and corporate companies that are funding fossil fuel projects immediately divest from fossil fuels and invest in renewable sources of energy.
Grid operator ISO New England CEO Gordon van Welie needs an immediate re-hearing of his backroom decision to suppress renewable energy across New England for two years.
BOSTON, MA — This Earth Day, Friday, April 22, climate activists from Extinction Rebellion Boston and other Boston area climate and social justice organizations held a march from Copley Square, up Boylston, and ended at the State House. They stopped at the offices of financial, legal, and corporate companies that are both financing and profiting off the climate and ecological emergency.
At each stop, activists listed the "climate crimes" taking place at that location, enacted a "die-in," and then celebrated with "Disobedience" dancing. Discobedience is the act of dancing in the streets to highlight the need for action on the climate emergency, typically to a pop song like the Beegee's hit disco Stayin' Alive or Gloria Gaynor's I Will Survive.
According to a recent Intergovernmental Panel on Climate Change (IPCC) report from the UN (1), which was described by Antonio Guterres - UN Secretary General as "an atlas of human suffering,"(2) we need to immediately transition off coal, oil, and natural gas and protect 30-50% of the land and water. (3) If we do not act with urgency, we "will miss a brief and rapidly closing window of opportunity to secure a livable and sustainable future for all." The report also states that the climate and ecological emergencies are happening so rapidly that they will soon overwhelm our ability to adapt. (1) 700 million Africans are projected to be displaced by the climate crisis by 2030.
"Scientists have been watching this slow-motion train wreck approaching for years. It's time for our leaders to listen to the science: We demand that the government ban all new fossil fuel infrastructure and call on Boston based firms to end their complicity in climate breakdown. The people who benefit from expanding fossil fuel infrastructure are at the top of these lobbying firms, law firms, banks, and corporations that have decided to trade short-term profits for a livable future on this planet," said Pam DiBona, event organizer and environmental scientist.
The reason for this delay was clearly stated by Antonio Guterres - UN Secretary General in his recent statement concerning the IPCC Sixth Assessment Report:
"The science is clear: to keep the 1.5°C limit agreed in Paris within reach, we need to cut global emissions by 45 per cent this decade...But, current climate pledges would mean a 14 per cent increase in emissions. And most major emitters are not taking the steps needed to fulfil even these inadequate promises. Climate activists are sometimes depicted as dangerous radicals. But, the truly dangerous radicals are the countries that are increasing the production of fossil fuels…Investing in new fossil fuels infrastructure is moral and economic madness."
Major stops on the "Freedom From Fossil Fuel Tour":
Eversource: Eversource, National Grid and the Associated Industries of Massachusetts together have spent $5.75 million on lobbying
Ropes & Gray: They provide legal services for litigation, acquisition and investment financing for the fossil fuel industry.
Associated Industries of Massachusetts: The 3300 members of this statewide trade association contributed nearly $2million to protect fossil fuel interests at the State House last year."
The Massachusetts State House: Votes on climate and clean energy policy are opaquely decided via voice vote, enabling individual senators and representatives to bypass having their position on a bill to be available for public scrutiny.
Chase Bank and Bank of America: Two of the worst banks in the world for continuing to use customer's money to fund fossil fuel projects
Latham & Watkins: Provides legal services for litigation, acquisition and investment financing for the fossil fuel industry.
The local chapter of the American Petroleum Institute (API), led by the Massachusetts Petroleum Council: the sector lobbied and testified against bills to divest the state pension from fossil fuels, bills to ban drilling using hydraulic fracturing (fracking), bills to implement carbon pricing, and numerous other climate action priorities.
In Massachusetts, the Baker administration, influenced by the methane gas and manufacturing industries, is continuing to build new fossil fuel infrastructure in climate justice communities and move too slowly on transitioning to renewable energy. (5)
From the Boston Globe, "At a time when New England should be racing to bring as much clean energy online as possible to green its electricity supply, the grid moved this past week to effectively discourage major wind and solar projects for at least another two years."
Out of the 245 climate change bills introduced over the past 6 years, only 43 made it out of committee. Most climate legislation in the Massachusetts State House dies in committee and representatives vote in secret. Unlike 46 other states, Massachusetts doesn't have public records law for our legislature; there's no way for constituents to tell if their representative or senator voted for or against climate legislation. While citizens don't have access to the legislative process, Eversource, National Grid, and other Fossil Fuel distributors spent 5.75 million dollars between 2013 and 2018 lobbying against bills that would reduce our carbon footprint, and save us, as individuals, money on our utilities bill. (6)
"Construction of the new gas and oiled fired power plant has begun in Peabody, MA. It's insanity that our leaders are allowing new fossil fuel infrastructure to be built in the midst of a climate emergency. This is an assault on our health and our future. Everyone who is marching today is calling for the Massachusetts government to ban all new fossil fuel infrastructure and rapidly transition away from existing fossil fuel infrastructure. We must act in Massachusetts and around the globe before it's too late," said Alex Chambers, spokesperson for Extinction Rebellion Boston.
Extinction Rebellion Boston demands the Massachusetts and federal government to commit to an increasingly swift transition to renewable sources of energy, that's in line with science. They also demand that the financial, legal, and corporate companies that are financing the climate crisis, including JP Morgan Chase, Bank of America, Liberty Mutual Insurance, and Eversource, divest and defund fossil fuel projects and abandon any practices that cause harm to land, water, and biodiversity.
"We must demand that our Massachusetts senators, representatives and governor back No New Fossil Fuel legislation and refuse lobbying money from utility and fossil fuel companies so the public can take back our future from the dark recesses of this State House, the Graveyard of Climate Hope," says Greg Mangan from Extinction Rebellion Boston.
---
---
Featured:
Stop the Fossil Fuel Industry, Now: List of events for Extinction Rebellion Boston's September week of rebellion

A compilation of books, movies, articles, and ways to take action to protect Black lives

Nadia Colburn, PhD and member of Extinction Rebellion Media team, discusses how to talk about the climate and ecological crisis with family and friends.
---
---
Upcoming Events:
Tue Feb 7th @ 5:30 p.m.

Tue Feb 7th @ 6 p.m.

Wed Feb 8th @ 6 p.m.