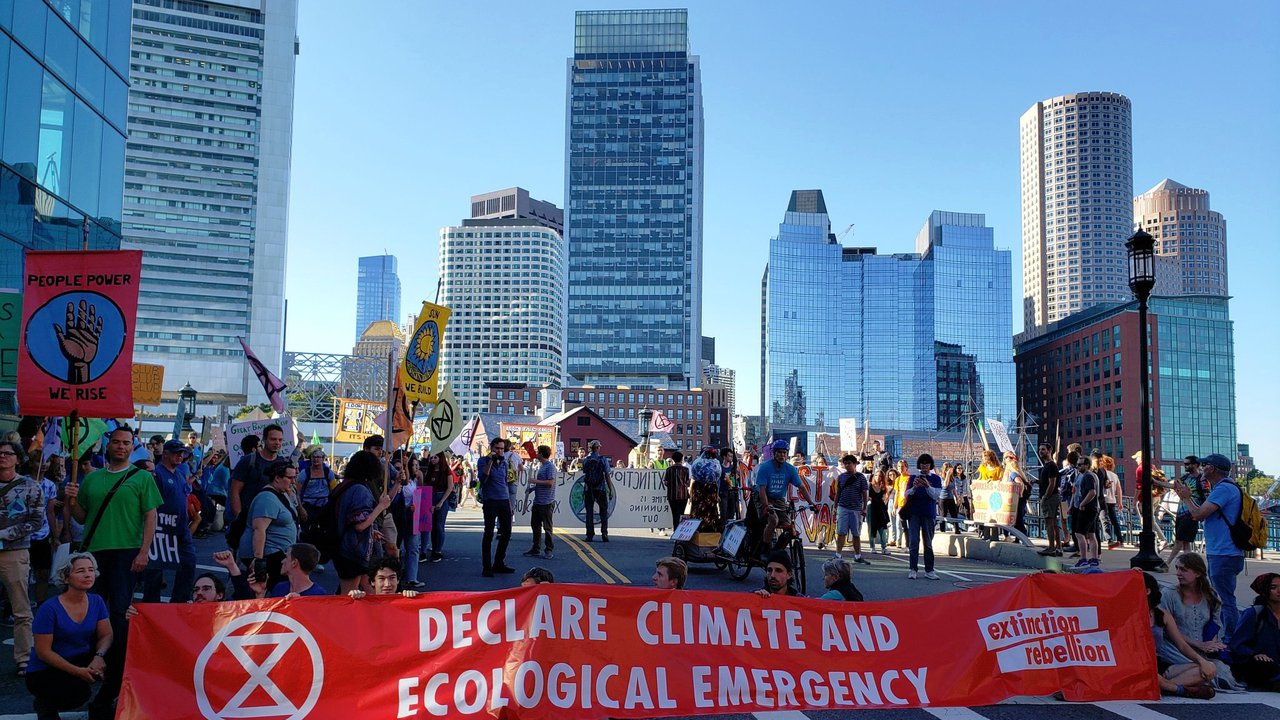 Hundreds "Flood the Seaport" and block Congress Street Bridge in Boston
BOSTON, MA — Local members of the global grassroots movement, Extinction Rebellion, blocked a major roadway in Boston, demanding that the Massachusetts and federal government tell the truth about the climate and ecological emergency and act immediately to ensure a safe and livable future for all life on earth.
"Governments need to take aggressive action to stop human-induced global heating which threatens the survival of life on earth. We need to break our habit of business as usual and our collective addiction to fossil fuels which is creating the climate and ecological emergency and quickly destroying any chance of a livable future," said Mike Fogelberg, Extinction Rebellion Massachusetts Media Coordinator. "We cannot rely on a technology to sweep in and save us. Scientists tell us that it is time to panic. We must listen to the experts and do everything we can to protect humanity, biodiversity, and the ecosystems that support life."
Three major reports from the UN's Intergovernmental Panel on Climate Change¹ and one from the Intergovernmental Science-Policy Platform on Biodiversity and Ecosystem Services² were released in 2018 and 2019, the latest Wednesday, September 25th. These reports paint a dire picture: if we do not act immediately, we will face global famines, water shortages, increased transmission of disease, worsening wildfires, more frequent and deadly heat waves and weather events, flooding from rising sea levels, and mass climate migrations which expose already vulnerable populations to human rights abuses.
"For over 30 years we have known how serious the climate crisis is and the urgent need to curb emissions. Unfortunately, during this time, emissions have risen over 60%. As a result, we face near-term collapse of civilization.³ That is why we believe it is time for nonviolent direct action. We know that our action is an inconvenience, but we are afraid for our future and the future of our children. We are afraid of coastal communities flooding, dangerous heat waves and weather events, and water and food shortages that threaten our safety and survival," said Nadia Colburn, PhD, of Cambridge, MA.
These concerned residents blocked traffic on Congress Street Bridge, accompanied by The Second Line Social Aid and Pleasure Society Brass Band and Vocal Opposition. Participants held signs, dropped a banner, sang, and chanted to draw attention to the urgency of the climate crisis that humanity is collectively facing. 395 images of the endangered right whale were displayed, one for each whale that is currently alive.The blockade featured a wide range of human emotions and reactions to the climate and ecological emergency.
Over one hundred people from various faiths gathered in Dewey park, and later joined the main action on the bridge. They dressed in traditional Buddhist robes, or green to represent the earth, and alternated between walking meditation, sitting meditation, and chanting with drums. Many meditators held small potted plants to honor the plant life that sustains animal and human life.
On the bridge, participants wore blue to represent water. They communicated their grief over the climate and ecological emergency, its implications for the future, and proposed solutions for creating a just and livable future for all. "The climate crisis is scary and people of all ages have anxiety about the future. We need a place to be honest about our fears and concerns," said Niels Burger, Extinction Rebellion Massachusetts Art Coordinator.
Other protestors on the bridge danced, played music, and sang. "We are a movement that celebrates life and the world that sustains life, even while our governments are leading us towards the collapse of civilization. We act for change because life is beautiful and miraculous," said Gail Page of Woburn, MA.
The Red Rebel Brigade, dressed in bright red robes representing the blood of life that has been and will be lost to the climate crisis, put on a silent performance.
The group targeted the Seaport to call attention to the grim reality that the majority of Boston is projected to be underwater by 2100 if we continue on with business as usual. Global sea levels are rising as a direct consequence of climate change. Thermal expansion caused by warming of the ocean and increased melting of land-based ice, such as glaciers and ice sheets near the poles are causing sea level rise.⁴ In an optimistic scenario, in which aggressive climate change mitigation policies are immediately enacted, the sea level is expected to be up to 5'2 higher by the end of the century than it was in the year 2000. This prediction involves major U.S. cities, such as Miami or New Orleans, sinking into the ocean.⁵ In a business as usual scenario, the sea level is expected to rise as much as 15-20' in the same period.⁶ This would put Boston almost completely underwater.
"Our continued development of the Seaport is the perfect example of our society's ignorance about the reality of the climate emergency. Sea level rise alone will render the billions of dollars poured into the Seaport wasted," said Nick Bain of Brighton, MA. "The climate and ecological crisis will wreak more havoc than just shifting the coastline. Crop failures and the collapse of our food systems will threaten billions within decades.⁷ Either we make immediate systemic changes to our society, or we continue on with business as usual and watch as society crumbles in our lifetime."
Extinction Rebellion utilizes nonviolent direct action to raise public awareness about the climate crisis and demand that governments, news media, and polluting industries tell the truth about the climate emergency. They demand that Governor Baker, the United States government, and governments around the globe enact legally-binding policies to reduce carbon emissions to net zero by 2025 and take further action to remove the excess of atmospheric greenhouse gases.
---
Extinction Rebellion Massachusetts is an autonomous chapter of the international grassroots movement, Extinction Rebellion (XR), which started in London in 2018. The purpose of XR is to tell the truth about how dire the ecological and climate crisis is and spark immediate action in order to prevent complete climate and ecological collapse. We aim to mobilize people around the world to utilize nonviolent direct action to demand that governments take radical action to avert societal collapse caused by widespread climate and ecological disaster, and to protect front-line communities, biodiversity, and the natural world. This movement is non-political, and unites all of humanity behind a singular goal of a just and livable future. Learn more at: xrmass.org
---
Featured:
Stop the Fossil Fuel Industry, Now: List of events for Extinction Rebellion Boston's September week of rebellion

A compilation of books, movies, articles, and ways to take action to protect Black lives

Nadia Colburn, PhD and member of Extinction Rebellion Media team, discusses how to talk about the climate and ecological crisis with family and friends.
---
---
Upcoming Events:
Tue May 30th @ 5 p.m.

Tue May 30th @ 6:30 p.m.

Wed May 31st @ 7 p.m.