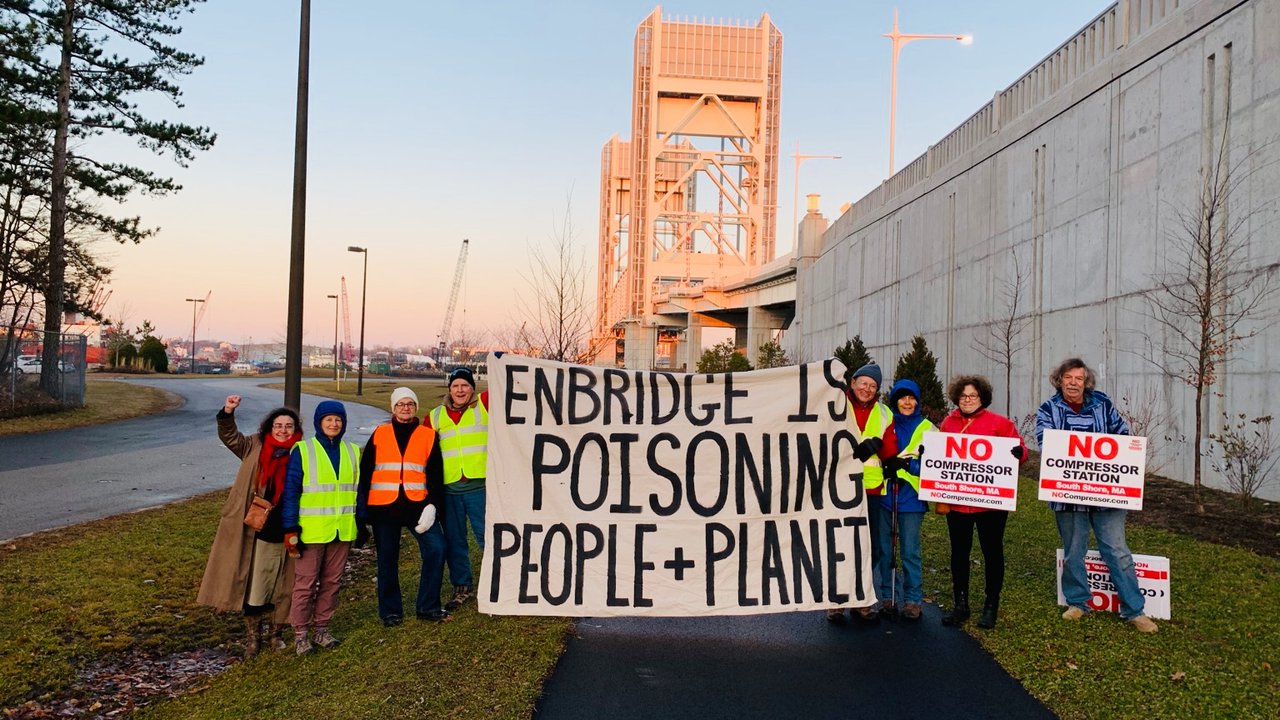 Climate activists arrested blocking construction of gas compressor station in Weymouth
Weymouth, MA - Climate activists from Extinction Rebellion, Fore River Residents against the Compressor Station (FRRACS), and 350 Mass Action blocked supply and equipment trucks from entering the construction site of a gas compressor station in North Weymouth early this morning. Nine climate protestors were arrested.
The civil disobedience is a response to Governor Baker's and the Department of Environmental Protection's failure to respond to the community's advocacy to prevent more industrial environmental hazards from locating in Weymouth. A compressor station in Weymouth would be the first station in the U.S. to be built in a densely populated coastal location, with two schools and 3,100 students within a mile of the proposed facility.
"Governor Baker and the agencies he oversees are responsible for protecting citizens from health risks and initiating real change to protect the environment. The fossil fuel industry will not voluntarily sacrifice its profits for the greater good," said Amanda Nash of Gloucester, MA. "That industry has spent the last 30+ years lying to the public about the severity of global heating and the industry's role in creating it. Governor Baker and the legislature need to stop acting on behalf of the fossil fuel companies and take drastic measures to protect our communities and ensure a livable future."
If built, gas leaks, industrial accidents, and potential explosions at the compressor station would pose serious threats to the health, safety, economy, and environment of Weymouth, Quincy, Braintree and the South Shore. Typically, compressor stations are sited in rural areas to protect the health and safety of citizens. The location is also vulnerable to flooding and inevitable sea level rise resulting from human-created global heating. Once built, the facility would pump fracked gas for export, not local use, from Pennsylvania through New England, into Canada. The methane released by fracking and transport heats the atmosphere and escalates the local and global threats of the climate crisis. Enbridge, one of the largest oil and gas companies in North America, is building and will own the compressor.
"We need Governor Baker and the State agencies he oversees to step up and support communities as we build solutions to the climate crisis. His decisions are making the climate crisis worse. We demand that polluters like Enbridge be held accountable for perpetuating the climate and ecological emergency that humanity is facing. Governor Baker must stop working with corporations that put profits over the health and safety of Massachusetts residents and the entire world population," said Mike Fogelberg for Extinction Rebellion Massachusetts.
For New England's energy needs, the protestors support aggressive measure to shift directly to electric power generated by 100% renewable energy: solar, wind, hydro, and geothermal. The climate activists demand that Governor Baker and his administration immediately halt the construction of the compressor station. This pipeline system does not serve U.S. needs; the gas will be transported and sold overseas for profit. Governor Charlie Baker and his administration approved permits for construction of the compressor station using questionable procedures activists charge, no public vote, and limited public input in this process. Weymouth and surrounding communities have been fighting for years to stop construction of this dangerous compressor station.
---
*Extinction Rebellion Massachusetts is an autonomous chapter of the international grassroots movement, Extinction Rebellion (XR), which started in London in 2018. The purpose of XR is to tell the truth about how dire the ecological and climate crisis is and spark immediate action in order to prevent complete climate and ecological collapse. We aim to mobilize people around the world to utilize nonviolent direct action to demand that governments take radical action to avert societal collapse caused by widespread climate and ecological disaster, and to protect front-line communities, biodiversity, and the natural world. This movement is non-political, and unites all of humanity behind a singular goal of a just and livable future. Learn more at: xrmass.org
---
Featured:
Stop the Fossil Fuel Industry, Now: List of events for Extinction Rebellion Boston's September week of rebellion

A compilation of books, movies, articles, and ways to take action to protect Black lives

Nadia Colburn, PhD and member of Extinction Rebellion Media team, discusses how to talk about the climate and ecological crisis with family and friends.
---
---
Upcoming Events:
Tue May 30th @ 5 p.m.

Tue May 30th @ 6:30 p.m.

Wed May 31st @ 7 p.m.